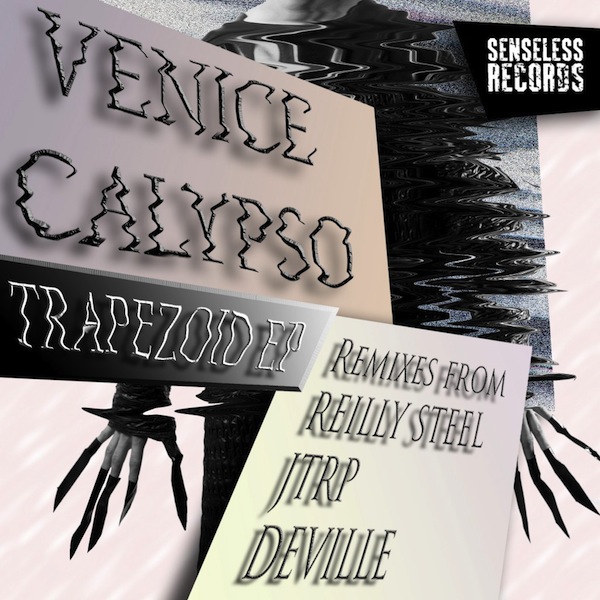 On 15th October Polish born, London living producer Venice Calypso will make his full solo debut for Senseless Records. Returning to the label following his outstanding contributions to their 'Synesthesia #1' EP last year, he is now back with the 'Trapezoid' EP. As a big fan of both label and artist the EP came with high expectations, but it certainly doesn't disappoint.
The EP is a very welcome return from the producer following a prolonged absence of new music and marks a decisive evolution in his sound. Retaining the overloaded rhythms and sinewy melodies that characterized those earlier productions, 'Trapezoid' forgoes the skewed playfulness in favour of a darker, brooding intensity. These tracks  are sharper and more incisive, realizing fully the sonic power that his contribution to our mix series (Vol.08) explored, operating at the dizzying apex between the scattershot rhythms of early grime and the muscular power of techno.
EP opener 'Trouble' immediately sets the tone with its stuttering 808 rhythms, disjointed riffs and viscous atmospheres. The menacing onslaught of distorted claps and murky synths on offer here challenges Kowton's next level experiments with grime in terms of sheer ferocity as it staggers through a bleak, dystopian landscape. Channeling the industrial delivery of techno rewired into the unabashed aggression of grime, title-track 'Trapezoid' reels off a breathless volley of metallic snares,  skittering hi-hats and warped vocals that is as uncompromising as it is potent. Rounding off the trio of original productions, 'Poseisus' is built around a snaking 4×4 rhythm, as cascades of white noise and pitched percussion rain down on the track with unsettling results.
They don't hold back on the remix package either with three of the Senseless roster stepping up to the plate. German duo JTRP take on 'Trapezoid', stripping it back to its percussive skeleton while keeping its propulsion intact, moulding breaks to its wiry frame. Reilly Steel relieves some of the claustrophobic pressure on 'Poseisus' injecting a swing and a skip in to the drum line, while label head Deville warps 'Trouble' into a relentless, footwork-inflected drum machine workout.
The EP is out on Senseless on Mon 15th October, but in the meantime you can preview all the tracks and check out the video for 'Trapezoid' below…