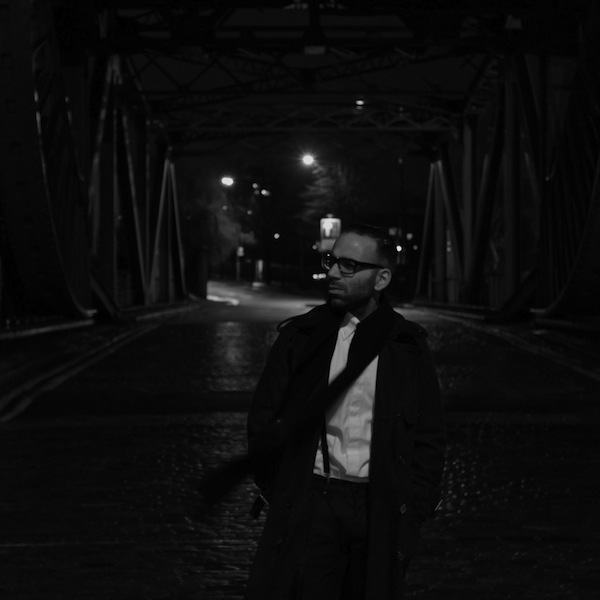 When I first started this blog it was with the intent of exploring different ways in which to get behind the music that I love and support creative people who I feel deserve more attention. This extends beyond the music in and of itself to all the other creative aspects inextricably tied to it. With this in mind, it is always great to encounter artists that have the same passion and enthusiasm for the music as I do, who go beyond the immediate and the necessary because that is the only way they know how. Elefo is one of these artists. A musician and artist, his music is just one element of a far reaching creative compulsion. Having hit him up for a quick chat, he has provided us with an in-depth insight into into his music and an exclusive free track with great artwork and a video to accompany it.
My first introduction to Elefo was through his outstanding EP on the French B.Yrslf Division label (I definitely recommend checking them out – they are building a great roster of artists and a well thought out creative vision). The 6-track 'Personal Legend' EP breathes new and unexpected life into some of 2011's most prevalent trends, exploring Elefo's love of juke, hip hop and RnB, but in a way that is unique, personal and affecting. Elefo's warm and souful vision of footwork fuses crisp, skittering percussion to woozy chords and bubbling basslines, one-part drunken swagger, one part dreamlike haze and one part vulnerability. It is these contradictions that draw you into his music on more than just a club level. The two tracks that bookmark the EP are the most perfect distillation of this, bringing depth and emotion to the rhythmic template, smoothing out its edges and drifting into dreamier territory.
Standout track 'I Was Afraid' is a perfect example of this for me. The scattershot percussion and booming subs rattle through the track with a light-footed skip while the fragile vocal and wavering chords judder over the top. Imbued with a mellow poignancy that counteracts the track's pace, the superficially incongruous elements bring out a flurry of feelings that are altogether unexpected while still keeping your feet planted firmly to the dancefloor.
Alongside being busy in the studio Elefo is also currently building his own Pet Liger brand, a fusion of music and fashion which you can read more about in the interview below. The free track which is being given away at the bottom of the feature along with the accompanying video is the debut promo for the Pet Liger project. 'Fardarter' is a track aimed at all haters and a statement of creative empowerment with its refrain of 'you ain't feeling me, fine'. Pairing cinematic, sweeping synth strokes with a rattling 808 drum line and warped subs it matches its booming swagger with dramatic swells of emotion, with the slower tempo allowing the track to breathe. This is a perfect example of the power at Elefo's fingertips. He is most definitely one to watch out for in 2012.
Hi first up can you please introduce yourself…
Hello my name is Elefo. I enjoy creating music, art, and fashion.
When did you get into production and what impelled you to do so?
Probably when I got my first PC in my mid teens. I was a big hip hop fan, freestyling writing bars. I used to record tunes with a bunch of other young dudes that rapped and would go to my friend's house on weekends and record mixtapes… He would dj and I would spit. It was a nice, cheap and easy way to express yourself through music plus I had tons of fun doing it. I might still have the cassettes somewhere.
What have been the biggest influences over the music that you make and how do you think those have shifted over time?
Hip hop has definitely been a big influence. I started off listening to all the usual suspects, Biggy, Jay Z, Eminem, Mobb, Deep, Big Pun, Big L, Beanie Sigel, Nas, Dilla, I loved that whole Camron Dipest movement. the last bit of hip hop I listened to was probably Little Brother, 9th Wonder and all those guys in Justus League, oye and Hi-Tek's stuff. I have recently started to get back into it and im loving all this new material coming out from all over america.
At the time I also delved in and out of garage, RnB, soul, grime and bashment. I used to love my dancehall mix tapes. I've probably also had quite a mainstream influence, even more so than anything else. There was no escaping it in those days. The music channels were sometimes the only source of new sound.
Greek music has also played a big part in my life. It would constantly be playing in my house. It is a must as background music in every greek home lol. It is actually quite a swagged out sound specially the older tracks from the 60's. Really rich in character.
Then around 4-5 years ago I got swept away by the whole dubstep sound, got myself a copy of reason and started making dubstep. Not knowing too much I slowly started picking up all the different aspects of production by asking tons of questions and pin pointing what sounds i actually like. My earlier tracks sounded very cinematic and epic but not quite clubby or dancy enough, very bassy though and so that being the predominant factor in what I was making it firmly landed me at the doorstep of juke.
I first heard juke watching a footwork battle on youtube and I heard a dj earl track in the back that completely blew me away, a song is called futuristic. I had to find that song. I produced the track 'red and white turns' that same day. So as far as influences in music go its mainly individual tracks as opposed to sounds or genres that have sparked my imagination. For example Indigos fading is one of my all time favourite tracks. Really inspiring stuff… Such a soulful delicate sound that pushes forward with such pace and power. There are dozens of other tracks from all different types of artists that have shaped the vision of sound I have today. Just Blaze, Scuba, DJ Spinn. Dj spinn's track entitled studio is unreal, love that tune.
I have to say though the people I interact and share a bond with who make music seem to be my biggest influence they always tend to blow me away with their fresh new sounds. Shout out to the family at sub skank, akito, cdnephew, d warrior, dooze, all the guys at byrslf division and not forgetting my good friend and producer r.e.p.l.i.c.a.
I'm not going to ask you to explain your music sounds, but do you think there is anything fundamental to all the music you make? Any underlining principles that tie it together?
For me character is very important in a song. Without character the creature you're trying to create has no soul and without a soul it will just lie there lifeless. I try to produce tracks that have swagger I want people to feel like the are in a movie or something, to feel god like. whether the song is sombre and deep or just straight crazy and energetic.
The majority of the time my music is based on novelty, anything can happen when I open that new project. Although mostly I try to start off with an idea or a concept. This idea could be a bpm speed, it could be a vocal sample, a photo, a film I happen to like, it could be a specific sound that I've heard or it could even be an epic story someone told me when i was a kid.
I just try to trust my ears and the idea behind the track… The song then just simply manifests itself like the blue dude from The Watchmen, by combining these fragments with my knowledge and experience I do my best to stitch it all together and make sure it reaches it's most crystalline state.
I am still perfecting my game and with every track I try to push the envelope on what I have learnt from the previous project. Integrity is key.
I find it really interesting how what a producer listens to can differ from how there music sounds. Do you think the two correlate for you? What elements pique your interest most in the music of others?
Good question. Thinking about it a lot of my tracks have been directly influenced by the songs that I'm battering at the time. For example The Weeknd have been making some truly incredible, touching music. I must have sampled them at least 4 times. the lead singer's vocals were just perfect for repitching and playing around with. On my track "Take You There" I even sampled the piano because it had so much emotion.
In terms of other productions… I love hearing novelty. Something new that I wasn't expecting and oozes charisma.
The first time i heard your music was through your recent EP for the Byrslf Division label. How did the hook up with the label come about and how did the EP come together? Was there any unifying vision behind the EP as a whole?
After i made "Red and White Turns" I went on a rampage. Bangin out 2-3 160 tracks a day for about 2 weeks. I was hooked! I set up a hood house group on soundcloud in order to get a wider perspective on the sound itself. Byrslf Division dropped Slick Shootas and DJ Hiltis ep's around that time so I hollered at them to let em know about my group. They must have heard my tracks on soundcloud and we got talking. They really loved my unique take on the whole juke sound… called it very personal and honest. They chose about a dozen tracks that they loved and then we narrowed it down together to the ones now on the EP. I think the unifying vision was to keep the EP as honest and as true as it can be in order to reflect who I am. I have to say they did an amazing job on the release really thankful to those guys for all the their passion and hard work.
'I Was Afraid' is the track that really struck me from the EP. The vocal and melodies are superficially quite incongruent with the rhythms but I think that is what makes it so great. How does the sampling process work for you?
Sometimes I build the track around the sample. Other times I make the beat first and then sprinkle the sample on top. With "I Was Afraid" I had the sample ready to start with, chopped and edited the hell out of it and then laced it with the beat. Split this one up into sections of a footwork like pace and other parts of a more funky bouncy pace.
You're rite, the vocal and the melodies do appear to be incompatible but they compliment each other on so many not so obvious levels. I think it gives the tune its raw sound and ghetto charm, plus the incongruency adds to that whole time distortion element.
This is also quite a personal song. Sometimes when I produce tracks its almost like im using the vocals to speak for me. The melodies are quite melancholic but at peace, almost full of relief and the vocals are repeating "I Was Afraid". I guess its a song about triumph, overcoming your fears which tied in nicely with the theme behind the main track of the EP entitled "Personal Legend".
BYRSLF007 | ELEFO – Personal Legend EP by B.YRSLF division
Rhythmically there are a lot of juke and footwork influences in your music, but often not used in a traditional way. What is it about those rhythms that strikes you?
Most probably the pace combined with that bass. Plus the thing that struck me about juke is the time distortion. Watching people do footwork it sometimes looks like time has stood still. Like pausing an old vhs tape. Its surreal, its different. I love the switch ups! It can go anywhere…Its a very versatile sound.
Although the rhythms are quite robust there is a sense of fragility to all your music that makes it really stand out. Do you think that the human element is important in electronic and club music?
I think its important for the music to be relevant. For example it may not have a human element but if it reflects something about the times we live in then people can relate to it. By adding that human element I feel as though immediately people can relate to it and access the sound with more ease. Songs that come from the heart usually sound like they do. Most of my songs do have a sense of fragility to them and thats definitely my soulful side coming out. I generally prefer music that pulls at the emotional strings… If it can have people skanking away then thats an added bonus.
Could you please tell us a little bit about the pet liger project, how that came about and what your plans are with it?
Pet Liger is the music/fashion label that I have been putting together for about 6 months now, It had its official launch in October and will most probably have a re-launch in the new year. There is a lot planned for Pet Liger. The promo t's seem to be going down a smash, all original screen print designs featuring my hand drawn liger heads. People seem to love them! Working on new prints at the moment that will hopefully be available in time to coincide with some music releases. The debut pet liger collection will be revealed in 2012.
Do you see the audio and visual as directly informing and enhancing one another?
Definitely. I don't think they necessarily need each other but they do work so well together. You are effectively combining different sensory dimensions creating a higher level of experience… and thats what gives culture its aura. I've been doing art a lot longer than I've been doing music and I plan to get more into the whole visual side of things at some point in the future.
Musically, do you have any new releases or projects in the pipeline as we move in to 2012?
I have 'Fardarter' which is the first promo for Pet Liger plus a release lined up with Stavrogin, a couple more stand alone tracks and then GOIB the album. Can't really give away too much but I'll keep everyone posted through my twitter and website.
You have very kindly offered up a track for download with this interview. can you tell us a bit about the track?
Since the GOIB tracks on the hood house compilation I've been meaning to do a 135 with that hip hop swagger and this is it. Been making a lot of tracks about drugs and wavy ladies so I thought I'd come with my own hater track, nothing personal to anyone just to all haters in general. I left a few parts quite stripped down for any rappers or mc's who wanted to go in on this. You have my blessing guys!
ELEFO – FARDARTER
DOWNLOAD: HERE