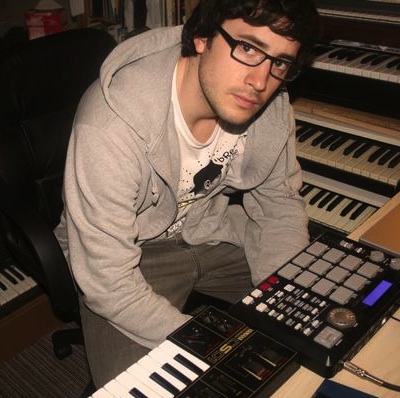 After years of producing beats for MCs to spit on, Naïve has stepped out of the shadows with his new Naïve Machine project to let his instrumentals take centre stage. While retaining the cut-and-paste aesthetic developed from a lifetime of crate digging and sampling, the new project showcases a more synthesised, electronic sound.
Naïve Machine's distinctive analogue sound, takes his love for vintage hardware and classic hip hop breaks and refracts them through a futuristic skewed lens. Playing with the contrast of textures between live and electronic production, he splices them together in his tough, frenetic tracks, creating a raw energy from the friction between timbres.
The bass is the driving force of the tracks, bouncing and bumping into the drums, jolting them forward with a lazy swagger. Gritty, sloping beats are energised by hyperkinetic 8-bit melodies spasming through the core of the tracks and crescendos of swelling synths burst against staccato bleeps, splintering into glitchy shards. The onslaught of off-kilter rhythms, twisted synths and heavy low end sounds like the soundtrack to a spun out computer game parallel universe.
His inaugural 'Cement Mix' EP for the newly established Hit and Hope label is a good introduction to his skills on the buttons and I would definitely recommend getting hold of it.
I caught up with him to throw some questions his way and he has also been kind enough to give us an exclusive track, which you can download after the interview. The track – 'Play Arounds' – is an ominous, lurching beast. Marching inexorably forward, it sluggishly picks up momentum as the bass rises, moving towards a dramatic climax, inflating into a stomping leviathan.
Jump Luigi by The Naive Machine
Hi! For those that don't know could you please introduce yourself?
Hey hey. I'm Naïve, also know as Dave Pilcher! I was born in the States in a backward town near Tulsa, Oklahoma, although at the age of one my parents moved over to the UK near Brighton where I did most of my growing up! There I picked up my love for music.
When did you pick up production and what impelled you to do so?
I've always loved music from a young age, learning the piano, cello and guitar, and had always loved writing my own songs. I started out making tunes on an old Yamaha electronic organ my family were given when I was around ten. I used to layer parts on through a cheap ghetto blaster mic tape to tape and sing / rap over it, I really wish I still had copies of those tapes now! Soon after we got a basic PC which I hooked a MIDI keyboard up with that had Yamaha XG sounds, and from there I could sequence sounds on a basic free sequencer. Later I started using tracker software called BUZZ, which enabled me to sample! I went through all my dad's old vinyls sampling loops and parts and started mixing it with the synth sounds on the software. From then on I went on to study Music Technology at college and university, learning all the tricks of the trade!
When and how did you first get into hip hop and electronic music? And what drew you towards it?
I first got into electronic music from the start, as most of the sounds I was sequencing via MIDI or using on the computer were all electronic. I got more into the hip hop side when I was around 14 and started using the tracked BUZZ which had a basic sampler on it. By sampling records and other sounds, I started making a lot of beats. I did try rapping on a couple myself, but it wasn't until I met Brighton based rapper Kid Genius / Suave Debonair that I really started making more real hip hop. I then met more and more rappers and started making more and more hip hop as the demand for my beats was growing, so this became the predominant music I was creating! For other hip hop works I've produced Check out Tactical Thinking – Too Broke to go Solo (available on iTunes), the 3 amigos, Kid Genius, Suave Debonair, Jam Baxter and many more.
Having previously written under the Naïve moniker, when and why did you did you start the new Naïve Machine project?
I started the Naïve machine project to just make more electronic beats, which were more about the music. It really started with my synth collection getting out of control, and just having so many around is lots of fun just to jam on!
Coming from a hip hop background, do you still approach the music you are making now similarly? Are you into crate digging and sampling culture?
I still approach music in a similar way to how I would produce a hip hop tune, although I have a lot more freedom, as there is no rapper to please! So I will add in more build-ups and break downs, drop a solo in etc. I still love digging for vinyl and drop these sounds regularly into my music, although they take a back seat to the synthesized sounds!
Hip hop still creates the backbone to what you are doing under the Naïve Machine moniker, but what else do you see as informing this project?
I suppose I would take a lot of influence from early synthesized music – Dépêche Mode, early Human League, Kraftwerk etc. I really love all of that, I've even got a little 80s side product in the workings!
Cement Mix by The Naive Machine
There is an underlying grit to your music and the sounds that you use. Is this something that you consciously affect your music with? And if so, why?
Yeeeah, I love music to bit a little bit raw and rough around the edges. All of the synth parts are played live on analogue synths, which probably gives that sort of sound. I also use a lot of drum sounds sampled from vinyl which add a bit of crackly crust to the tunes!
Do you use hardware in your production?
Yeah most of my synth sounds come from outboard gear, all listed below:
Yamaha Polysix
Roland Juno 6
Jen SX1000
Yamaha CS01
Roland SH-09
Korg Delta 4
Yamaha SK20
Novation X-Station
I also use effects from a boss ME-50 pedal.
I have seen videos of you rehearsing with a full live band. Is live performance an important element of what you do?
Lol, yeah they were pretty rough vids! I would love it to be more, as playing with live drums and synths is a really great vibe. Ideally I would like to create and perform live tracks much more!
Do you see a human facet in electronic music as important?
Yes I do, I really love hearing slightly out of time played notes, It gives it more of a live feel than everything being exactly in time and on the beat! Sometimes I find some electronic music can be too programmed and looses the groove and sloppy rawness of the human element!
Your recent 'Cement Mix' EP on Hit and Hope was outstanding. What projects/releases can we expect from you in the coming months?
There are plenty more finished tracks and more on the way, and hopefully a full album! Check out the free sample track 'Sept I Share' and also the mini mix podcast I have done for the label Hit and Hope (search Hit and Hope in podcasts on iTunes!).
THE NAIVE MACHINE – PLAY AROUNDS
DOWNLOAD: HERE