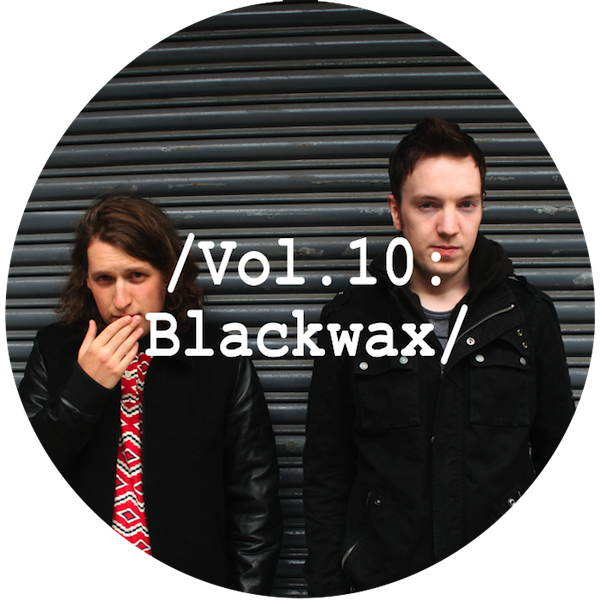 It was reported recently that contrary to all the signs that music as a physical format is dying vinyl sales have risen by 55% in the last year. As the music industry at large continues to try and quell the tide of leaks, poor quality rips and illegal downloads that threaten to bring it down on a day to day basis, it is clear that vinyl still retains a power that is helping it to stay alive. Be it the warmer sound quality, its tangibility or purely the mystery that lies within its grooves, the extensive connotations of vinyl as a bastion of underground electronic music remain. It is with this larger context in mind that I would suggest that the production moniker of Luke Dubuis and Ross Addy, AKA Blackwax, so succinctly captures the spirit of their musical endeavours.
Informed by the UK's rich heritage in underground electronic music, as well as more immediate influences from further afield, their dark, rugged productions are aglow with the embers of thirty years of musical history. From the rhythmic intricacies of jungle, through the sonic power of grime right up until the straight dance floor vibes of UK Funky in its proliferating forms, Blackwax embody the experimentalism and pure power that these genres have pioneered. Maintaining a distinctive and coherent sonic aesthetic while opening their tracks up to a wealth of influences is a skill that those who have been in the industry much longer have failed to master. This is dark underground club music at its most potent. Several of their productions have been popping up in DJs sets over the last few months with tracks like 'Surface' and 'Off Key' gaining support amongst like-minded contemporaries such as Visionist and Dark Sky. Given that they only started working together a year ago, I can safely say that they are only just getting started and 2012 will undoubtedly herald a lot more from the duo.
Their debut 'Offkey' EP is due for release on 5th December on the Tube10 label. Featuring the first track that they ever properly finished ('Airway'), it documents their dynamic progression over the last year up to where they are at now. Title-track 'Offkey' hits hard; Siphoning rattling breaks through scattered 808 drum hits they build a sparse but tough foundation over which they layer the pitched down vocal interjections and trickling melodic flourishes, giving them enough space to let the murky atmosphere creep over you as the low end goes for your gut. 'Surface' builds on this with its jungle-influenced drum line, grimy melodies and growling bassline writhing ferociously through the speakers. Digital bonus track 'Airway' rounds off the EP lifting the tense atmosphere slightly. Built around glistening, expansive synths and soca snare flourishes it builds to a cavernous percussive drop that is deployed masterfully enough to knock the wind out of you. I recommend checking their remix of Kastle too which is out now on Silverback Recordings (you can hear a preview of it a little further down the interview). Stripping down the original to its bare bones, the vocal from the original echoes through the steppin' drum lines and wiry synths.
They have also contributed the tenth installment of the Liminal Sounds mix series, heading straight for the dance floor with an upfront selection of club tracks that takes in similarly dark visions from Dark Sky, Visionist, Epworth and Boddika as well as a sprinkling of the Tube10 EP from themselves. No messing about here, this mix is straight fire. Grab it from below the interview.
Blackwax – Offkey EP by Subway Music Group
First things first, can you please introduce yourselves?
L: Hi, my name's Luke Dubuis. I'm originally from London, but now living in Edinburgh.
R: My name's Ross Addy, born and bred in Edinburgh.
When did you guys first start producing together? Was it a natural evolution to do so?
L: It was about a year or so ago. We started making music right in the middle of my finals, just through sending stuff back and forth. We barely knew each other at that point but we were both just hungry to start making music.
Was the Blackwax project born with a specific musical vision in mind?
R: We just started making music and it all came naturally. When we first started working together our tastes were rapidly changing…so the songs you hear on the ep kind of reflect that.
L: Edinburgh is a funny place when it comes to music, it's only been the past few months that the city has woken up to bass music. There was always a few nights doing their thing…but as far as bass music went it wasn't accepted as much as it is now. We just wanted to make tracks that we liked that worked on the dancefloor.
I always find it interesting to hear the different elements that people bring to collaborations as a result of their own unique musical upbringing, and how those elements are amalgamated to form a whole. Do you come from similar musical backgrounds?
L: We both have a background in live music.
R: I was in numerous Edinburgh based bands playing drums. Around the age of 16 I started to get into electronic music through the Edinburgh club scene. I quickly decided that I wanted to dj and from then on I started collecting vinyl…everything from Detroit techno to jungle and drum n bass.
L: I grew up on a lot of old funk and jazz records through my father's vinyl collection. At the age of around 13 I picked up the guitar and was playing for a couple of bands. I had always been into recording stuff and getting into the production side of things even when I wasn't making electronic music. I guess I only woke up to dance music when I started university 6 years ago…so in some sense I'm still quite new to it all.
Kastle – Could U Want Me (Blackwax remix) Preview by BLACKWAX
How do you think what you create as a unit differs to what you would produce individually?
R: I don't think it does…we work together pretty much exclusively and even when we're apart, we are constantly sending ideas back and forth when working on music.
How does the creative process work between you when you are in the studio? Do you tend to adopt set roles?
L: It's hard to say really. Every track has panned out differently in terms of how we have done it and the roles we adopt. I guess it depends on who came up with certain ideas. We are still very much finding our feet in the creative process.
The drum lines and rhythmic constructions often play the most prominent role in your music for me. Is this where your songs begin life? Is it percussion that you are drawn to in other people's music?
R: Yeah I think its safe to say that we are always drawn by beats. Though its not always where the track starts. Most of the time it starts with some simple hook or sample that we have come across.
L: Yeah I think what really got us into heavy percussive music was the UK Funky scene. Really bold percussive elements were catching our ear at that time and I think that has really stuck with us.
You have a release forthcoming on Tube10 imminently. Can you tell us a little bit about the songs and how the release came about? Do you think it is a fair representation of where you are at musically at the moment?
L: It's a bit mad. Airway was the first tune we properly finished…and that was about 10 months ago. I would say that Airway is probably the least representative of where we are at now. It's the tune that got people listening to our stuff…so we thought it only right to include it in the ep.
R: Surface was probably the hardest tune for us to get right. I think we have about 15 project files with loads of different versions of it, ranging from techy to funky to what it is now. We weren't happy with the last version we had so we changed it just before deadline to get it more in line with what we are into now.
L: "Offkey" is probably the best representation of where we are at musically…. nice 808 beats, chopped amens with ghetto elements running through.
Following that, what's next for you for the rest of the year? Do you have any more releases in the pipeline?
R: We have a remix we recently made for American artist Kastle, which is out now on on Silverback recordings. As for future releases, we are working on new material as we speak. We have been talking with a lot of labels but we need to have some more finished work before we can go any further. We do however plan to do a second release for Tube10 sometime down the line in around a year or so.
You have also been kind enough to put together a mix for us. How did you put it together? What did you want to showcase with the mix?
L: We threw together a bunch of tracks we have been playing in the clubs as well as tracks from producers we are close with and respect. Shout out to our boys Epworth (Tube10) and Visionist (502)…. Watch out for these guys in the coming months!
LIMINAL SOUNDS VOL.10: BLACKWAX
DOWNLOAD: HERE
Radiohead – Morning Mr Magpie (Pearson Sound Scavenger RMX) – TBD
Dark Sky – Be Myself – 50 Weapons
Visionist – Mr. 67 – 92 Points
Blackwax – Off Key – Tube10
Benton – Sax Shaker – White Label
Lunice – I See U (Girl Unit remix) – Luckyme
Addison Groove – Bad Things – CDR
Blackwax – Surface – Tube10
Lokiboi – Luv U VIP – Car Crash Set
Epworth – Aint Hard – CDR
Photek – 101 (Boddika's Drum Machine Mix) – Photek
Pearson Sound vs Hardrive – Deep Inside (Pearson Sound Edit) – Night Slugs
Squarehead – TNH – Squarehead
Jacques Greene – I Like U – White Label
The Phantom – Gothic – Silverback Recordings
-BLACKWAX 'OFFKEY EP' IS OUT ON TUBE10 ON 5th DECEMBER