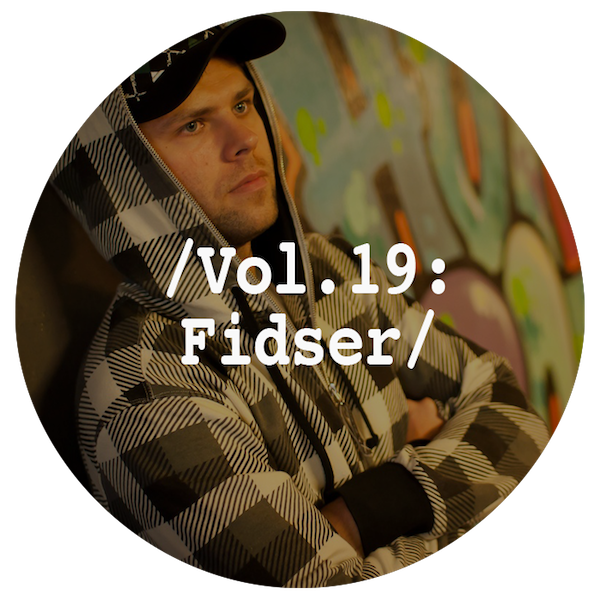 Championing the emergent sounds of their native country, the Warsaw-based Concrete Cut label has steadily built a strong and varied catalogue from a raft of impressive Polish  talent. Staying clear of any misgiven allegiance to one sound, the label has instead kept its focus on quality control and delivered solid releases that range from the synth heavy swung grooves of Deam's 'Square Love' EP to the deep and dubby experiments in evidence on Ptr1's 'Above The Structures' EP. Having curated mixes from both of the aforementioned producers, I turn to the label's roster once again for the nineteenth installment of our mix series, this time courtesy of Fidser.
Another producer to whom my first introduction was provided by Concrete Cut, the Krakow-based producer recently released his startling debut EP on the label. The four original productions that make up the 'Check This Out' EP jump around in style with scant regard for any kind of convention as ideas are crammed in so tight each track could be an EP in and of itself. Underwritten by the dizzying influence of classic 90s rave tracks, the EP wires in the frenetic percussion of footwork, the incisive 808 power of hip hop and the hyperactive arrangements of a youth listening to jungle and breakcore to craft something completely unique and consistently unpredictable.
Following a subdued intro, the subdued waves of ambience on opener 'When You Came Into My Life' crash into a raging no-holds-barred acid beast that tears forward with inexorable force. 'Check This Out' pays homage to the breathless energy of classic rave influences via the tumbling percussion of juke in an energetic and mesmeric collision. 'All Right' works to a slower skipping garage heartbeat, channeling a softer spirit, while 'Activate' is a masterful exercise in progression, cutting up juke, hip hop, acid and more in the space of its four and a half minute duration.
Still reeling from the breathless onslaught of his debut EP, we chased him up to contribute the latest volume of our mix series, catching up with him for a quick chat to frame it properly. Running through seventeen tracks in just over half an hour, including a large proportion of his own, the mix is propelled by the same thrilling hyperactivity with which his tracks are imbued.
Hi, thanks for taking the time out to speak to us. First, for those that may not already be aware can you please introduce yourself…
Hi, I live in Cracow, Poland. When I was 5 years old my adventure with music began. Several years ago I switched from piano keys to pads. Now I create music as Fidser.
To take things back to the beginning, you come from a hip hop background right? What kind of artists were you listening to then? Were you DJing and producing at the time?
It's not exactly the truth. At first I was interested in drum and bass and jungle. I started to buy such vinyls and that's how my adventure with electronic music began. Then it was mainly "light" drum and bass, liquid drum and bass – artists from Hospital Records. I bought turntables and inspired by the movie "Scratch" I began to discover and learn scratch technique. So, my music background was not exactly hip hop, but you may say that it is connected with hip hop culture. In that time I was already producing. The first computer programme in which I was cutting out samples was Cool Edit Pro. Now I use Ableton Live to produce music and also to do live acts with MPD32.
While you may have moved on musically, do you think that that background continues to inform your production techniques and DJ style now?
I use basic skills that I learned back then, but I think that when you produce music you should evolve, try to aim at perfection. It's like getting next and better levels in a computer game. That's how I do. I use things that were in the beginning, but I improve them all the time. And when it comes to DJ style, in the past I played only from vinyls and scratched and now I not only use turntables, but also MPD, midi controllers and so on. Everything is an evolution. This is how I do it now: http://www.youtube.com/watch?v=OfBnPM67g40
What route led you from hip hop into electronic music? Was it an organic progression?
As I said, it didn't begin exactly from hip hop. I have never been a hip hop producer. I was in this culture only because of scratch. The progress was not from hip hop to electronic music. It was the progress IN electronic music. At first it was drum and bass and jungle, then dub, reggae, dancehall, soca, kuduro, then raggacore, breakcore, then IDM, techdub, ambient, then dubstep, glitch hop, future bass, future garage, juke, trap… As you can see I didn't stay in one genre for a long time.
What impelled you to get into production?
Music is a part of my life since I was a child. I ended music school in piano class, that's why it was easy for me to arrange. I wanted to put sounds from my mind to reality. That's why I began producing.
Your debut EP, 'Check This Out', recently came out on the Concrete Cut label. How did you hook up with them for the release?
I upload most of my tracks on Soundcloud. People from Concrete Cut listened to them there. They wrote me that they liked my music and offered me to release something on their label. Of course I agreed, because I knew that it is the best Polish label releasing non commercial electronic music.
How did the tracks come together? Did you set out to write a body of work or is it just a collection of tracks you had written?
Concrete Cut chose the tracks and decided about their order on my EP. I named the EP and also suggested graphics – I told the graphic artist that it would be a good idea to use LEGO style.
Is the EP a fair representation of your current output and how you are working at the moment?
Yes, it represents my current interests, but not all of them. I produce many things, I've got many different ideas. I experiment on music all the time. But currently the most representative for me are old school, rave elements, which you will find of course also on my EP.
Over four original productions the EP jumps about quite a lot stylistically, often two or three times within each track. Do you feel that there is anything inherent to everything you make? Any fundamental principles, threads that tie it all together?
As I have already said, for example, rave elements tie my tracks together. My sounds are diverse. I like to surprise my listeners, I don't want them to be bored.
As I mentioned in the last question, your tracks have hyperactive arrangements, continuously morphing and evolving over their course. Is progression in your music a key concern for you?
Not exactly. I just had such idea for arrangements then. Tracks that are on my EP were arranged in the same concept – first part of each track is more calm than the second part.
Your music is often underwritten by influences from classic 90s dance music. Are these sounds that you were listening to the first time around or things that you have gone back and rediscovered?
When I was a teenager I listened to such music, for example Scooter, The Prodigy… Maybe those artists had an impact on me. I still remember those sounds that's why I use them now in my tracks. Moreover, I sometimes play at happyhardcore, dancecore, raggacore and breakcore parties under my other nickname, DIF.
Juke & footwork seem to be another theme that pervade a lot of your productions. When were you first exposed to these sounds and through which producers? What is it about those sounds that first appealed to you?
It was about 2 years ago. Back then I heard Addison Groove's tracks for the first time – "Footcrab" and "Dumbshit". Juke appealed to me because of its cut vocals and drum samples from the Roland TR-808 and 909.
Looking forward, what have you got coming up over the next few months? Any further releases in the pipeline?
My two juke tracks have just been released on two compilations: World Wide Juke Vol. 3 and Japanese Footwork on Hard Hard Hard! Currently I experiment on trap tracks, in which I also keep rave style. If I have some interesting offer concerning releasing them, I will agree for sure.
Can you tell us about the mix you have put together for us…What did you want to showcase with it?
The mix consists of seventeen tracks. Half of them were produced by me – two trap tracks, one mash-up, five juke and one IDM/jungle that closes the mix (I did it a long time ago as DIF). Other tracks are jukes and traps.
LIMINAL SOUNDS VOL.19: FIDSER
DOWNLOAD: HERE
1. UZ – TRAP SHIT V6
2. Flosstradamus & DJ Sliink – Test Me
3. Gregor Salto – Bouncing Harbour (Funkin' Matt Rmx – Munchi Still Thinks Funkin' Matt Should Do Moombahton VIP)
4. UZ x CRNKN – Booty 2 The Ground
5. Baauer – Yaow!
6. Mochipet – Moguera (Fidser rmx)
7. Fidser – This Is My
8. Krampfhaft vs Fisz – Grind (Fidser mashup)
9. Fidser – Rock The Beat
10. Fidser – Check This Out
11. Fidser – Ahora
12. Fidser – Watch Dis
13. Pradda – Run it feat. Little Texas
14. Fidser – Juke Bells
15. Nowa – Bass Paint (Triple Cup Remix)
16. UNKNOWN
17. DIF (Fidser) – Out
-FIDSER 'CHECK THIS OUT' IS OUT NOW ON CONCRETE CUT