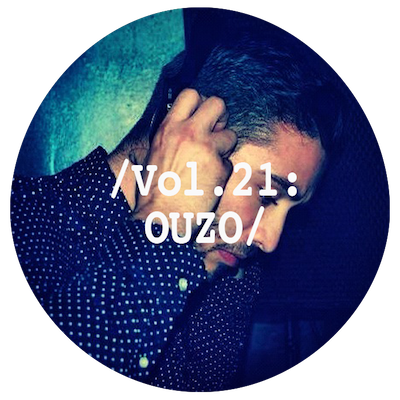 For our latest mix I am very happy to be handing over the reins to the very capable hands of Get Some co-founder, sometime mic controller, impeccable selector and all round don OUZO.
As a DJ OUZO's credentials are self-evident. Having first made a name for himself during the halcyon days of UKG, he has navigated through the genre's evolution through grime, dubstep and into whatever you wish to call it that we are experiencing now with an ear for fresh and forward-thinking music across the spectrum, augmented by the presence of his rich musical roots. As a founding member of blog, event, label and creative collective Get Some, he has consistently endeavoured to provide a platform for the best creatives of all disciplines to get their work to a wider audience. Currently focusing on growing the label, their burgeoning roster now includes Eagles For Hands, Crypt, No.Face, MIK and Pedro 123, who is about to release the 'Slush' EP on the label.
Ahead of his set at the Big Eyes, Little Soles 2nd birthday UKG special alongside Slimzee, Crazy D, Bannerworx, Palace and more, we invited him to take the reins for the twenty first installment of our blossoming mix series. When we asked him to put together a mix we knew we were in for a treat, but what he has delivered is really special. The mix serves as the perfect taster for the event, with OUZO digging into his extensive vaults and expertly guiding the listener through a collection of rare house and garage gems alongside some choice fresh material. Here is what he said about the mix:
"It's quite a personal selection really. I think this is me saying goodbye to garage for a little while, too many DJ's are playing UKG right now and there is so much great music out there that I don't want to get caught up in the hype. A lot of these tracks symbolise the beginning of the end of garage for me personally. There was a lot of chart hype and the scene was evolving into a darker place, going into its shell, just before grime came about and was ever present in the clubs."
To accompany the mix I caught up with him to discuss garage, Get Some and more. Check out the interview below and grab the mix after the jump. Don't sleep on this one!
First up, for those that may not be aware can you please introduce yourself…
My name is OUZO and I co-founded GET SOME, a record label, online magazine and music collective.
When did you first pick up DJing and what impelled you to do so?
I started messing around with records in the mid to late 90's although I'm not sure I could have claimed to have been a DJ back then, I was actually an MC in the garage scene. I grew up around music and while I was at school everyone was into bands like Ash, Blur and Oasis, which was totally alien to me as my mum was always playing Jazz, Blues, Reggae, Soul and Funk when I was small. A couple of my mates older brothers were into jungle and we used to hang out in their bedrooms and listen to them mix. We convinced one of them to teach us to mix, by then they were listening to house & garage, and that's when it all began for me.
When you started out, what music was inspiring you?
House & Garage and then UKG. I guess the bubbly, vocal nature of the music was a natural progression from the music I listened to at home when I was younger and the R&B and hip-hop that I was listening to around that time.
How have your tastes developed over time to where you are at now?
It's a strange one really, i would say that my taste has evolved with the sound itself. I witnessed UKG evolve in breakbeat garage, then into grime, then dubstep. After that, the whole thing exploded into what it is now.
In between discovering grime and dubstep (if I'm honest I didn't get too deep into grime, it was a massive change in vibe from UKG at raves) I was introduced to electronica and techno by a couple friends at work. This opened me up to a much broader style of electronic music and is definitely influencing what I'm listening to now.
And how do you think the scene has changed during that time?
The big thing for me is how easily you can hear/see big DJ's and producers play live and the sheer volume of gigs that are being promoted. The same goes for the tunes.
I don't want to come across as one of those guys who rubbishes every new thing but you had to go to raves to hear the new tunes and see big names play, which were once a week, once every two weeks. Also, pirate radio was such a big part of discovering tunes back then, now places like GET SOME, SoundCloud, Mixcloud, Rinse FM, NTS Radio and This Is My Jam make it so much easier.
The scene is in a much better place for it now, there is way more stability and it is growing rapidly.
Have you got any particular shows or moments as a DJ that standout as highlights?
Not really, I play to empty floors most of time! I played a summer in Crete and Cyprus back in the day with my boy MC Form, that was an amazing experience. More recently, I was asked to play a set at So Special at The ALIBI. It's a small venue but it was rammed and it went off! That was a lot of fun.
And our first GET SOME of course, that's when everything changed.
What is your current DJ setup?
Used to use vinyl but recently I have been using a Ableton + M-Audio midi controller setup as my decks have been in storage for a few years. But, I just got Traktor Scratch and my decks are back up and running again so I'll be switching over to that setup pretty soon.
How would you describe your DJing style, stylistically? Who are your influences in that respect?
My DJ Influences come from people like MJ Cole (great DJ as well as a producer, rare), Jason Kaye, Matt Jam Lamont, The Dreem Team, Norris 'The Boss' Windross, Martin 'Liberty' Larner and Martyn.
All DJ's who take you somewhere (CHEEEEEESSSE!).
These days electronic music is very much producer led. Have you found it hard to make a name for yourself purely on your DJing abilities?
Definitely. I guess that producers are more in demand now because people wanna hear their tunes, people like SWAMP are putting insane lives sets together playing records that no one else has got. But a good producer is not always a good DJ, it's a different type a skill but one of equal importance in ecosystem. The scene has always needed good DJ's and always will.
Back in the day, it was more about DJ's because they knew producers and certain producers would only give dubs to specific DJ's. There is less of that now.
Do you think this is a balance that should be re-addressed?
I don't know really. When there are crews like Liminal Sounds and GET SOME out there I think it is less of an issue. People like a 'vibe' and will hit the nights crews like us play at because of the sound we push, so I think there is still somewhat of a balance.
If you do it the right way you'll get a following regardless.
So to talk about Get Some briefly, when and why was that set up? and how has it evolved over time?
When Jasset and I started talking about putting on a party in the early part of 2009, there was no plan. We had spent a few years hitting FWD>>, DMZ and warehouse parties together but we felt that there a gap to do something different. We didn't feel like the scene was catering for new blood very well at the time.
The first party went well and we kind of knew we were on to something. We spent the next two years promoting our own parties but decided we needed to refocus, our parties were very forward thinking, too forward thinking probably, which was great as we booked lots of great acts but it was hard work keeping up the momentum plus by the time we decided to stop, there were lots of alternative parties doing similar things to us. We decided to start a label with the same proposition, pushing fresh young talent who needed a break or a nudge on their way to making it big.
We are now managing artists like M.I.K. and Pedro 123 and have opportunities with some others artists too, this is something we would like to continue growing.
Parallel to all of this we built the website up, GET SOME has a pretty strong online following now.
Looking forward, can you tell us a bit about what Get Some is up to now and what plans you have for the coming months?
Right now the main focus is the label, our release schedule is locked all the way up to February next year which is really exciting for us. Beyond that, we just want to continue building up relationships with great people and continue to try and do great things. We have a brilliant relationship with people like Regulate, Redux, Audio Doughnuts and of course Liminal Sounds.
None of this means anything unless the people you work with have a similar mindset to yours and share a similar vision as you do.
What gigs have you got coming up if people want to catch you playing out?
I have had a quiet September post Outlook festival but October is looking rammo. I am a taste maker for Farah Vintage clothing and am playing at an event for them at the beginning of October. We do a pub session at The London Fields pub bi-monthly, the next one being mid October. The two I am really looking forward to are Liminal Sounds at the Rhythm Factory and Regulate's 2nd birthday, where we are hosting room 2 at Lightbox. And, GET SOME are doing a Just Jam takeover in early November.
We have also just been asked to do something pretty big at the end of November but I can't say too much about that right now.
Can you talk us through the mix you have put together for us a little bit…How was it planned? How did you record it? And is it a fair representation of what people can expect when they see you playing in a club?
This was a set I have been playing around with for a while although it has evolved a bit since I first spoke to you about it. It's quite a personal selection really.
I think this is me saying goodbye to garage for a little while, too many DJ's are playing UKG right now and there is so much great music out there that I don't want to get caught up in the hype. A lot of these tracks symbolise the beginning of the end of garage for me personally. There was a lot of chart hype and the scene was evolving into a darker place, going into its shell, just before grime came about and was ever present in the clubs.
GET SOME has made a name for itself by doing what we do our way, not necessarily following trends, some of this mix is me trying to get back to that. The genres span from early US House & Garage, to UKG, old school house to more up to date house. This is my first set using Traktor so hopefully it's sounds alright!
I'm not sure if this represents what I play in a club, people who have heard me live would probably be best to make that call. I like to think that I am flexible and can mix it up depending on the crowd, type of night, vibe etc. I like to make people dance and try to avoid chin stroking sessions, so if you come and catch me in October/November, come and GET SOME HYPE!
LIMINAL SOUNDS VOL.21: OUZO
DOWNLOAD: HERE
Zed Bias – Standard Hoodlums Issue 1
The Wideboys – Stand & Deliver
Tuff Jam – Feel My Love
Zed Bias – Been Here Before
RIP Productions – Oh Baby
Scott Garcia – It's a London Thing (feat. MC Styles)
Nu Birth – Anytime
Groove Chronicles – Shattered
Julio Bashmore – Au Seve
Deep Inspiration – Deep Dubs, Vol. 1
Sole Fusion – Bass Tone (House Nation Mix)
George Kranz – Din Daa Daa (Original Mix)
Baffled & Operator – Things Are Never
Ordinary People – The Message
Dusky – Every Day (Original Mix)
No.Face. – High feat. Ella Rothwell (Kitsch & Sync Remix) (GET SOME RECORDS)
DJ Assassin – Face In the Crowd (Intellidread Mix)
Brasstooth – Pleasure
JJ Lewis – Ruff, Tuff and Ready (feat. Banton)
Brasstooth – Celebrate Life (El-B Remix)
EL-B – Buck n Bury (feat. Juiceman)
Oris Jay – Biggin' Up the Massive
MJ Cole – Bandelero Desperado