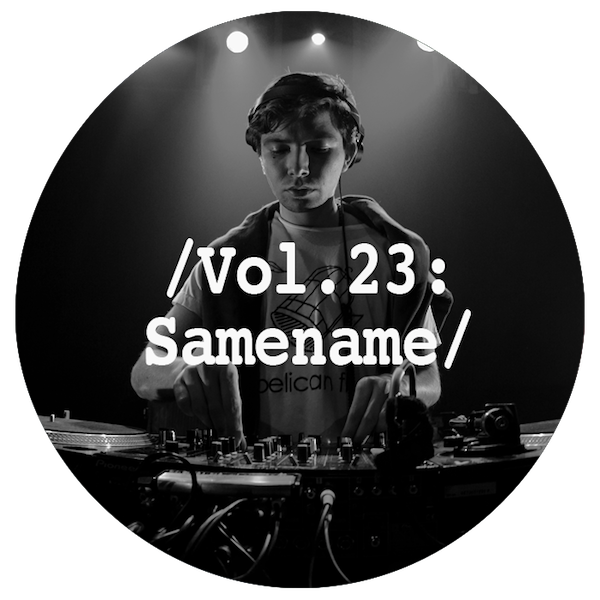 Image credit: http://www.jd-pictures.com/
While Samename will be a new name to some – he is yet to put out his first official release – in our eyes he is certainly one of the most exciting prospects for this year. Alongside names like Visionist, Rabit, MissingNo and Bloom, he is on the front line of a new wave of artists making genuinely inventive and forward-thinking instrumental grime. Poised to make a serious impact this year and with new music on the way we thought it was a good time to tap him up for a chat and the latest chapter in our mix series.
Taking inspiration from early grime and twisting it into new, hyperactive and distinctly fresh shapes, Samename's productions are teeming with contradictions; at once rugged and nuanced, brash and intricate, there is a breathless energy to his music that infects the listener. While touchstones can be found in the revered grime elders – Wiley, Jon E Cash, Dizzee Rascal, Alias et al – his tracks are by no means simple pastiche; Samename works these producers' tropes into a sound which is distinctly his own, re-contextualising and re-energizing them in the process, carrying the torch for the rich creative vein that felt never fully explored at the time.
At the same time borrowing from more dancefloor orientated sounds such as Ballroom and Jersey club and utilising the kind of ADD club constructions that fuel contemporaries from the Club Cheval, Night Slugs and Pelican Fly camps, he manages to bridge grime's more abstract forms and pure club energy, as exemplified so brilliantly by tracks like 'Okishima Island', 'Harajuku' and 'Mishima Curse'. Already gaining a following amongst those in the know, and with releases on the horizon, he is most definitely one to watch over the coming months.
To go alongside the interview he has put together the latest installment in our ongoing mix series, delivering a thrilling thirty minutes of fresh, raw grime. Featuring a selection of his own dubs and remixes alongside new music from Logos, Slackk, Murlo, Major Grave and more, it perfectly captures the breadth of fresh ideas bouncing around at the moment and is an exciting indicator of what this year will bring.
First up, for anyone that may not already be aware can you briefly introduce yourself…
I'm a 20-year-old producer/DJ based in the UK, Manchester to be precise and I experiment, mainly with grime.
To start by getting a better idea of the context to your music, what music did you grow up on? And how has that evolved over time to where you are at now?
My parents had good taste in music. Up until the age of about ten I grew up listening to the more Leftfield side of dance music, alongside a lot of acid house due to my dad's taste. Also a lot of Latin music like cumbia, salsa & mapale due to my mum's taste in music. I started looking for music myself at that age of about 10, started off with obvious names like Daft Punk and just kept digging for new music. hoping to find things that excited and inspired me. I guess I just kept looking for new things as I still felt as if I hadn't found what I loved most musically and that eventually led to me getting into Grime. I got into it after it peaked which is a bit shit but I think, in a way, that's given me a perspective that I might not have had if I had been when producing my own tracks that are grime or grime influenced.
When did you pick up DJing and production and what impelled you to do so in each case?
When I was small I used to ask for drums or a keyboard but it never really happened due to money and the unwanted noise issue. Eventually when I was 11, my dad gave me a copy of Reason and I totally immersed myself in it. I went off it from the age of about 13 – 16 but eventually I got back into it and heavily. DJing is something I've only picked up in the last year but I've wanted to DJ since I started producing. I just lacked the money to buy my own set up.
While the backbone of your tracks is largely grime, there are loads of other influences that feed into it. Who / What / Where do you take influence from?
I could be here for days answering this… to put it simply I listen to A LOT of different music. I'll take influence and inspiration from producers that might strike you as obvious when listening to my music, people like Alias, Wiley & Jon E Cash but a lot of influence comes from producers in other musical spheres that you probably wouldn't guess. Its not just music that inspires me though, anything can: the weather, a person, an event, a game OST, you know, just anything really.
Obviously grime is a pretty insular and London-centric sound. How were you first exposed to it?
I guess my first exposure to it was through a few friends and moving schools as my dad got a job down South but eventually we came back up to Manchester as it didn't work out. At the time I didn't really pay grime the attention that I should have (something I regret a lot) but a couple of years later I'd be like 'What was that tune they were playing that time?' and I'd go and hunt it down. After I identified 1 track I would try and check out the rest of that producer's work and from there maybe I'd find another producer that I liked and so on.
What is it about grime that draws you in on a production level?
Just the ideas and how people run with them. It's got a crazy energy to it and I think there's a lot more ground to be explored production wise.
You have remixed Big$hot's classic grime instrumental 'Stomp', and you can hear the influence from that pulse era grime, eski and sino grime in your music. Do you still look back to that era as the benchmark for grime?
Uh yeah, that one's pretty old so excuse the mix. In answer to your question, yes I do, undoubtedly that was the best time for grime in many different respects. I think it can be a trap hanging on to that though, I hear people rant on about that 'golden era' of grime and its like, yeah, that stuff is fucking amazing but lets not just hang onto that forever. What I really want to do now as a producer is push a new sound, my own sound, whilst maintaining that grime framework, not just constantly hear and make throw back tunes that sound like they're from that era when it was at its peak. I've done it myself and so have some of my favorite producers and yeah its cool because of how creative some of the early stuff is but in my opinion, there's a lot more ground to be explored, which is something I am trying to pursue and I know others are too.
There is a distinct Japanese element that runs through your work from the titles to some of the instrumentation. Where does this stem from?
I've watched a lot of Japanese anime when I was a kid and played a lot of Japanese video games, I think we all have unless you were living under a rock or not of my generation. I also had a really good Japanese friend who came over from Tokyo for a year when I was a kid and I think it made me curious about Japanese culture in general.
'Mishima Curse' has its name because of my love of Tekken. Particular characters in the series from the Mishima family have the ability to turn into a devil which 'Jin' (one of the main characters in the series) sees as a curse. I heavily sampled fighting games in that track so it seemed only right to call it that. You just put me in full Tekken nerd mode with that question. Ha!
Across all of your music, do you think that there is anything inherent to everything you make? Any fundamental principles that tie it together?
Just the energy and feel that runs through it – If it doesn't have enough energy or the feel I'm going for I wont finish it – its crucial, without that I cant finish it.
In the last eighteen months or so I have come across a number of producers taking instrumental grime and really evolving it in there own ways, which for me is really exciting. What do you think about the current state of grime? Do you feel that there a scene of producers building?
There are a handful of producers who are making grime or grime-inspired music that I'm really excited about. I think instrumental grime is regaining some of its health and with the right producers and people backing it, it could be potentially something really exciting. On the other hand however, I get the distinct feeling that there are some producers who suddenly make grime because they want to be part of some sort of false anti-hype or feel as if the music genre they've been making has reached its peak and as a consequence stop making that and just whack up a grime instrumental without really having any clue of the history and culture. I think if you're going to try and produce it (and this goes for any other music genre in fact) you should at least find out more about it before doing so. Otherwise you just get people like 'Oh yeah that [insert well known grime instrumental here] tune is bangin. I'm going to make a tune that sounds just like that' which just ends up sounding like shit 9 times out of 10. I do expect 2013 to be an exciting year for new grime music, I just hope there isn't a massive influx of shit tunes that are a product of what I just mentioned.
Who are you particularly feeling at the moment?
Everyone that I've included in the mix and people like Bloom, MssingNo, BD1982, Pedro 123 etc
Looking to the future, what can we expect from you in the coming months. Any releases or new projects in the pipeline?
A few remixes for some of my favorite producers, a white label release with newly set up 'Goon Club Allstars' and some stuff with another of my favorite labels that I cant really say too much about at the minute but all will be revealed pretty soon I think.
Can you talk us through the mix that you have put together for us a bit…How and where was it recorded? Is it a fair representation of what people can expect to hear from you if they go to see you play in a club?
I put the mix together on Ableton and the majority of it was done in my room or round at my best mates house. I wanted to do a mix of mainly new grime/grime influenced stuff to show people that there is a lot of new and exciting stuff being made. I guess it is a fair representation of what I might play, although, my sets tend to sound more like this in the second half as I do like to build up a lot of the time from UK funky, Ballroom and Bmore n Jersey club amongst other things (unless im doing a straight grime mix) I like to see what the crowd is like and gauge what I should play from there.
LIMINAL SOUNDS VOL.23: SAMENAME
DOWNLOAD: HERE
Samename intro
Moleskin – Thru the Rain
Logos – Cloudbursting
Wiley – Colder (Samename Refix)
Slackk – Orkestra 4
Murlo – Hydra
Lucid – On & On (Samename Remix)
Annoy – Talk
Wildlife! – Armagideon Time (Sam Tiba Remix)
Richelle – Bendin' (Samename Remix)
Samename – Mishima Curse
Samename – Bad Apple
Major Grave – Konquered
Breen – Chalice
Youngstar – Pulse X (Visionist Remix)
Goon Club Allstars – Goon Plate
Gremino – Oriental Tune
Lucid – Luci Boi
Total Freedom – Promise Real Talk (Dot vs Ciara mash)'