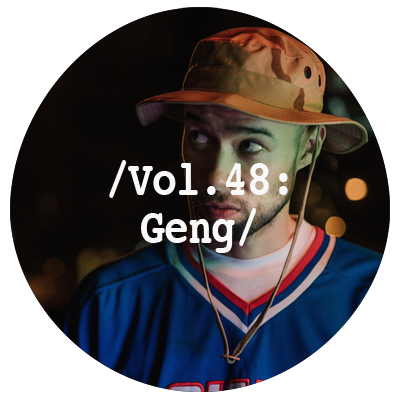 Following a bit of an unintentional hiatus from our mix series, we're excited to kick things back in to gear with a new mix from Geng.
The Purple Tape Pedigree boss is currently working on a dizzying array of projects. From curating releases on the burgeoning label to putting on parties in his native NYC, DJing to shifting streetwear, there are few people doing as much as he is to push things forward and support the wider community. Perhaps even more impressive than this is that despite there being so much going on at any one time, the quality is upheld throughout and everything he does is well-thought out from conception to execution.
All of this is just the tip of the iceberg too; with a barrage of activity already lined up for the rest of the year – including a slew of exciting music in the works – it seemed like the perfect time to dig a bit deeper in to what PTP is all about. The interview and mix Geng has provided is as insightful and challenging as everything else that is coming out of his camp at the moment, so don't sleep on this one.
First up, for those who may not already be aware can you please briefly introduce yourself…
I'm Geng. New York City native since the early 80s. Purple Tape Pedigree boss player. I've been at this music stuff since '95…maybe a lil before that.
Can you tell us about Purple Tape Pedigree and how it came about?
To be honest, PTP started as a music blog in 2009 with the intent to, after acquiring enough like-minded followers, act as a bridge by which to introduce new music to folks (as a label). The conversion happened in 2012 with Gorgeous Children's s/t (first) project. Because of the numerous, mega-talented friends who have been/popped up in the circle over the years, PTP has expanded to more of a multimedia commune – visual (photo and video), streetwear side hustle, writers, our DWMS (Devil Want My Soul) party series, etc. This year marked the true return to "music label" form when Celestial Trax's Ride Or Die EP was put out in February. Now there are 4-5 releases coming out on vinyl for the remaining months of 2015.
It's a crew in the sense that I don't literally "sign" guys – we share meals and click up in real life whenever possible. If there's ever an issue, we get in front of each other and talk like real people. It's better that way, for now.
Do you see the music and clothing as directly related? Does one influence the other, do you think?
Directly related, especially as major components to any culture: ideas of "dresscode" are perpetuated beyond cultural perimeters through music. Look at rap as the mouthpiece to hip hop/street culture: how many kids have been letting their pants sag, wearing certain sneakers, or tilting their caps a way…cause they've seen a rapper doing it in a video?
With Youtube and Tumblr, things are at light speed. Now it turns from being an internalized style to mere "aesthetic." Everything is referential today. It's weird when you see all these cats dipped in Hilfiger on Instagram when that shit was boycotted by youth/street culture in the 90s once heads found out Tommy was a typical Hamptons-dwelling, racist dickhead. The ironic F.U.B.U. thing is real awkward as well. That's the new Hot Topic mall punk shit. You're not doing it cause it's interesting or nice looking, it's all to fetishize an old ad campaign in The Source (magazine).
Things like fashion and slang are best approached with the notion of responsibility versus blind utilization. Watch, ya'll are gonna have jokes on how Americans are now rocking Nike tracksuits and saying "bare peak mandem dun know"…thanks to this "grime" thing with Skepta and all.
When did you start out DJing? What were you playing at the time?
1995, but took 8 years off from 2000-2008. I started playing mostly East Coast hip hop…anything hard, or underground/indie stuff from that '93-'99 era. Took some of my pops' soul, Pink Floyd, and Moody Blues records, too.
How has your musical taste developed to where you are at now?
My tastes have always spanned a wide range of genres since growing up and having the radio on all day. I was hearing all of those big drum machine-led "club hits" (in the whole "electro funk" and "freestyle" lane) along with watching hip hop music videos from Run DMC, Boogie Down Productions, EPMD, and Public Enemy…plus cool shit like INXS. The 90s was a mix of Seattle grunge (still love Alice In Chains) and metal, if I wasn't on some cheezy new jack swing shit or Wu Tang. Was then heavy into Black Sabbath, video game soundtracks, Bjork, Bounty Killer, Black Moon, Mobb Deep, Neurosis, Company Flow, and so on.
I've always had an ear perked for the heavy and dark stuff…especially in the electronic realm that wasn't based on a 4×4 beat.
You held down a radio show on BBOX Radio for 4 years, and now you do a monthly on Radar Radio London. Is radio an important outlet for you?
I don't know if it is absolutely crucial in this day and age, but I definitely support the concept. The majority of music I discovered for myself was through radio. I feel a calm in knowing that I can have a similar experience, today, by streaming any one of the many current quality radio shows.
Looking forward, what have you got coming up on Purple Tape Pedigree over the next few months? Any plans you would like to talk about?
Since before releasing Celestial Trax's Ride Or Die EP on tape (purple tape, ha…ha…) earlier this year, I've been working on the concept behind a split 12" series – next in-line on PTP. The series is called Body Horror and it challenges each producer to make use of the space in the seldom-celebrated 95-120bpm range. The first of the series features Trap Door and Ra's Al Fatale of Gang Fatale on Side-A and CYPHR of HER Records on the flip. The second is MM (fka Miss Modular) and Imaabs of NAAFI. All of them are crazy sick to me and to have them doing something so different is nothing short of an honor to present through my label.
The first of these splits comes out in September, then the next in October. After that is Joey Labeija's Shattered Dreams EP on vinyl – which will feature all of the tracks separated and remastered/cut by the hands of Rashad Becker. It's bonkers. Very personal, yet Joey is such a sharp storyteller through music – you follow the hurt all the way through.
Currently, heads are in the finishing stages of 2-3 more projects. I want to keep things under wraps for a lil bit more, but trust me, there's some really exciting stuff in the PTP pipeline.
Can you talk us through the mix that you have put together for us a bit…How and where was it recorded? Is it a fair representation of what people can expect to hear from you if they go see you play in a club?
I honestly try not to get super overt in mixing up political messages with the music (mostly due to the constant flood of opportunistic and misinformed "activism" on social media), but this just came about the way it did. There's so much blatantly wrong shit happening now – the evidence reel is constantly being looped and, unfortunately, frequently updated in our collective conscience. I wanted to channel that in this mix by bending the music into a loose narrative on America's culture of violence: its inbred, cyclical nature and the hypocrisy of it all (i.e. the inner-community warring whilst facing a continual assault by those assigned to protect said communities). I feel like the sounds (vocals especially) reflect this extreme level of aggression spawned from an end-feeling of hopelessness. The word "freedom" is a slap in the face to the many who are constantly reminded that they are living within adversarial walls.
As a mixed-race American, and a New Yorker, this is more true to personal experience than, say, some "save the whales, Isis sucks, kill all bankers" campus quad stand-off type pandering.
Techinically, the mix must have been mapped out and scrapped twice before it felt right. I wanted to do something different for Liminal Sounds – to treat it almost like a project of its own. I used a few things to brainstorm and slap ideas together – a split between 2 CDJ's + Traktor on another channel in 4-deck mode and then Ableton (which I forced myself to learn in order to finish this mix). Recorded in my room, which looks out onto a major avenue in Manhattan, NYC.
I tend to play a more uptempo or rhythm-centric set when in the club, but lately I've been further exploring the environmental space allowance between the club and a mix. Pushing to find a way to lead the dancefloor into less conventional lanes. I want to turn the booth/stage into the pulpit.
Either way, best believe I'm working towards being able to play a set like this with visuals and all that fly shit…maybe throw a rave in a submarine.
LIMINAL SOUNDS VOL.48: GENG
DOWNLOAD: HERE
Tracklist:
[section 1:
Intro (sound design by Geng, Tribes Of Neurot, Jon Stewart)
Capone-N-Noreaga x Logos – Top of New Adrastea (Geng Sanctum Edit)
Bloom – Dark Light (Geng Hauledit)
Sudanim – Calm Collected
Kingdom – Stalker Ha (Marginal Men Edit)
Earl & E – Ain't Worried (Geng Reversedit)
Ninja Sword – Restricted
Eaves – Hue]
[section 2:
Lorn – Broken Mantra
DJ Lilocox – Tarraxo Electrico (DJ Maboko Remix)
TSVI x Luru – Black Dog (Geng Hauledit)
Immortal Instruments – Joker Riddim]
[section 3:
Rodji Diego x Disasterpeace – Jump Off Inquiry (Geng Edit)
v1984 – 05312014
Trent Reznor – Quake Theme
Rabit – ??]
[section 4:
Dej Loaf x Morten HD – Try My Little Super Cluster (Geng Weightledit)
JG Biberkopf – Waters
Myth – Luminous
Copout – Contortion (Kid Antoine Remix)
Sami Bahi x Rabit x Lotic – Sami Strapped
Swizz Beats – Touch It (Geng Hauledit)
Tracy T – Shoot First (Prod. TM88)
RLX Assassyn – Strong Man
Styles P – White Niggaz]
Photo Credit: Max Schiano