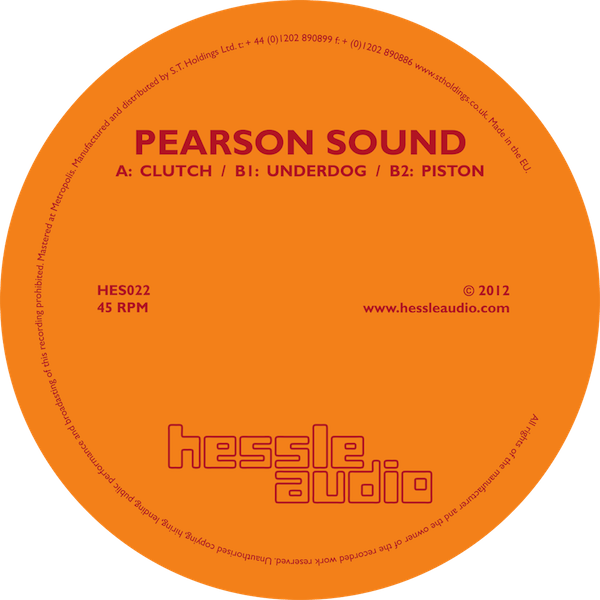 PEARSON SOUND – CLUTCH
(HESSLE AUDIO – HES022)
A. Clutch
B1. Underdog
B2. Piston
Release Date: Mon 10th Sept
2011 was an outstanding year for David Kennedy. As well as joining the illustrious fabriclive series to widespread praise, releases came thick and fast as Ramadanman, Pearson Sound and Maurice Donovan. Relatively speaking, this year has been a lot quieter with just the self-released 'Untitled / Footloose' 12″ and his recent collaborative release with Joy O and Boddika surfacing so far. It would seem that as his transformation from Ramadanman to Pearson Sound has finally been completed, Kennedy has taken a step back to re-assess and plot his next move carefully. This is a decision that has clearly paid off as he makes his return to Hessle Audio for the first time in two years with some of his most stripped back and vital work yet.
Dating back to his early releases as Ramadanman, Kennedy's strength has always lied in the limber percussive muscle to his tracks. If you look at his debut Hessle Audio release 'Blimey' and the way it subverted dubstep's lurching rhythms or the woozy sparsity of his self-titled EP on the label back in 2010, it is the minutiae that have always been his focus, staying clear of that incessant riff or warping bassline. His ability to deconstruct and rewire his influences without ever forgoing his idiosyncratic approach is formidable, and it is in precisely these details that his latest release as Pearson Sound revel, and most importantly, excel.
Perhaps it is a natural reaction against the migration of  the UK underground towards 4×4 rhythms and the rounding off of its once sharp edges, but the three tracks that make up HES022 are more stripped back than ever before and find Kennedy harnessing the sparse power of instrumental grime to construct some of his most incisive and impactful tracks yet. The tribal percussion, stuttering snares and intricate automation all remain, but here the structures are shattered as he looks towards grime's sonic and rhythmic ingenuity for inspiration.
On fragmented lead track 'Clutch' Kennedy lays down the gauntlet re-appropriating a brutal 8-bar template in typically skewed fashion. Drawing from an uncompromising palette, the scattershot percussion is wound tightly by the mechanical hiss that coarses through the bare bones structure, only coming together to get its full weight behind the force of the punishing bass hits. The pulsing synths that creep through in the second half track do little to ease the tension, coiling themselves  ever tighter around the percussion.
Up next, 'Underdog' gives little in the way of respite. The only semblance of melody to appear is the whirring, reversed fx that periodically scratches its way through in to the vacuum while the tumbling, stop-start rhythm leaves the track wide open to the stinging bass pulses and harsh claps that ricochet through it. Completing the package is 'Piston', the most linear of the three, although no less punishing. Sticking stringently to the rigid march of percussion it is only the subdued atmospherics that dampen its inexorable forward momentum. Driving through the first two minutes before without any warning unveiling a burst of flattening bass thuds, the track plays out without any further deviation from its strict path.