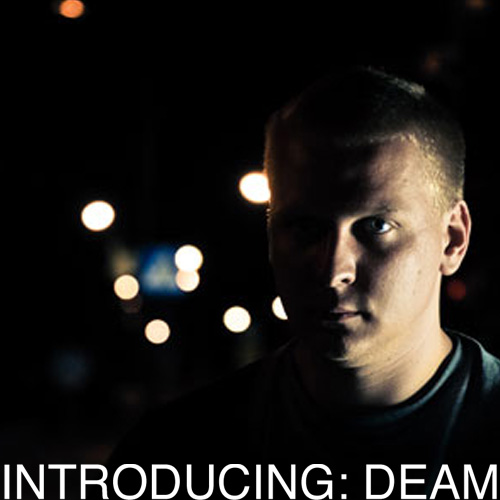 I'm sure it is a familiar experience to many – Hours lost down an internet wormhole searching through an endless trail of soundcloud players and youtube videos on the hunt for new music. And anyone that can relate to this will understand the untold gems to be found along the way. With each new artist you find comes an incremental refraction of taste that brings with it a prismatic spread of new paths to divert your attention as you search for something better than the last.
The organic sequence of events that led me from my interview with Venice Calypso and onto Intreau and then the music of Deam's label Concrete Cut got me thinking how far this trail of discovery could lead and whether it could bring any more discoveries that I may have otherwise missed. And so I have decided to start a new little experiment, of which this feature will be the first chapter. Beginning here with Deam, I am going to invite the featured artist to lead me to the next and see where we end up. Who knows how well this will work, but I thought it was definitely worth finding out….
My first introduction to Deam – as a consequence of the aforementioned chain of features – was through his debut solo outing on the ever impressive Concrete Cut label. The six-track 'Square Love' EP is an accomplished affair that reveals a broad array of influences tied together by a love of smooth synth-led grooves and tightly swung beats. Opening track 'Joint' sets the tone with its blissful bending synth tones, light-footed rhythm and animated atmospheric haze. 'Mayhem' then seems like the reprise from that as the bright tones melt into the atmospheres and the rhythms penetrate deeper as they start to come apart, seemingly only held together by the smooth bassline underneath. 'Saw I?' retains the mood, this time letting tumbling drum lines take the groove off the grid as the disembodied vocals draw the emotion from the wavering synths. In the second half of the EP it moves fluidly from the warbling synths and fidgety percussion of 'Pinch' through the shattered drum lines and understated melodies of 'Riot' and on to eponymous closer 'Square Love' which plays the EP out on its clattering drum line and crisp blanket of colour like a sombre 'end of game' outro on a classic NES game.
Immediately standing apart from a sea of music that could superficially be regarded as existing within the same sonic domain, the EP has a way of tugging at both your body and your head without ever resorting to conventional ways of doing so. After exploring the internet for more music to little avail, I got in touch with the man behind the EP to find out more, the results of which you can read below.
I asked Deam whether he would like to put together a mix of his own productions to accompany the feature but as Deam is not a DJ, he has come up with an even better alternative. His 20 min mix is a taste of his live show that he has recorded exclusively for Liminal Sounds. Re-arranging his tracks into one fluid entity, the mix captures the emotion from his productions and casts them in a new light trapped between the twilight hours of the producer and the dancefloor for which they are destined. Picking apart the layers, it builds from sparse foundations to take the listener on a well-crafted journey through the sounds that make him tick.
Stream and download the mix below the interview, and watch out for the next chapter in this project coming shortly…
Hi. Can you please introduce yourself?
Hi, I'm Michał, also known as Deam or Maed.
When did you get in to production and what/who inspired you to do so?
For many years now, I've felt a sense of freedom with music. I remember my first synth in the 90s, it was a Casio I got for my first communion. It sounded sooo terrible that even as a 7 year old kid I knew that there was no future working with those preloaded patches, and I just picked a few sounds with more sines and just played. I still hate Casio, even watches. But I think that it's thanks to my parents that I'm still having fun with music now. Then, as a teenager I started making music more collectively. I was everywhere I could make music, from hip-hop producer to punk bassist and rhythm guitarist in rock bands.
What have been the biggest influences over your music?
The first band that really inspired me when I was young was Pink Floyd I think, later there were many many more influences that I'm still in love with. Now, I think besides bass music stars it's still Madlib's works, selected works of György Ligeti and all of Krzysztof Komeda's music, that has the most influence on my creativity.
I'm not going to ask you to explain how your music sounds, but do you think there is anything fundamental to all the music you make? Any underlying threads that tie it together?
It's not silly or too cheerful, I hate jumping, funny melodies in music. Square Love is definitely my most positive EP, but positiveness doesn't necessarily mean it has to be stupid.
Does inspiration for your tracks ever come from other artistic disciplines?
I don't think so.
How do your tracks begin life? Do you have any set processes?
Nope. I always start from scratch, but for the last couple months I started creating music early in the morning with an espresso (or two) before I go to work. That's kind of a process, I guess.
Deam – Square Love EP sampler by Concrete Cut
How does your live act work?
My live act relies on a Korg Electribe SX which is my sequencer and sampler. All of my sounds are designed from scratch on my computer or from different sources, and then sampled into the Korg, and arranged on it. The structure of the live act contains 90-120 loops which can be edited, and are mixed live with live effects. Because this is my solo material and I work a lot with the Korg, it's a simple setup. I also play live acts with my music collaborator Fau, and we are using the Korg and an APC in a really heavily side chained compressor-oriented configuration, which I'm really proud of, because it was my idea 🙂
Were you always more inclined to perform live rather than DJ? Do you ever feel any pressure to DJ?
Yes, I feel pressure to DJ, but I don't want to, maybe because DJing is completely incomprehensible for me right now. I've never performed in clubs as a DJ, because I'm not one. I have 3 different prepared live acts made this year (one with Fau), which are 40-50 minutes each. I think that it's a good replacement for a DJ set, as long as it's still fresh. I'm hoping to have a new one in February.
The recent 'Square Love' EP on Concrete Cut was your debut solo EP. How did you hook up with the label?
We met during parties with Concrete Cut oriented music, when I met Dana and Mateusz we already had a few mutual friends and we started talking. I think it happened pretty naturally. CC proposed a single for one track I sent to Enn (I'm still sending to him any tracks I make), and in 4-5 weeks I had 6 tracks ready. What's funny is that the original tracklist is in chronological order of how I made of the EP. There were no trash songs. For Square Love I made only 6 tracks in 6 attempts, and all have been released.
The label focuses on releasing Polish producers. Is there much of a community for the music you make in Poland?
YES! I think that it's the first time in the history of Polish music that we are not so influenced, and that we run alongside (instead of behind) the rest of the world. Almost every week I have met a person, or heard from a friend, of some new, fresh Polish artist, which might not always have a unique style, but has an international level and attitude. I went on a little tour of Poland with Mustnotsleep (Fau & KacperP), a DJ collective, and we always met someone that is in this scene. I might not have everyday contact with many of them, but we try to support each other as well as we can.
What have you got in the pipeline for the coming months?
I'm finishing material which I want to release as the second Deam solo EP with Concrete Cut. I have also finished the collaboration material with Fau, as Fau&Deam (dubtechno infuenced EP) and we are now looking for a label. I have more projects like Maed&Memhwa (jazzbreaks with a turntablist, full album is in mastering) and of course I'm having serious thoughts about expanding my live setup. I don't count remixes, in last three weeks I've done 3 :), and there are more soon. I think that new projects are also needed. All this until February – March, and then maybe some break, but I planned a break after Square Love, and I ended up doubling my efforts instead.
Thanks so much for putting together the live set for us. Can you tell us a bit about the music on the set that you have recorded?
This is unique material which exists only in my live setup, I have never recorded a single minute of it, you are the first:) and this is ⅓ of the full live material. I made this live act from scratch specifically for a gig with Lil Silva @ JedyneWyjście in Warsaw and I had only month to make it. I am about to play this in clubs for max two-three months, and then replace it with something new and fresh. I already have ideas and I played this live act only once:).
You are the first artist in this new series and we are really excited to see where it leads. Who would you like to introduce us to as the next artist?
With no doubts I suggest Kirk – http://soundcloud.com/kirkkirk/sets/kirk-msza/ (heavy bass music with a free jazz influence) for their really free attitude to sound structure, and Ptr1 – http://soundcloud.com/ptr1/inanna-touch-me-ptr1-rmx, because after 'Above the Structures' he is still producing at this high level. This is actually a funny story, Plock is just a little town compared to big Polish cities likes Cracow or Warsaw, and they have so many good artists, like Kirk and Ptr1, Teielte, Krojc, MCQ. They have different water or something.
DEAM LIVE MINIMIX
DOWNLOAD: HERE
-DEAM 'SQUARE LOVE' IS OUT NOW ON CONCRETE CUT