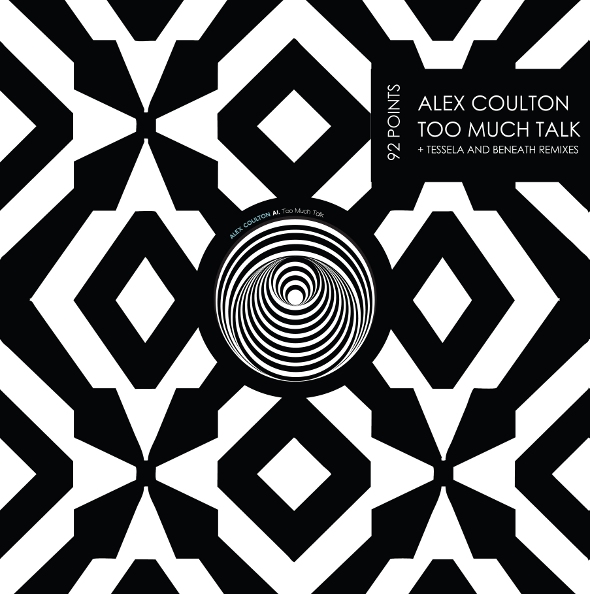 Following singles from Visionist, Magnum and 813, the next single on the blossoming 92 Points label will come from Mancunian Alex Coulton, one of the few producers to be pushing the possibilities of 4×4 structures at the moment with a refreshingly UK perspective. The single will come in the form of 'Too Much Talk' and comes backed by choices remixes from like-minded contemporaries Tessela and Beneath.
Over the last two years Coulton has cautiously dropped a string of understated but brilliantly crafted standout releases on All Caps, Idle Hands (Which we sung the praises of on the site) and Dnuos Ytivil, but on the evidence of recent activity he is clearly just starting to hit his stride. This year has got off to a hectic start for him, first dropping the 4-track 'Adventures in 4×4' EP on Hypercolour sub label Hype_LTD and then last week announcing the inclusion of 'Grande Swing' on 2nd Drop's forthcoming 'Future Foundations' compilation.
Since first airing in Coulton's recent Hyponik mix, 'Too Much Talk' has been the source of its fair share of speculation, so it is good to know it has found a home on the ever-unpredictable but always on-point 92 Points label. Built around the same dubbed out atmospheres and swollen bass that characterized the Idle Hands 12″, 'Too Much Talk' finds a new energy in its rugged snare syncopations which are given the room to slice right through the track and drive it forward; keeping things uncluttered, this is simple yet deadly.
First up on remix duties is Tessela who builds around that central rhythmic swing with  a much more maximalist dance floor approach, using pummelling kicks and sharp chord interjections to get his point across with conviction. Fresh from releases on Keysound and Tectonic, Beneath is up next, stripping things back to moodier territory by cutting up the drum line into a clattering groove which shapes the growling subs and eerie atmospheres.
The release date is yet to be announced so keep an eye out for more details soon.