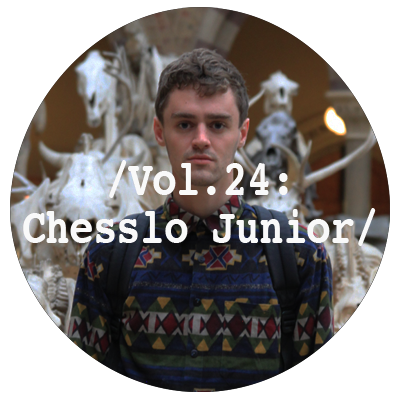 Amidst a sea of 4×4 drum lines and washed out melodies, Chesslo Junior's music is a welcome breath of fresh air. Full of rhythmic swagger, melodic dexterity and low-end energy it is not hard to see why he is already garnering support from the likes of Addison Groove, Eclair Fifi and Om Unit. Still a relative newcomer with just a single EP – albeit the outstanding 'Graphic Description EP' – and clutch of remixes to his name, it is surely only a matter of time before people catch on to the sound of Chesslo Junior.
Hear him playing out and you will start to get a good idea of the context to his music as he effortlessly shifts gears and switches moods, taking in a bevy of disparate sounds on the way. Having cultivated his own unique, off-beat style that melds together hip hop, electronica, footwork and even, at times, grime, his productions sound like the missing link between early 00s Missy Elliot instrumentals and the skewed output of the Brainfeeder camp.
His debut 'Graphic Description' EP which came out on WotNot towards the tail end of last year is a good place to start. Blending some more sedate head-nod inducing beat work with boisterous bounce and sugar rush synths it gives a good insight into the influences that feed into his productions and his ability to move between them without at any point letting them overwhelm his own distinct sound.  Elsewhere the pure club hype of the brilliant Missy-sampling 'CA$H WAVE' and the warped snap of his remix of Deft's 'Thought You'd Fancy It' are further evidence of his ample talents and come highly recommended.
Safe to say that we are big fans of his music, so we took the opportunity to corner him for a chat and tapped him up for the latest installment of our mix series. It was actually seeing Chesslo Junior DJing that first drew him to my attention and he is one of my favourite DJs so I am extremely happy to be able to hand over the reins to him for Vol.24. He certainly doesn't disappoint either, negotiating a smooth ride through tracks from Kidsuke, Airhead, The Phantom, Commodo vs Lurka and more over its 30 minute duration. This is the perfect antidote to the linearity of so many mixes at the moment and will be hard to beat.
First up, for those who may not already be aware can you please briefly introduce yourself…
I'm Chesslo Junior – producer from Oxford, currently residing in London.
To start by getting a better idea of the context to your music, what music did you grow up on? And how has that evolved over time to where you are at now?
I think the thing that kicked it all off for me was when I first heard Aphex Twin when I was about 14 I think. From there I started listening to all stuff coming out on Warp, Squarepusher, Jackson and his computer band. That music really inspired me to start making tunes. I saw Kode9 play a set in 2008 that lead me onto FlyLo and Brainfeeder. Around the same time I was really into Prefuse 73, I think that all that stuff feeds into what I'm making now. It was only really after that I got into hip hop and listening to beats.
When did you first pick up production and what impelled you to do so? Was there any particular catalyst?
I first started producing when I was about 15. At my school they had these computers with Cubase SX3. Me and my friends used to play music together in bands and stuff, so I started using the computer just to try and add that into what we were playing. The tunes were terrible but it definitely started something. At that point I was really just messing around making loads of different styles and genres, finding my sound I guess!
Having seen you playing out, your ability to get everybody moving really struck me, and this understanding is something that transfers to your tracks. Were you DJing before you started making music? and do you think that informs the way you approach each of the two disciplines?
I never played tunes in a club until I moved to London really. I was trying to get my music out there and along with that comes bookings, these days it seems being a producer and a dj kind of go hand in hand. The two things definitely feed off each other though, my music has become more dance floor orientated since I've been playing out.
When you are building tracks how conscious are you of how they will work in a club setting? Is that in your mind at all?
I think it's good to be conscious of what works and what doesn't work in a club. But I try not to let that be too restrictive. And I suppose a lot of the time what really goes off on the dancefloor is when you step out of the boundaries of what people are expecting to hear in the club, so I try to focus on that when I'm making a track.
There are a number of influences that feed into your music, but for me they are really reminiscent of classic 90s hip hop productions, like the stuff Timbaland was producing for Missy Elliot. Is that an important frame of reference for what you do?
I have a lot of admiration for good pop music, and I think Timbaland probably does it better than most. I think there was a point where I was trying to make danceable music, without having to just switch up my style and start making garage or house tunes. kind of had to look back to the hip hop producers who did it best, so yeah I think those people influence me a lot.
You recently put up a whole host of music directly through your bandcamp. Can you tell us a little bit about those tracks? Why did you decide to get them out like that?
Most of the tracks were just sat on my hard drive. I was never going to release them, for a load of different reasons. Either I didn't think they were good enough or they were really old or whatever. But most of them were tunes that someone at some point or another had said they liked, so I thought I might as well just put them out there and try and raise a bit of money for some studio equipment. It went alright in the end actually, half tempted to do it again – It was good to just be able to put the music out myself and let people listen
Your 'Graphic Description' EP is out on Wot Not. How did you first hook up with them? and what is it like working with them?
I met Jed and Arun from Wotnot after Jed hit me up on soundcloud when I uploaded a tune called 'move south'. That was over a year ago now. Since then they've built up a roster of incredibly talented producers. The focus for them has always been about bringing people together. So yeah working with them has always been jokes, and its been a great thing to be a part of and see grow. They're both good mates of mine now so yeh shouts to Wotnot!
Can you tell us a little bit about that EP and what people can expect from it? Is there any overarching idea behind it?
'Graphic Description' is a collection of tunes that we sort of picked out together out of a few zips that I sent them. Most of the tunes on there were made around the same time so I think it's quite cohesive. It's got this kind of world music vibe going on throughout it, I was sampling a lot of african music at time.
You have also been popping up on remix duties a lot recently. Is that something you enjoy doing? How do you approach a remix?
Yeh I have come to really love remixing tunes actually. I think the thing I enjoy most about it is just trying to push the limit of the stems you get sent. Taking the tune in a completely different direction but still trying to keep some recognizable elements. It's like painting a picture when someone's already picked out all the colours for you. I think you can often be more creative when you have to operate within limits.
Looking forward, what have you got coming up over the next few months? Any new releases or projects in the pipeline that people should know about?
All the projects I'm currently working on are probably better left unmentioned. So I'll just say keep your eye on the facebook page/twitter/soundcloud!
Can you talk us through the mix that you have put together for us a bit…How and where was it recorded? Is it a fair representation of what people can expect to hear from you if they go to see you play in a club?
I made this mix at my parents house in Oxford over christmas. It's kind of a late-night jams thing I think. Gave me a chance to throw in a couple of tunes I might not play out in a club but still absolutely love.
LIMINAL SOUNDS VOL.24: CHESSLO JUNIOR
DOWNLOAD: HERE