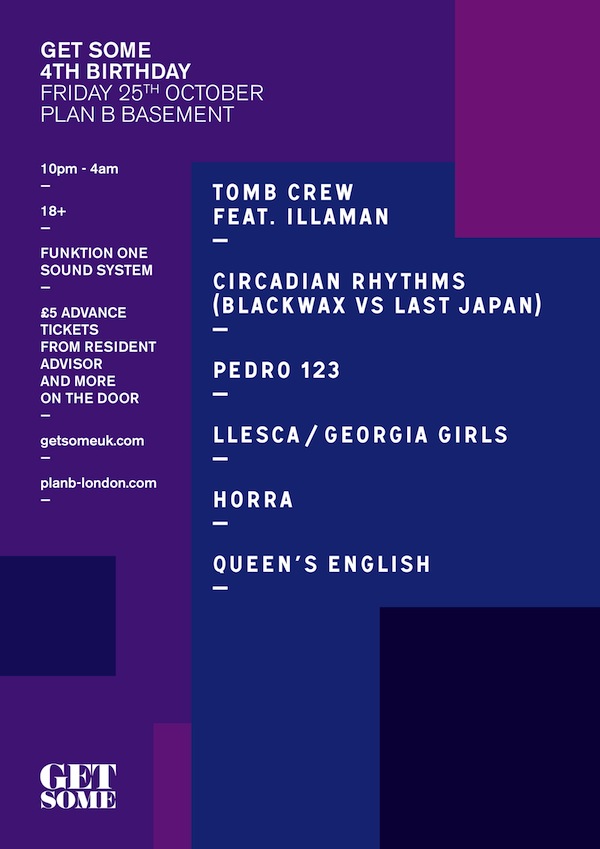 Established in Autumn 2009 to showcase the best of UK underground talent, GET SOME is a music and arts blog, a party, and most recently a record label, providing a platform for the best creatives of all disciplines to get their work to a wider audience. Still going strong, this Friday they will be celebrating four years in the game with a party in the intimate 180-capacity Plan B basement.
The lineup features a selection of GET SOME's friends and family, with sets on the night from Tomb Crew and Illaman, Circadian Rhythms (Blackwax & Last Japan), Pedro 123 who will be playing a special UK Funky set, Llesca / Georgia Girls, Queen's English and the label's most recent signing HORRA, whose 'Masquerades' EP is due out on 4th November.
Stream previews of the EP below and make sure you get down to the party this Friday.
Tickets from Resident Advisor: Here
https://www.facebook.com/events/385381814921703/
http://www.getsomeuk.com/
https://www.facebook.com/getsomeuk/