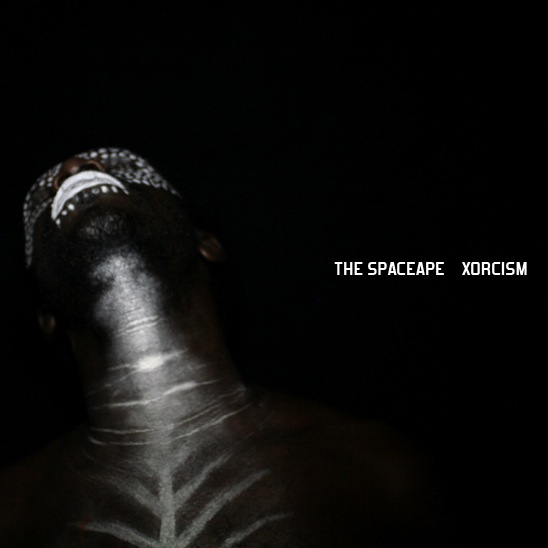 One of the UK's most enigmatic and compelling figures has made a welcome return to the fray. The Spaceape, whose spectral presence has haunted the music of Kode9, Burial and Martyn amongst others, has just released his debut solo EP as a free download. The succinct seven-track 'Xorcism' EP, which is influenced by the spirit of Haitian music and built from samples of voodoo music, is available now from here.
Clocking in at under 15 minutes, the EP is characterized by its brutal urgency and intensity, the combination of sound and word resulting in an otherworldly alchemical reaction that will linger with you long beyond its short duration. The bare bones, sometimes beatless, instrumentals are a chaotic web of scattershot tribal percussion, warped melodies and otherworldly chanting that dictate the mood and pace of the seven tracks on 'Xorcism'. Within this sonic landscape, The Spaceape sounds more visceral and potent than ever, adroitly adapting his fluid flow from spoken word precision to rapidfire stream of consciousness delivery. Informed by the context of The Spaceape's ongoing illness, the usually abstract nature of his lyricism is fundamentally rooted in the human, fragile and finite, addressing concerns of life, death and spirituality.
Watch the agitated video for EP track 'On The Run' below and make sure that you pick up the EP for the price of an email address. Read Hyperdub's full statement on 'Xorcism' after the jump.
"This EP is free but that doesn't mean it's any less important – it is just built from samples of Voodoo Music and therefore unsellable.
Seven tracks. Seven stories. The Spaceape delves deep to release a set of tracks influenced by the spirit of Haitian music. The vibe is raw, chaotic, percussive and hypnotic. The Spaceape's flow is fluid and lucid as he guides us through these short chapters.
The title, 'Xorcism', comes from The Spaceape's (Stephen Samuel Gordon) ongoing experience of living with a rare form of cancer, Neurolymphamatosis for the last 3 years. This intense experience was behind the sonic fictions of bodily malfunction and radiation that surrounded The Spaceape's collaboration with Kode9 on 2011's 'Black Sun' album. Relisten to the lyrics to tracks such as 'Black Smoke', 'Neon Red Sign' and 'The Cure' and you'll understand the context to this new batch of The Spaceape's solo material. Whilst Stephen now feels able to open up about his condition through his music, treatment is still ongoing so you will understand this is still a sensitive matter.
All tracks are under 3 minutes. Everything that needs to be there is here and nothing more. The rattle of 'On the Run' fades up to tell a story of how life can deceive us, tricking us into thinking all is well in our world, until this appearance is shattered. 'Your Angel Has Come' is an argument with The Creator, as the thought of death becomes a reality. The sombre, beatless, spoken word of 'Spirit of Change' pictures a man in search of spiritual healing from the harshness of wind and rain, whilst 'Palaces' rages against a body that betrays. 'He Gave His Body Over To Science' details deranged medical experimentation, and 'The Sound' continues the theme of our uncertain future controlled by an unknown vibration. Finally, 'Up in Flames' rallies against man's complacency in a world we inhabit so briefly.
To exhale is to breathe out. These vocalizations are an exhalation, a healing, and an exorcism of The Spaceape's demons."