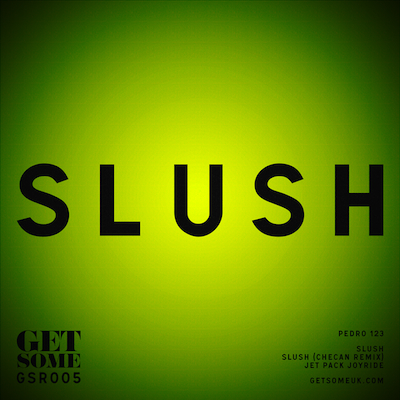 PEDRO 123 – SLUSH EP
(GET SOME – GSR005)
1. Pedro 123 – Slush
2. Pedro 123 – Jetpack Joyride
3. Pedro 123 – Slush (Checan Remix)
Release Date: Mon 12th Nov
The last six months have seen precocious producer Pedro 123 really hitting his stride. Moving from his early promise to a bonafide talent, a flurry of remixes for MIK, Lakosa & iO and Starkey, as well as his recent free EP via B.Yrslf Division, have been picking up support from heavyweights like Monki, French Fries and Roska. Now with the release of his long-awaited debut 'Slush' EP on Get Some, he proves that he is just getting started.
Despite his youth, the young London-based producer has honed the kind of individualistic style that other producers continue to strive for well into their careers. With a sound that references classic grime productions and new school bass music in equal parts, his sparse tracks are made for those stop-you-in-your-tracks moments in the dance. Building his tracks from the ground up, his idiosyncratic take on rhythm and unique way with melodies carry the spirit of grime's early innovators while shot through with an unabashed sense of fun. On the 'Slush' EP he delivers perhaps his most deconstructed and vital distillation of this sound yet.
Lead track 'Slush' has already been picking up a lot of support doing the rounds as a dub and perfectly encapsulates this sparse, colourful take on grime. Anchored by the fidgety, bare bones percussion and splayed by its plunging bass tones, Pedro teases out an icy synth riff that skitters across the top to keep up the momentum. 'Jetpack Joyride' is a more structured production, offering up slinky 2-step rhythms and a warping niche-style bassline while struck through with the same brilliantly skewed perspective as the A side, never more than one bar from falling apart completely. Fresh from his contribution to UTTU's 'Tales From The Darkside' compilation, Sheffield via London producer Checan completes the package with his remix of 'Slush'. Slickly embellishing the synth line at the core of the original, he employs a bumping 4/4 rhythm and hefty low end to carry it home.
The 'Slush' EP is out now on Get Some on 12″ and digital. Watch out for the 'Swap Numbers' EP which is set to drop on B.Yrslf Division shortly after.