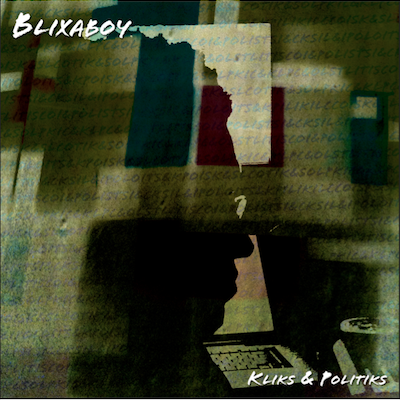 In an increasingly scene-led climate, where a new sub-genre is coined practically every day, a lot of producers become fundamentally intertwined with the movement of which they are a part. However, there are some artists who refuse to define themselves by any one sound, defiantly moving forward with each new project, each new song, instead drawing their identity from their constant mutation and evolution; Wanz Dover is one such artist. From founding space rock band Mazinga Phaser in the nineties to starting the Laptop Deathmatch competition in Dallas, he has strived to push the boundaries of forward-thinking and experimental music for the best party of twenty years.
Following the release of a string of online EPs and limited-run album 'Digital Daze', he is now releasing the 'Kliks & Politiks' LP on his own Astroblaque imprint under his current incarnation, 'Blixaboy'. With this project, Dover has amalgamated his myriad influences into a bass driven dancefloor sound, underpinned by its futuristic conceptualization.
The album, which is delivered as a narrative that can be divided into two story arcs, ending with 'Kliks' and 'Politiks' respectively, melts away any artificially imposed notions of scene or genre, touching upon such disparate sounds as techno, krautrock and dub, while loosely using dubstep as its foundations. That is not to say that it is defined by any of the tropes that have now become associated with dubstep though, but rather that it is a manifestation of the experimentation and ambition at the heart of the nascent scene, with the ambitious project perfectly embodying its space, impact and futuristic sonics.
Tumbling through the paranoid dub mutation of opener 'New Age Steppa' via the space funk groove of 'Sci Fi Jack', right through to the taut drama of album closer 'I Will End You', the album's ebbs and flows effortlessly ignite the different nerves embedded in Dover's musical subconscious. Playing with a broad rhythmic and sonic palette, his sparse arrangements reference and re-contextualize his influences, while simultaneously giving birth to something completely fresh, brilliantly idiosyncratic and impossible to pin down.
With the album out now, I though it was the perfect time to get some questions at Dover about his influences, the making of the album and future projects. You can download one of the album's highlights, 'Sci Fi Jack', after the interview too.
Antony Hegarty/Oneohtrix Point Never – Returnal(Blixaboy Futro freemix) by Blixaboy
Can you please briefly introduce yourself?
My name is Wanz Dover and I have been making music in various forms for a very long time.
Having a lot of time in bands, what are the pros and cons of electronic production for you? Do you prefer working on your own?
I don't know too many cons to electronic production. It is simply the way I record music. I still play guitar, theremin, keyboards and bass all over my stuff. The guitar stuff tends to not sound like guitar. Computers have been an integral part of how I operate as a musician for over decade. My computer is kind of my second brain. It's a very Man Machine type of relationship.
The biggest advantage of doing electronic production on my own is the ability to follow every little whim without having to get permission. There is a lot to be said for playing off another person in a live situation. I occasionally play live with a drummer and VJ and it definitely takes the live experience to another level.
With this project, did you set out to create an album? Or did it develop more organically?
I was kind of in a dark place in my life when I started working on the album and making this record was my way of dealing with it. I wanted to kind of go into isolation and really explore my wide range of musical interests through my love of Dub. On my 1st album (Digital Daze vol.1) I was trying to find my voice within Dubstep. On Kliks & Poltiks I kind of took what I learned and tried to just tell a story.

Is there any overarching concept or thematic motifs that unify the album for you?
It is a soundtrack to an epic imaginary sci-fi/superhero film featuring Blixaboy as the central character. "Kliks" ends the 1st part of the story arc and "Politiks" ends the second part of the story arc. "I will end you" is score for the climatic battle at the end of the story. I am a long-time comic book and sci-fi geek. I drop references to that stuff throughout my Blixaboy work. The song "Kurt Bamf" is actually a tribute to my favorite X-man, Nightcrawler. He passed away in the Marvel Universe this year and I was a bit crushed. I wrote the track the day I found out they killed him off.
Was there anything in particular that was influencing you during the making of the album and feeding into your own productions?
Dubstep is obviously my launchpad. I started following the scene around 2006. I was really attracted to the wide variety of influences coming into the genre. At the time every producer I heard had distinct voices within this fairly young genre. I saw old school producers that I was into in the 90's like Kevin Martin (The Bug) and Mick Harris (Scorn) find new inspiration and new audiences. At the same time I saw a slew of newer producers really pushing the genre in all kinds of creative directions. Dubstep from my perspective was an open pot that you could bring in any of your influences stir it up at 140bpm and explore the power of bass. I have a lot of musical interests and finding a genre where I could express all of them under one hat was very inspiring. I love krautrock. I love Shoegaze. I love Dub(especially the early On-U sound catalogue). I love all kinds of Film Music. I love Detroit techno. I love minimal. I love Dubby Post-Punk (PIL, The Pop Group). I love rare funk and soul records. I love African Funk. I love a lot of music. Finding one genre where I can explore all of it and have it make sense is somewhat ideal.
Rhythmically I pull a lot of influence from some of my favourite drummers. Guys like Jaki Liebzeit, Robert Wyatt and Tony Allen. I always wanted to be a drummer, but I ended up learning how to program beats instead.
I hear a very strong grime influence on tracks like 'I Will End You'. Is this something that you are aware of?
I love film music. This song is my tribute to Bernard Hermann. He was the composer for a lot of iconic films including a significant chunk of Alfred Hitchcock movies. Psycho, North By Northwest, Citizen Kane, Taxi Driver, Cape Fear, The Day the earth stood still……that stuff. I am a bit of a crate digger and I buy up his records whenever I find them. I wondered what a Bernard Hermann dubstep track would sound like. Kind of a Film Noir dub soundtrack to a murder mystery. I really enjoy doing symphonic arrangements and this song was a great excuse to explore that.
It has been awhile, but I have checked out some grime. It's kind of hard to not stumble onto some grime when digging into the roots of Dubstep. I like a lot of what I heard, but I don't think I have been exposed to it enough for it to be an influence. Maybe some of those guys dig Bernard Hermann too.
Blixaboy – I Will End You by Blixaboy
How conscious is the music making process for you?
Extremely conscious. I spend on average 30 to 50 hours a week in the lab when I am in writing mode. I sell music recording gear for my day job and DJ for my night job. It keeps me very immersed in records and gear 24/7.
There is an underlying eeriness that permeates the album. Are you generally drawn to music of this nature?
I do tend to be drawn towards the dark side of things. I have had a rough few years and that gets expressed through my music.
What can we expect from you over the coming months?
I am dropping a series of four ep's called Futro Trax Vol.1-4 over the next few months following the release of the album. The tracks on the album are all very developed and part of the whole story arc of the album concept. The ep's will be focused more on stripped down club tracks. Tracks that I use as DJ tools in my sets. The ep tracks are 2 or 3 times longer than the tracks on the album. I also have a few remixes coming out under my own name and also with my occasional partner Redeye.
BLIXABOY – SCI FI JACK
DOWNLOAD: HERE
-BLIXABOY 'KLIKS & POLITIKS' IS OUT NOW ON ASTROBLAQUE