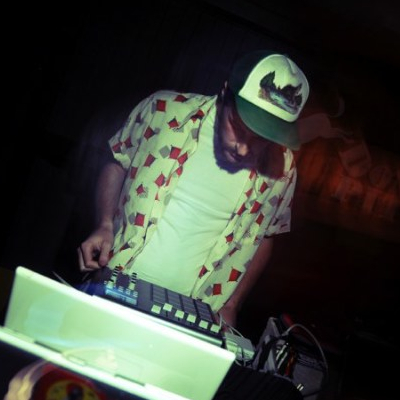 The Donky Pitch gang, hailing from Brighton, have just unleashed the inaugural release on their newly established imprint of the same name, and they have certainly gone in hard, featuring top notch offerings from residents Slugabed and Ghost Mutt, with a remix courtesy of Mweslee. Slugabed's riotous 'Donkey Stomp' and Mweslee's hyperspeed RnB remix are well worth your money alone, but it is the two contributions from the lesser-known Ghost Mutt that are the real standouts. 'Platinum Skull' and 'Thoroughbred' manage to find the oft strived for but rarely achieved balance between dancefloor functionality, experimentation and individuality, perfectly.
Ghost Mutt's schizophrenic tracks have an inherent swagger which just can't be taught. Switching from upfront bass onslaught to slinky soul one minute to the next, his tracks incorporate the kind of raw energy and ADD approach that you are helpless to fight against. Low-slung beats battle against tsunamis of bass on the ground, while taut, frenetic synths quiver and snap against brittle snares and fly off in to the atmosphere.
However, it is his uncanny ability to squeeze every ounce of emotion out of his alien mechanical machinations that remains with you long after the tracks have finished. Adroitly twisting addictive hooks through thick swathes of bass, disembodied vocals seep through the wall of sound to create rich and full melodic textures, sounding like a final showdown between hip hop swagger and RnB swoon.
Having had the EP on repeat pretty much ever since, I wanted to find out more about the man behind the tunes and when I was going to be able to hear some more, so I caught up with Ghost Mutt himself to get the low down…
Can you please briefly introduce yourself?
I'm Ghost Mutt, I'm 21, I live in Brighton and produce music with bass and drums and synthesizers.
How did you first get into production and what impelled you to do so? At what point did just being a listener not suffice for you anymore?
I got into it probably at about 17 when I was going to college on a music production course. But listening to the things I'm into now mostly came after that. I have no idea what I was making then, but it wasn't very good. A combination of Venetian Snares and Four Tet rip offs.
When did the Ghost Mutt project come into existence?
A couple of years ago I guess, when I wasn't satisfied just making half a song every few days and stowing it away to forget about… and when I'd built up enough confidence to make a myspace. It all started off sounding a lot different then it does now, but, things evolve. The stuff I make now is a lot more well-informed I suppose. Whether that's a positive or a negative I don't really know.
You have a pretty scattered sound, taking in an array of different elements both rhythmically and sonically. Do you think there is anything inherent and fundamental to all the music that you make?
Obviously everything I do has bass and a groove and a melody. Beyond that it generally goes in whatever direction it wants to. Although I think the more tunes I make the more refined things are getting. Future tracks of mine are definitely going to be smoother overall. I much more enjoy the challenge of making a slinky, RnB influenced dance floor number then a straightforward banger. Both have their time and place but the former is more where my head is at now. I try to get my production as clean as possible, which didn't used to be that big a deal for me but has become more so the more I play out. It's no fun not being able to hear your track properly on a big system.
And are these elements (if there are any) the same as those you would look for in others' music?
Usually, yeah. I can get a bit too involved sometimes though, so occasionally I just have to take a step back and listen to something completely unrelated to the sound I'm going for. But I have a really bad habit of sitting there and going 'oh I want to make that sound' or 'this would make an awesome bootleg'.
Your tracks have a schizophrenic quality about them, constantly evolving and refusing to sit still. Where do you start when building a track? Do you have any set processes that you go through?
The schizophrenic thing isn't intentional, it's probably me trying to stop myself getting bored while I'm making it and listening over hundreds of times. There's never really any set process. Most things will usually start with one idea then branch out from there. Then it all gets deleted and remade with the same sounds about 5 or 10 times until I'm happy with it.
RnB seems to be having a bit of a renaissance amongst bass music producers at the moment, and there is a strong element of that in your sound. Were you a fan of RnB back in its heyday in the 90s? And are you into the new wave of RnB around at the moment?
I wasn't a fan at all… I was like 11 or 12 by the time all the best stuff stopped coming out, and I'm not one of those people fortunate enough to have been surrounded by good music in their childhood. As a teenager I was getting into lots of music that took itself fairly seriously. With the exception of maybe Queens of The Stone Age and The Melvins it was all about epic 20 minute quiet/loud songs and drone and all that stuff. Which is still alright but I just grew tired of it over time. It wasn't until maybe three or four years ago that I kind of fell backwards via Four Tet's Madvillain remixes, to Madlib, to Dilla, to Fly Lo, etc… Obviously Dubstep was all going on at this time too so I got into that via all the standard routes, Digital Mystikz stuff, Burial, Skream's record. Went back and schooled myself on hip hop… two step, and garage, and once I discovered all this soul and melody in garage, all sampled from R&B, it blew my mind and I just took another giant backward step to that. It was all a very natural progression but done from back to front! Also my girlfriend is a little older than me so is always filling me in with a few '90s gems from her youth that no one else remembers.
RnB nowadays I'm quite indifferent to in most cases. Early '00s Timbaland and Neptunes were the last of the great, classic RnB tracks, but the genre still gets a far worse rep than it deserves nowadays, to be fair.
You have two tracks coming out on the first release from Donky Pitch, whose night you are a resident at. How did your affiliation with them first come about? And what is Donky Pitch all about for you?
They got at me via myspace and dubstep forum and asked me to play their first night, standard internet link up business really. We should probably invent some amusing anecdote to this question as it seems to come up a lot!
For me, Donky Pitch is the highlight of my month whenever it's on, regardless of if I'm playing or not. They've carved themselves a nice little niche down here and it isn't really like any other club night in Brighton at the moment. It's just an incredibly fun, intimate, good time, every time… With loads of awesome music. It isn't ALWAYS about Skweee though, as much as a lot of press seem to want it to be.
Has being surrounded by talented producers as part of the collective aided your production and creativity?
Definitely in terms of getting together with Slugabed and Boss Kite and chatting shit with like-minded people that do similar things. I think the night as a whole has evolved in to something that has 100% influenced my music.
Have got any more releases or projects in the pipeline over the coming months?
I've just done a remix for my housemate's band Mean Poppa Lean, which is kind of New Jack Skweee (I should be careful saying that, I don't want to create a new genre) groove that goes into some Dirty South business, which should be out soon. Apart from that I think the rest of this year is going to be knuckle down and write as much new material as possible!
-DONKY PITCH 001 IS OUT NOW