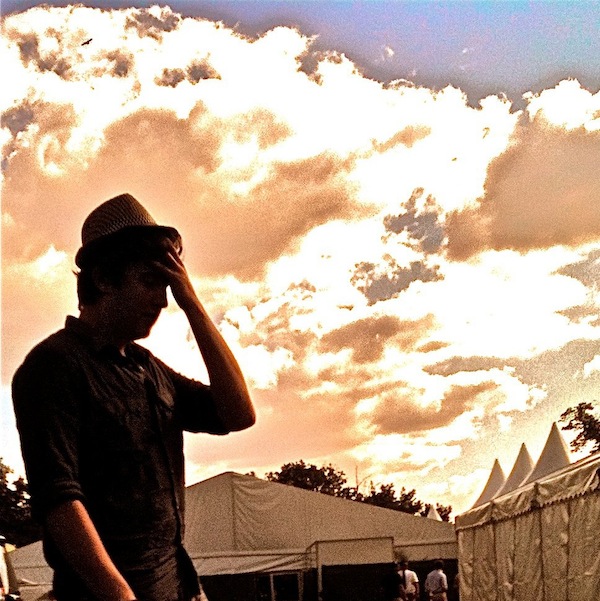 PEDESTRIAN's recent 'Hei Poa' EP on Push & Run was one of the outstanding singles of this year for us. Injecting a sense of soul and warmth into the often all-too-clinical electronic arena, his tracks have the ability to transport you elsewhere entirely, entangling you in the sweeping layers, grainy textures and subtle hues while the melodies stay with you for hours after the tracks have finished. Bringing a melodic delicacy and emotional poignancy to the constructs of dance music in a way comparable to contemporaries like LS favourite Gang Colours, he makes tracks that journey beyond the confines of the dancefloor. Freeing himself from the steadfast rigidity of club-focused arrangements his tracks have a fluid ebb and flow that allows the organic layers of texture and atmospheres to pull gently against the electronics, crafting a sound that is as nuanced as it is arresting.
Since then we have been keeping a close eye on him and a selection of remixes have only furthered our obsession. His recent remix of 'Daddy' by Emily Sande (which is available as a free download here) is another great addition to his burgeoning back catalogue, eeking a much subtler emotion out of the vocals as the drums tumble down around them, while his remix of Gang Colours' 'Dance Around The Subject' shows he is just as adept at working a dancefloor.
With more new music in the works, expect to be hearing a lot more from him in 2012.
We are really happy to have him playing at Liminal Sounds on Sat 14th Jan alongside Randomer, Blackwax, Palace, Get Some and Elsewhere, so we got some questions at him in anticipation, the results of which you can read below…
Hei Poa / Led Astray & Remixes – PAR 3 by Pedestrian
Hi and thanks for speaking to us. First up, for those that aren't already aware, can you please introduce yourself…
Hi, I'm Jack and produce/DJ under the Pedestrian alias. I predominantly make dance music with a mix of 'organic' sounds as well as electronic elements. As for DJing, my sets vary a lot depending on the time, place and vibe of the event.
How and why did you first get into production? Was there something in particular that compelled you to do so?
First got into 'making' music when I got a free giveaway CD of eJay when I was about 11 or 12, basically whacking loops on top of each other. I started getting obsessed and spending endless hours doing it, then I guess that naturally progressed into making my own loops on Fruity Loops, working my way through different DAWs until Logic which I'm using at the moment. I've always loved and been fascinated with music so I guess the love for it was the thing that compelled me to produce my own material.
Your arrangements and song structures veer away from electronic music standards and hint at a much wider sphere of influence. How have your musical tastes, influences and style developed to the point they are at now?
I've always liked musical arrangements that catch you off guard or suddenly evolve into something you didn't expect or see coming… I guess it just makes the listening experience, for me anyway, more interesting than the basic intro / drop / breakdown / drop / outro structural formula that a lot of dance music sticks to. Im not really sure how my influences and style have developed into where they're at now… I'm always listening to different genre's and styles of music so I guess its just a mash up of influences and ideas that have stuck out over the years of listening.
Do you think that it is important to draw from music outside of the realms of electronic music?
Definitely. In my opinion and the kind of music I make anyway… I think if your just listening to the genre you're producing, your only going to consciously or unconsciously regurgitate the same ideas as tracks that are already out there. I think it helps keep the scene from going stale and stay fresh.
Without asking you to explain how you would describe your music in such a direct sense, do you think there is anything inherent to all the music that you make that ties it together?
I'd say the constant themes in my tracks are, melodic elements (acoustic and electronic), field recordings, a heavy bass presence and progression throughout.
The organic and electronic elements in your music really pull against each other. Is this representative of the equipment and processes you use?
Yeah, i really like recording instruments and processing them through effects units and using synthesis alongside. As the years have gone on I've picked up more and more of an obsession with using hardware, I just love the quality of sound that comes from it. You cant beat the harmonic distortion and no matter how good the binary code of soft synths are, its almost impossible to truly replicate a hardware sound. It's also a lot more fun having a hands on approach rather than just staring at a screen for 8 hours.
Do you see the human facet, and that juxtaposition, as important to electronic music?
I wouldn't say that it's essential to all electronic music as its such a vast spectrum, but I definitely find it important with regards to my music.
One of the things that makes your music really stand out to me is that it isn't so much evocative of dark clubs and urban landscapes as it is free space and the pastoral. Do you think this is a product of your surroundings, conscious or otherwise?
I definitely think surroundings make a difference, I first started 'Pedestrian' whilst I was living in Cambridge and I think the sounds are reflective of my environment whilst I was there. I'm always drawn to the more 'positive' sounding music and not so much the angrier, darker style of club music, particularly when I'm listening to music at home or out and about on headphones. Saying that, I love to hear a bit of filth and dirty b-lines when I'm on a night out and tend to play stuff a little darker than what I usually make at club nights.
You recently put out the 'Hei Poa' EP on Push & Run. Can you tell us a little bit about how you hooked up with the label and the tracks that are included on the EP?
I've actually known one of the Push & Run founders for a few years through mutual friends in Cambridge. We've always got on and they had a few demo's of mine for a while. One day he hit me up saying we want to put this out properly, which I was more than up for doing. The guys really have the right attitude towards music and the music business, with long experience with major labels and indie labels between them, they know what they're doing. The tracks are actually some of the first I made as Pedestrian so it felt good to get some closure on those and have them put on wax.
What have you got in the pipeline for 2012?
I'm currently working on a few remixes and writing a couple of EP's for 2 labels along with some interesting collaborations. Not sure I can give out too much info at the moment until its all finalised… But I'll definitely be keeping busy.
We are really excited about having you down at Liminal Sounds. What can we expect from your set?
I'm looking forward to coming down! You can expect bass-driven music with a bit of soul along with some deeper darker stuff for you to skank to…
Emeli Sande – Daddy (Pedestrian Remix) FREE DOWNLOAD by Pedestrian
-PEDESTRIAN 'HEI POA' IS OUT NOW ON PUSH & RUN