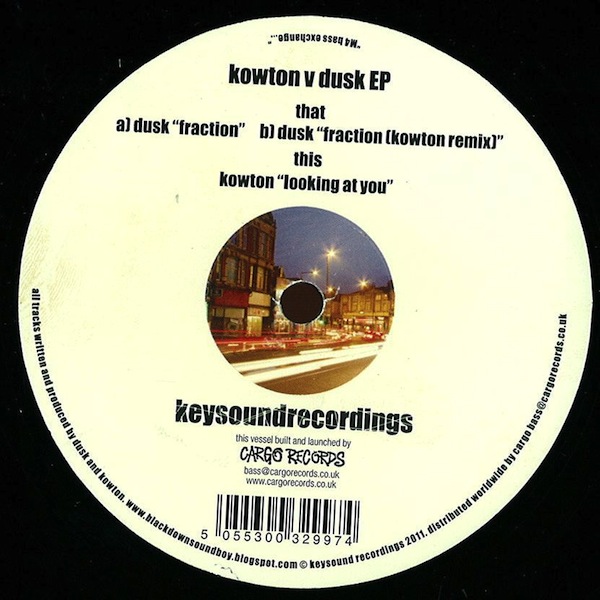 KOWTON / DUSK – KOWTON VS DUSK EP
(KEYSOUND RECORDINGS  – LDN025)
1. Dusk – Fraction
2. Dusk – Fraction (Kowton Remix)
3. Kowton – Looking At You
Release Date: Mon 9th Jan
Even by their own incredibly high standards, the Keysound Recordings imprint had a stellar 2011. Picking up the pace with their release schedule, they provided the vehicle for some of the most unique, idiosyncratic and genuinely exciting underground music to come out last year. Singles came thick and fast from the likes of enigmatic collective LHF, UKG legends Bias & Gurley, Ballistiq Beats and Vibezin, while Sully, Damu and LV provided three of the year's best albums with 'Carrier', 'Unity' and 'Routes' respectively.
The imprint isn't wasting any time in kicking off the new year either, returning with a deadly three track EP shared between Blackdown's long-time production cohort and label co-owner Dusk and Kowton, one of Bristol's leading talents. Lead track 'Fraction' is a deep, dark and dubby 2-step riddim that recalls the shifting mutations of the late dark garage and early dubstep experimenters. Built upon a rattling tribal shuffle, the eerie pads and throbbing subs swell through the track in counterpoint waves that create a queezily hypnotic bump. Discordant chords, ghostly choirs and slippery synth strokes complete the picture of  deserted twilight streets and high rise tower blocks bathing in the glow of the polluted London skyline. You get the sense that it is tracks like this that birthed the label and it will no doubt have heads returning to those early tracks with a misty eyed romanticism upon hearing it.
Kowton takes on 'Fraction' ironing out the tribal percussive edge into a more linear but nonetheless penetrative shuffle while retaining the brooding vibe of the original.  Stripping back the drums, he allows the viscous pads to slowly diffuse through the track heightening the anxious tension that runs through it's core. Kowton also delivers original production 'Looking At You', rounding off the EP with a drop in tempo and an impressive exercise in sparse dancefloor construction. Built around the lilting keys and tightly chopped vocals, the deceptively simply drum line carries with it a surprising amount of weight as the subs lurch behind it. The metallic percussion and detuned chords again give it a pervasive sense of dub dread reminiscent of dubstep progenitors but wholly re-wired. This deserves your attention as much as the A side.
This release provides a very strong start to 2012 for the label and with further releases in the pipeline from Liminal Sounds favourites like Logos and Visionist, it sounds like things are only going to get better.