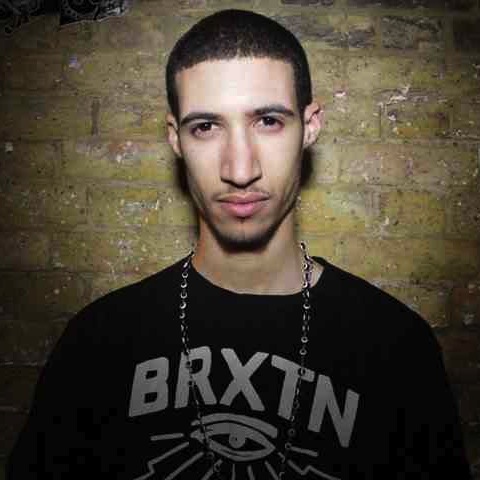 In our humble opinion Visionist is one of the freshest and most exciting producers making music at the moment. The South London based artist epitomizes the experimental and challenging characteristics that drove grime at its most exciting with his dark, rhythmically complex and bass heavy productions, but with a more inclusive and esoteric approach informed by the general loosening of any kind of genre restrictions in the current electronic mélange. As part of the crew behind the 92Points label and set to inaugurate his own Lost Codes at the start of August with a phenomenal EP from SD Laika, he is also building his own microcosmic network that is becoming instrumental in push forward-thinking and like-minded new talent.
His scattershot rhythms, coarse vocal samples and eerie atmospheres bear the unique mark of a producer crafting his own sound and it is rightfully winning him the attention he deserves. The hypnotic, breathless draw of his rhythmic construction is what really puts him ahead of the pack as he draws on London's murky underground to inform his nebulous grime productions. Having already been picked up by Left_Blank and Diskotopia, and with more new music on the way for Blackdown's burgeoning Keysound Records imprint amongst others, his stock is undoubtedly going to continue rising.
Ahead of his set at our 1st birthday party tonight, I caught up with him for a chat…
First up, for anyone that may not already be aware can you briefly introduce yourself…
I'm Visionist, 22 years old from south London.
How did you first getting into production and what impelled you to do so?
I was studying music at school. Always making melodies, so when I was introduced to music technology it made sense. I started making grime in early 2006.
Did DJing or production come first for you? and do you think that has affected the way you view the relationship between the two?
Production came first, I didn't ever look at DJ culture that's all pretty new to me. I think it gives a good insight in how to structure your tracks, but I play what I like, I make what I like.
When you started you were making straight grime right? Who was influencing you back then?
Ye up untill I found funky house lol in my first year of university. There's so many producers I was listening to it kept changing, people like Dexplicit, DJ Ironik got me going on soundfont string grime. Later days was Dot Rotten, emotional dark vocal stuff, I had real interest in sampling Indian strings and vocals. I didn't really ever make club grime.
Now while there are still heavy grime influences in your tracks they are by no means straight up grime to my ears. Why did you move away from that scene? and what new sounds were interesting you?
I became frustrated and thought I deserved more fame like everyone else. I was living in Nottingham so was hard to get in the London circle. I did speak to a lot people via msn but not like meeting them in order to take the next step and get my music to the right people. So ye I was making funky house and Burial like garage after, we all did don't lie. Heard untold's Anaconda at one event and just felt it blended grime and funky so looked into it more. It felt natural and more interesting to make at the time.
Do you think there is anything fundamental to all the music you produce? Any threads that tie it all together?
Erm see thing with me is I'm not afraid to try my hand at different kinds of music as long as I feel it relates to me. This aint me jumping on waves either otherwise you would be hearing techno right now. I think the sense of feeling ties my music together, I don't make happy music.
The thing that really gets me about your tracks is the drum lines, you can hear your drums a mile off. Is that where you tend to start on tracks?
It is now. Thats come from hearing tracks in clubs. A good groove catches me first then the rest are bonuses.
92Points, the label you are involved in, is just in the process of putting out its third release. How is that all going so far? and have you got any grand plans for the label in the near future?
Its out now 813 – Blend E.P. 92 Points is good because the people involved allows us to not just be another future bass label. That will show in up and coming releases, I'm pretty excited in what we can achieve. Personally I'd like to have a night and merchandise, it will come I'm sure.
You have also just set up your own label Lost Codes. Why did you decide to set that up and how does it differ from 92Points?
Well Lost Codes is a selfish thing for me to release music closer to home. It will be far more linked to Grime. Even though I'm up and coming I'm not afraid to push artists of the same. A lot of producers I used to listen to turned to making rap, I'm hoping I can find some of them and convince them to come back to grime as well as help those who are making it now, who are both now in this scene and not. I may be the only producer starting a label and not releasing himself first.
What can we expect coming from that label? From the first taste of that SD Laika track it sounded like some real hard grime bizness.
Ye he's literally one my favourite producers, so glad I found him. Real creative, I hope he gets the attention he deserves. I'm pleased to help that process.
What you have got in the pipeline for the coming months yourself? Gigs, releases etc.
Got few releases happening this year, people will know as they come.
Lastly, what can people expect from your set at Liminal Sounds?
Exclusive visionist tracks. I will probably go hard from the start.