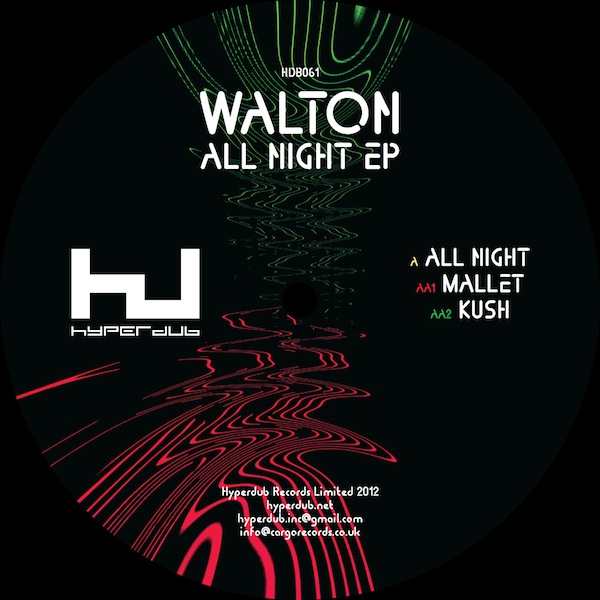 Having your debut release signed to a label as revered as Hyperdub is an enviable proposition. Slotting into such an impressive canon of work alongside some of the most exciting and forward-thinking artists of our generation (in our humble opinion) is the ultimate stamp of approval for a new artist finding their way and will inevitably find them at the centre of an enormous amount of attention. So it speaks volumes about young Manchester-based producer Walton's sizeable production talents that he was picked up by the label so organically. Honing his craft thanks to some constructive criticism from label heads Marcus and Kode9, tracks were eventually picked and his debut EP came out at the tail end of last year, immediately garnering plenty of support and deservedly so.
His self-titled debut EP for the label was a bold introduction, simultaneously laying out the producer's individualistic style and how that can be calibrated into multifarious manifestations. Moving fluidly from the schizophrenic rhythms and atonal basslines of grime to lush sun-kissed house at the flick of a switch, his productions are undoubtedly wired in to the open minded dance floors that Hyperdub commands so authoritatively. 'Aggy's twisted spine takes the listener tumbling down a grime wormhole powered by the kind of rhythmic prowess and idiosyncratic melodies that make it so vital when done well. Similarly, 'Mangled Riddim' and 'Skrilla' explore a broken take on UK Funky that singlehandedly reminds you of the possibilities the genre promised when it emerged while '808 Vybzin' rewires Walton's melodic finesse into an infectiously smooth vibrancy.
Returning with the follow up to his debut, the three-track 'All Night' EP is out this week on Hyperdub. Building upon the fluoro synths and hyperactive drum work that characterized his last effort, the three-track EP sees him flesh out those ideas more fully and with a more considered touch. Whereas the first EP was a kaleidoscope of ideas powered by the immediacy with which you sense they had been put down, these three track have a more balanced feel to them that lets them breathe. 'All Night' picks up where the last EP left off with spiraling arpeggios, cascading rhythms and grimey bass tones, swapping claustrophobic aggression for astral fireworks.  'Mallet' then switches it up working a light-footed UK Funky rhythm around its addictive central hook while the appropriately titled 'Kush' takes yet another u-turn exploring late night g-funk synths over crackling drum hits.
With his new EP out this week, the recent announcement that 'Cool It VIP' is forthcoming on Keysound and undoubtedly plenty more to come, we took the opportunity to check in with Walton. Have a read below and make sure you grab a copy of 'All Night' on 12″ or digital now.
First things first, for those that may not already be aware can you please introduce yourself?
I am Sam Walton from Manchester
To go back to the beginning briefly, when did you first pick up production and what impelled you to do so?
I was playin around with different production tools from about 15 years old, mainly in music lessons at school. I had a go with various different softwares and made a few shit beats and then stopped for a couple of years. I picked it back up again about 18 months ago and started takin it a lot more seriously, and here we are…
Your music gives a nod to a lot of different influences, spanning from grime to g-funk, dubstep to funky…What was your musical diet growing up? And are some of these sounds more recent discoveries?
I was listening to mainly grime and hip hop growing up. Not having London pirate radio in Manchester made it a bit harder to get into grime, I don't really rate any Manchester grime artists but I liked the beats… I think I just heard some of Dizzee Rascal's earlier stuff on the radio and went out and bought 'Boy in the Corner' and it went from there… I was a bit late with Dubstep, think I got into it about 2007 2008 but I have been following UK Funky from the beginning.
The drum lines often play a strong role in your tracks and are constructed in a really idiosyncratic way. Do you think this is something that stems from grime?
Yeah I guess so, I sample a lot of drums from grime aswell.
Given the breadth of what you do, when you are making tracks are you aware of the sound you are aiming for and the people inspiring it? Or is it a less conscious process?
It's not conscious at all anymore, it used to be. I used to try make grimier dancefloor tunes, but now I just make whatever I feel like making. Most of the time I will be inspired by something which will lead me to start a tune. Whenever I try to make a tune without an idea or an inspiration already in my head it never works out…
Is there anything that you feel is inherent to everything that you make? Any fundamental underlying principles to your music?
I don't like my music to be too repetitive, sometimes I'll start a tune and when I have listened back to it a couple of times I am already bored of it. I don't like too much space in my music either.
Getting a debut release on a label as revered as Hyperdub is no mean feat. How did that first come about? And what has it been like working with the label?
I was sending stuff to Marcus (who co runs Hyperdub with Kode9) at first. He was giving me feedback on my music which was a big help I think. When I made 'Aggy' last April I tweeted a soundcloud link to Kode9 and he got in contact saying he would like a 320 to play out. A couple months later he said he was enjoying playing it out and asked if I had anymore stuff I could send him. I sent him a load of stuff and he picked out 3 tunes to go with 'Aggy' on the EP and rang me a few days later saying he would like to do a release. It's helped a lot being on Hyperdub, I've been getting loads of bookings, doing guest mixes and interviews, and I love most of the stuff Hyperdub put out so its been good to be a part of it.
How has the reaction been to your debut EP?
Its been really good, I think..
You are just about to drop your second EP on the label, the three-track 'All Night' EP. Was there more pressure this time round?
No pressure at all. I wasn't asked to do a second release, I just made loads more tunes and sent them to Kode9 and he picked out 3 tunes that he liked most and they're the ones featured on the EP.
Where would you place 'All Night' relative to the last one?
Ermm.. Id say it's a more melodic, busier version of 'Aggy' with some vocals.
Both EPs vary in style quite a lot from track to track. Is this symptomatic of how you work?
I think that comes down to Kode9's selection really. He liked the idea of putting out an EP flexing different styles. I'm happy they have worked out like that though because I do make a lot of different styles of music and its good that they are all appreciated.
Following that, what's next for you for the rest of the year? Do you have any more releases in the pipeline?
Im playing FWD on the 10th of May and Islington Mill, Manchester on the 27th of May. I have just joined Elastic Artists (danny@elasticartists.net) and taken a booking for Outlook Festival which I am really excited about. I have a tune which will be out on Keysound Records in the next couple of months. I am working with a singer on a collab at the moment which I am really happy with, so will hopefully try and arrange a release for that. I'm always working on new music for Hyperdub and hopefully looking to get a load more bookings for the rest of the year..
-WALTON 'ALL NIGHT' IS OUT NOW ON HYPERDUB