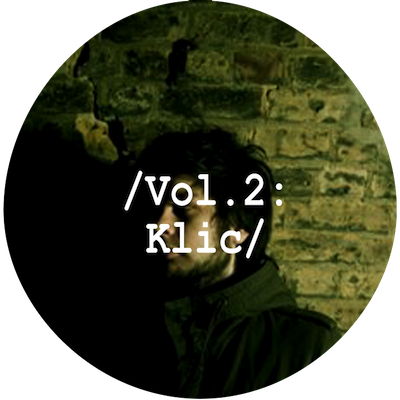 Following the auspicious start to the Liminal Sounds mix series from up-and-coming Damu, the next installment comes courtesy of another very promising producer in the form of Brighton-based Klic.
Klic first caught my attention relatively recently with his contributions to Greymatter's brilliant 'Mind Over Matter Remixes' EP. In particular his re-imagining of 'Raw Root' piqued my interest with its rich, hazy synths and loose, textured drums. The easy roll and tangible timbre of the percussion and thick swathes of subtly rave-indebted melody are incredibly addictive. After doing a bit of research and delving deeper into his music, I found his tracks drawing me in more and more, unraveling new details on each listen.
Drawing from a disparate pool of sounds that flicker through the more constant touchstones, pulling against each other, Klic's music liberates itself from any definable sound. Amalgamating elements of the swing of garage and syncopation of techno with the clockwork pulse of house, the percussion recalls the rhythmic freedom of jungle. Retaining the gritty and loose timbre of live music, the drums skitter and lurch forward relentlessly, driven by the physical undercurrent of the bass. Synths soak through the drums, weaving themselves in and out of the swirling atmospheres, rising and falling, forming and then melting away again, pinned together by the staccato melodic refrains.
With Klic about to drop the four-track 'Dachshund Skank' EP on the newly formed Hit and Hope Records, I thought it was the perfect time to find out more. The EP focuses on the more techno influenced facet of his sound, merging its aquatic sonic qualities with swung 2-step rhythms and lurching bassweight perfectly.
The mix Klic has put together exemplifies perfectly the wealth of brilliant and varied material he has, composed entirely of material straight from his hard drive and featuring plenty of unreleased material including collaborations with Greymatter and Article.01.
Hi! Can you please introduce yourself?
Hi, I'm Ned. I make deep, bassy dance music under the name Klic.
How have your musical tastes developed to the point you are at now? How did you get into electronic music?
I was a bit of a drum & bass/jungle purist for quite a few years and ended up getting really into the darker, deeper and more breakbeat/choppage based styles, though after a while i started getting frustrated with the majority of the scene and started looking elsewhere more and more. There's still lots of interesting stuff coming out if you look for it though. I also have quite a bit of jazz, reggae, older rock/folk and all sorts and a while back i helped out in the office of Mr. Bongo Records for a year which exposed me to Latin music which I'd never really heard before and that's become a big influence. I'm currently listening to a lot of classic Chicago house and Detroit techno and have recently discovered the dub techno scene which is a whole new world to me. I'm also really feeling the aftermath of the dubstep and UK Funky scenes and what they've turned into, it's all moving so fast and in so many directions which is pretty inspiring.
Has making music been something that has occupied you since a young age, or is it something that you picked up later on in life?
I'd been jamming around on guitars and drums with mates for a few years before I started trying to make beats on a computer but that must have been when I was 12/13 or so…not so much when i was really young.
When did you first get into music production and what impelled you to do so? Was there any decisive moment for you?
Because I was really into drumming when i started hearing jungle I loved the beats and started trying to recreate it using fruity loops. I tried making an amen break out of 30/40 tracks of single hits for about three years before i discovered that it was a loop! Hah! I've been making tunes on a computer for about 8 years but it's only quite recently that I've started getting results I'm happier with. In terms of production levels I'm still a very long way off where I want to be.
The rhythms and textures of your drums play a prominent role in a lot of your tracks. Is that where the creative process starts for you?
A lot of the time, but sometimes it starts with a sample or trying to make a synth sound. But drums are very important in the kind of music i like to make, sonically and rhythmically.
Do you play any musical instruments?
I can play a few chords on a guitar but in terms of melodic instruments I'm pretty rubbish. I've been recording bits of melodica and percussion and even some vocals on some tracks recently which I'd like to get into more and I could do with brushing up on my keyboard skills a bit too.
What is your studio set up like? Do you use any hardware?
Unfortunately not, though I'd love to get an analog synth even if just for some inspiration. I've been looking at modular systems online quite a bit which could prove dangerous!
You dabble in a variety of different sounds and tempos. Do you think that there is anything inherent to all the music that you make? Anything that threads through your productions?
Haha, probably not as much as I'd like! I do have a bit of a short attention span so I like to try different things. I've been feeling the Detroit techno inspired sounds for the past year so filtered minor chords have been finding their way into my tracks for a while. Also, most of the time I'll use 808 kicks for bass and I normally try to incorporate live drum breaks in there somewhere too. I'm primarily focusing on the 125-135bpm stuff at the moment. It seems anything can work with a sub under it!
Can you tell us a little bit about your forthcoming release for Hit and Hope and how you hooked up with them?
I've known Tom from growing up in Somerset and met Rob and Matt through him when I first moved to Brighton in 2005. Hit and Hope was started as a platform for music, art and video so a label seemed inevitable. Naive Machine had a 2-tracker out as the first release which is amazing, chip tune/hip hop inspired music and has been getting great feedback. The second release is from myself, an EP of techno influenced dubstep/2-step with a collaboration with Article.01 from Bristol. There will be a vinyl out shortly after with more Naive Machine material and quite an exciting remix of 'Cement Mix' which I don't think we can confirm yet. Then hopefully some more vinyl releases as we think it's important to put something physical out there, especially in this day and age of countless digital labels.
Have you got any other releases or projects on the horizon?
'Thinking About You', a collaboration with Greymatter is forthcoming on Gilles Peterson's Brownswood label on a compilation put together by Simbad. I'm working on some more stuff with Article.01 and Greymatter and should be doing something with Bongo Bass, the new Mr. Bongo sister label as well as more through Hit and Hope and Unique Uncut. Not too much set in stone at the moment, will see what happens.
You have been kind enough to put together a mix for the blog; could you just briefly explain why you put it together the way you did and give a bit of an insight into the tune selection?
I was going to do a mix of modern stuff I'm feeling but as I don't have access to loads of exclusive dubplates I thought I'd make a mix of my own tracks. I put it together in a sequencer as I only have one deck at the moment – my teenage self would be truly ashamed!
LIMINAL SOUNDS VOL.02: KLIC
DOWNLOAD: HERE
1. Klic – Intro
2. Klic & Greymatter – Odlaw
3. Greymatter – Raw Root (Klic Remix / Unique Uncut)
4. Klic – Waiting Too Long
5. Klic – Framework
6. Klic – So Long
7. Klic – Karaoke
8. Klic – Lo
9. Klic – Winter
10. Klic – Dachshund Skank (Hit and Hope)
11. Klic – Sonmi
12. Klic & Article.01 – Mustard Tiger (Hit and Hope)
13. Klic – Vogue Gyratory
14. Klic & Greymatter – Thinking About U

-KLIC – 'DACHSHUND SKANK' EP DROPS ON 18TH OCTOBER ON HIT AND HOPE RECORDS