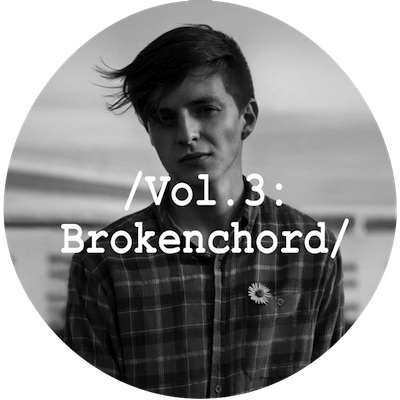 Coming out of leftfield, young Lithuanian producer Brokenchord's debut EP on Black Acre was an ear-catching introduction to an exciting emergent talent. Showcasing an entirely unique and immediately recognizable style, the 'Bluestar EP' was an impressively nuanced and intricate collection of tracks.
Existing at the meeting point between hip hop, dubstep, electronica and post-rock, Brokenchord deftly draws the disparate elements together in to his inimitable sonic aesthetic. Driven by the saw-tooth midrange and loose swagger of the drums, Brokenchord lays unstable foundations that lurch and sway under the weight of the atmospheres. With flickers of hope appearing through the melancholic haze, it evokes equal parts mourning and elation.
Fusing delicate, mournful melodies to abrasive mechanical malfunctions, the EP lurks around the shadowy edges of the dancefloor, unsure of whether to take a plunge into the middle or makes its way home through the empty midnight streets – and this is exactly where it's appeal lies. Where Brokenchord's music stands out is within this juxtaposition. Binding the soulful melodies and ephemeral glints of emotions to the robust industrial undercurrent, the elements tug against each other and fall in on themselves, simultaneously pulling you in different directions and leaving you dazed.
With the EP quickly becoming one of my favourites of recent months and with some exciting projects in the pipeline, I really wanted to find out more. Brokenchord has been kind enough to answer some of my questions and has put together a stunning mix that perfectly accompanies the transition into the dark winter months. Enjoy…
"Lowe" On Mary Anne Hobbs by brokenchord
Hi, can you please introduce yourself?
Hello, my name is Ernestas and I make music under the pseudonym of Brokenchord.
When did you first pick up production and what impelled you to do so?
When I was 13 years old I got a guitar as a gift and since then I have been really hooked with all musical stuff. Afterwards, I plugged the guitar into the computer and started experimenting effects. One day my friend showed me Squarepusher playing live with his bass guitar, I loved the idea of mashing guitar with electronics and decided to start making beats and play on them with the guitar. I think that was the turning point. I was 16 then.
Being as young as you are, do you think you have evolved to the point where you are comfortable in your sound, or is it still developing?
Definitely developing. I think that there is no end for perfection. Although on the other hand, imperfect sound has it own charm… While I'm making a tune I feel the joy and perfection, but when I finish it and listen, after a few weeks I hear the imperfections that I want to correct in the new track. It's hard to explain, but maybe that's why I'm so addicted to making music.
Your music has the looseness and timbre of live music. Do you have a background in bands and playing musical instruments?
That's a compliment to me! Thanks. I play the guitar, which I often use in my tracks. Sometimes I play live on the tune, sometimes I sample myself playing – I am trying to explore all the possibilities. I haven't been in any bands, but from time to time I have fun jams with my drummer friends.
A lot of your tracks are imbued with a distinct feeling of melancholy. Is this the music that you are generally drawn to?
I wouldn't say that. My tunes are often what I felt the moment I was making them. For example, the tunes that I made this summer were more on the bright side (I hope you will hear them in the near future). I just couldn't make sad tunes when I saw the sun and had my own EP in my hand…
You offset a delicate sense of soul with a cold industrial edge to stunning effect. This contrast suggests a broad sphere of influence. What music do you take inspiration from and in what ways do you think that it informs your sound?
Thanks. I wouldn't say that all my inspiration comes from music. Sometimes a good conversation or event can inspire even more. And sometimes I don't listen to music at all – I think it's a good way to rest and refresh your head. Talking about music…I don't care about all these genres, I just like the music that I think is good. I listen to a lot of electronic and non-electronic, old and new stuff. I'm not trying to copy any of them but I think its hiding in my subconscious somewhere.
Am I right in thinking that you perform live? If so, how does that work?
Yes, I started this year. I had a great experience and made new friends. It looks like a guy is banging keys and twiddling knobs, mashing, remixing stuff. I think that in the near future I will bring my guitar too.
Is there much of a scene for what you do where you are from in Lithuania?
In my city there is no scene for me at all, but in other bigger cities like Vilnius or Kaunas there is. From time to time I have a chance to play here. One good thing about Lithuania is it's summer festivals – we have massive ones.
Do you think living there – away from the epicenter of the scene you are involved in – has affected your music?
I think so. Before I was on Black Acre I hadn't heard any of the label's stuff. To be honest, I wasn't looking for the UK scene at all, although I'm really enjoying it now, especially my label stuff. I'm happy to be in a family with such talented musicians.
I saw that you have been working on a track with Eleven Tigers. How did you hook up with him and how is that coming along?
Oh, he is an amazing guy! We are from the same country. I knew him from the beginning of his career – I was a big fan of his work (I still am) – and we communicated before I even made music, as a fan and a musician through the internet. Then I started making tunes, and this year we played together at one festival, which is where I met him properly. After that I sent him a letter, told him about the collab idea and he agreed. The work is in progress even though he is in the UK and I'm in LT now, thanks to technologies nowadays! We have more future plans but it's a secret for now.
What projects and releases have you got in the pipeline for the coming months?
Well we are planning my second release with Black Acre, but haven't decided a date yet. Next I'm going to do a remix, another mix for a magazine and try to make more music.
Can you please explain a little bit about the mix you have put together?
This time I decided that I wouldn't put my own tunes in; it is only other music that I like. It's a trip from beautiful electronica into moodier instrumental music, like from summer to autumn…I mixed it live and hid my guitar improvisations somewhere, just for fun. Thanks to all who will listen!
LIMINAL SOUNDS VOL.03: BROKENCHORD
DOWNLOAD: HERE
1. Windslo – Whitelight (Unsigned)
2. Mount Kimbie – Would know (Hotflush)
3. Devonwho – Adept (yuk's adaptation)
4. Eleven Tigers – Memory Palace ft. Alice (Unsigned)
5. IJO – Time Sympathy (Lowvibe)
6. Miguel Atwood – Ferguson Ensemble "Drips/Take Notice" feat Flying Lotus
7. Radiohead – All I need
8. Bitcrush – Post (n5MD)