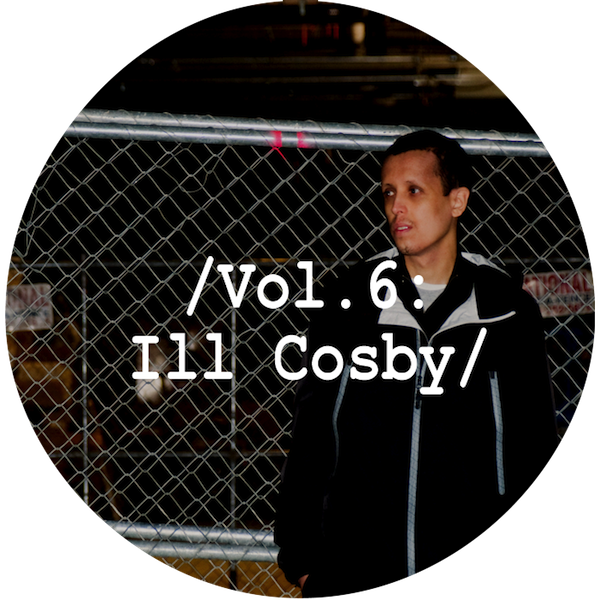 For the sixth installment in the Liminal Sounds mix series I hand over the reigns to Seattle based DJ, producer and label owner Ill Cosby…
Ill Cosby is not only in possession of one of the best artist names in existence, but is also the man behind the impressively prolific and consistently brilliant Car Crash Set label. Since the label's inception in 2009, it has been the vehicle for a slew of great releases exploring futuristic bass-driven brilliance in all its indefinable glory. Sidestepping any restrictive adherence to ideas about 'scene' or 'genre', the unifying sonic narrative of Car Crash Set is one of forward-thinking electronic music imbued with soul and feeling, whether that be the evocation of a peak time dance floor or hazy late night introspection. With a focus on bringing new artists to the fore, Cosby's uncanny A&R skills have seen him build a roster to rival any that can count C.R.S.T., Cedaa, Gremino, Artek, Esko and Sentinels amongst its number. The list could go on…
To draw attention to the label is not to diminish his talents as a producer in his own right either, and you have to look no further than his contributions to the 'No Northwest' EP that has just been released on the label to hear this. Infused with the same principles that underlie the label's music, Ill Cosby's music stretches itself out beyond the dancefloor. The sparse constructions that he uses belie the sonic depth that they hold, allowing each nuance to infect the songs as wholes, drawing attention to the evolving relationships between each sound. The four tracks that he contributes to the 'No Northwest' project showcase this unique style while each exploring a different sonic path, whether that be the synth-heavy snap of 'Yoghurt Terminator' or stripped down carnival percussion on 'Audaz'. The Juke-inflected 'Gold' in particular is a standout, permeated by a poignant sense of melancholia that is made fraught by the stuttering drum lines.
With the Car Crash Set label notching up its landmark fiftieth release with the new four-part 'No Northwest' compilation, I though it was a good time to catch up with the man behind it all. You can read the interview below and download the sixth installment in the Liminal Sounds mix series, an exclusive mix showcasing the sounds of the artists involved with the new project.
Ill Cosby 'Yogurt Terminator' by carcrashset
Hi! Hows it going? Can you please introduce yourself…
Hello, I am well! My name is Cosby and I operate a label called Car Crash Set in the city of Seattle.
What music did you grow up listening to? And when did you first become interested in electronic music? Was their any defining moment or musical epiphany for you?
It's funny, I had almost no interest in music until the age of 11 and the grunge music explosion was inescapable in the States (at this time, I was living on the East Coast – not in Seattle to be clear). I was only a passive music listener to that point, but my home was filled with my father's varied record collection – Tangerine Dream, Vangelis, Philip Glass, etc. I realized this much later, but my grade school music teacher would play Perrey and Kingsley's 'The In Sound From Way Out!' quite often in class. It's a little atypical for the time, but electronic music was all around me as a kid.
One defining moment that changed everything for me was hearing Coldcut's 'More Bits And Pieces'. Beyond the sampling aspect of it was the ramshackle nature of the song, there were so many ideas crammed into a four or five minute frame. It was really inspirational and led me to want to buy old records and mine the types of samples they'd used on the song.
How long have you been producing? What first impelled you to pick it up?
I've been producing since the late 90s. As a late teenager, I played guitar a bit but it quickly became clear that I wasn't interested in playing guitar live as much as I was making noises with it run through effects at home. That interest in tones rather than melody led to buying a few keyboards. A friend in high school was producing electronic music on a very basic PC setup, all setups were basic back then, and I remember begging him for tapes for a year. He eventually showed me the ropes in some early sound editing software and in college I started mucking around with the sound editing software there. 1999 was when I acquired my first computer and I haven't looked back from there.
What was the initial driving force behind setting up the Car Crash Set label?
Around 2007 and 2008, I started to hear a lot of music from unsigned artists that I felt was as good if not better than the music that was being released at the time. That was really the impetus to start Car Crash Set and I think we've been good at breaking exciting new artists.
Do you think that there is anything inherent to a Car Crash label track that sets it apart? What do you look for when searching for new music?
I look for emotion in the music that I'd like to sign to the label. It's very hard to describe, but beyond style and genre, I'm very interested in the feeling of the music and the story it tells. I don't think the music on the label has a definitive Car Crash Set sound, but I do feel like the music on the label contains an ongoing sonic narrative.
Since its inception in 2009, the label has had an extremely prolific release schedule, already passing fifty releases. How do you manage this while still maintaining such a high quality output?
Thank you for calling it high quality first of all, that's something I try hard to establish. There have been a lot of releases and I can tell you that only the business side of things slow the release process down. There is no shortage of great music out there and the artists I've worked with are very, very prolific themselves. I'm really only bound by hours in the day to answer emails and weeks in the month to release music without flooding the market. There could be twice as many releases on the label in the perfect world. So much amazing music is out there going unnoticed and there are only so many opportunities to showcase it.
How do you think your own music correlates with the output of the label? Do you think that the same musical ideas run through both?
Yes, I think on a stylistic level, my own music does have a lot of overlap with the output of the label.
Ill Cosby 'Audaz' by carcrashset
Given the overzealous use of genre descriptors to define music, I find it interesting to hear artists' own perception of the music they create. How would you describe your music? Are there any concrete principles that you feel underlie it?
With my own music, I am very interested in sonic depth which results in a murky, distant sound. I'm really adamant about using my own sample sources for my music too. I find that the best way to not sound like everyone else is to use sounds no one else is using. I think people would be surprised at some of the sample sources for what is primarily a house tune. There is a juke inspired track on the 'No Northwest' compilation ('Gold') that samples 60s garage rock. Recalling past eras in "future" based music is something I've always been interested in doing.
You are about to release the four-part 'No Northwest' EP on the label featuring 214, QP, Cedaa and yourself. Can you explain a little bit about the idea behind it and how it came together?
At the start of the year, I found that the acts that would go on to be collected on this compilation all had a very pronounced electro influence, which is atypical for the regional music scene. I wanted to document that something was happening independently between the artists here.
After the release of the 'No Northwest' EP, what else have you got coming up on the label?
There are plans for a second 'No Northwest' series, but it will be sometime before I release any more info than it'll probably start by the autumn. We've got a packed summer and early fall schedule: there will be new singles and EPs from Esko, Acroplex, Buck UK, Gremino, Planet Soap, Arctic, Rush'd, Kid Smpl, Josif, By Proxy, Price, and others.
Do you have any other new projects or releases in the pipeline yourself?
There will be a single for the track 'Gold' from 'No Northwest' later this year on Car Crash Set. There are some fantastic remixes from Offshore and Sentel that I can't wait for people to hear. I've also done a few remixes that will hopefully see release in the coming months.
You have been kind enough to put together a mix for us. Can you tell us about the thought processes behind the mix?
I wanted to showcase the works from the artists that participated in the 'No Northwest' compilation. There was a lot of material to choose from and some great stuff had to be cut for continuity, but I think this is a really solid representation of the music from each of the four acts involved in the compilation.
LIMINAL SOUNDS VOL.06: ILL COSBY
DOWNLOAD: HERE
214 'Get With It' [Dub] 214 'Sidestepping' [Harbour City Sorrow] 214 'First Chair' [Fortified Audio (forthcoming)] Billion Dollar DJs 'Baby I'm Bored' (Ill Cosby Remix) [Car Crash Set] Aaliyah 'Are You That Somebody' (Cedaa Remix) [Dub] qp 'Sol Jerk' [Car Crash Set (forthcoming)] qp 'Callout' [Car Crash Set – "No Northwest"] 214 'Come On' [Car Crash Set – "No Northwest"] Ill Cosby 'Yogurt Terminator' [Car Crash Set – "No Northwest"] 214 'Strackted' [Car Crash Set – "No Northwest"] qp 'Ghettwerk' [Car Crash Set – "No Northwest"] qp 'Go Dum' [Car Crash Set (forthcoming)] Ill Cosby 'The Powerful' (Abacha Remix) [Car Crash Set] Clicks & Whistles 'When I Feel' (Cedaa Remix) [Party Guy] Cedaa 'Tiffany' [Car Crash Set] Ill Cosby 'Swisha Party' [Car Crash Set (forthcoming)] Cedaa 'Escalade' [Free Bass] Cedaa 'Palomino' [Car Crash Set – "No Northwest"] Canblaster 'Dawgs In Da House' (Cedaa Remix) [Sounds Of Sumo] Cedaa 'Jasmine' [B.Yrslf Division (forthcoming)] Cedaa 'Sapphire' [Car Crash Set – "No Northwest"] Ill Cosby 'Gold' [Car Crash Set – "No Northwest"]
-'NO NORTHWEST' IS OUT NOW ON CAR CRASH SET