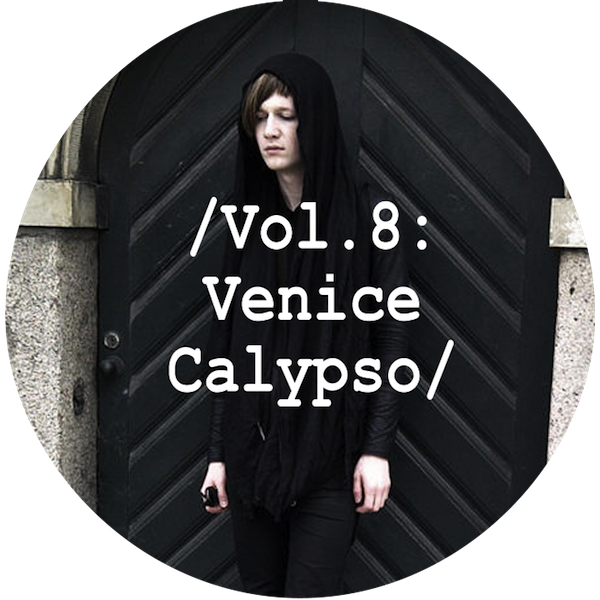 Hot on the heels of Vol.07 courtesy of the brilliant colo, I am extremely pleased to present something completely different for the next installment in the Liminal Sounds mix series thanks to London-via-Warsaw DJ and producer Venice Calypso, whose dizzying, alien club tracks have been getting heavy rotation at Liminal Sounds HQ ever since hearing his contributions to the 'Synethesia #1' EP on Senseless Records (Home of The Phantom, Pacheko, DeVille…).
The Venice Calypso project – the work of Poland-born, London-dwelling producer Sebastian Bartz – is club music at its most potent. Powerful, energetic and just brash enough to ensure it grabs your attention, his music wriggles through the speakers with enough impact and groove to distract you from the inherent oddity of its combating sonics, idiosyncratic melodies and skittering, overloaded rhythms in a way reminiscent of the halcyon days of instrumental grime. Freeing himself from the rhythmic and melodic templates traditionally dictated by genre in the same way that grime's innovators did, his heavy tribal drum patterns and wired synth hooks immediately stand out with his inimitable sonic stamp.
The 'Synesthesia #1′ EP which first drew Venice Calypso to my attention is the first installment of a five part series celebrating Senseless Records' fifth anniversary, and it features contributions from Rossi B & Luca and fellow Polish producer The Phantom as well as two tracks from Venice Calypso himself. 'Drifting' (which will feature on the vinyl) is a bumping tribal rhythm coloured by flitting synth smudges and wide synth washes; As the slippery synth strokes wind their way through the gaps in the drums and straight into your head, the drums pummel you into submission. 'Tunguska' (which is available as part of the digital package) rallies around the rise and fall of the central hook as loose tribal drums pound ominously and dark voices call out from the shadows.
His contribution to the Liminal Sounds mix series is a rapidfire blaze through the likes of BD1982, Hindzy D, Nguzunguzu and Blawan that succinctly and powerfully paints a picture of Venice Calypso's diverse musical tastes and deft abilities at drawing them together into one writhing, high-octane entity. He has also been kind enough to give away his track 'Vacuum' as a free download, which you can grab after the interview. Opening on a wash of mournful down-pitched synths which give the track an eerie malaise, the track suddenly jolts into action powered by skittering drum lines and blunted bass hits.
[SENSELESS014]venice calypso – drifting by venice calypso
Hi! For those that don't know, can you please introduce yourself? Who or what is Venice Calypso?
Venice Calypso is my solo project which I started around 2 years ago. The reason why I started Venice Calypso was to produce the music that I would like to hear in parties when I go out.
What music had the biggest impact on you when you were growing up?
It was definitely far away from electronic music…. When I was really young I was a big fan of Guns and Roses. I had a pretty amazing collection of their tapes as I was regularly terrorizing my parents to buy them for me.
At what point did you become aware of electronic music? And how did that lead to the music you create now?
Since I discovered analogue synthesizers! The discovery of electronic synthesis for me was something that completely changed my life. In electronic music the only obstacle in the way to achieving the sound you want to create is your knowledge.
When did you first get into music production and what impelled you to do so?
I started learning guitar when I was sixteen. I did it because I was trying to impress a girl I fancied, but since my first experiences in music I quickly forgot about her and at the same time I realised that music is all I want to do for the rest of my life.
Your music is definitely dance floor focused. Were you a DJ before you became a producer?
Yes. In Poland I DJ'ed at almost 100 venues in various places throughout the whole country. That was a hectic experience. I have really crazy memories from touring Poland. I've seen people smashing bottles on each other's heads and drank shitloads of vodka. I was punched in the face while I was Djing, and I was playing in big tents for hundreds of people Polish seaside venues.
I find pinning people down with genres is quite restricting, so without obliging you to place yourself in that way, what do you see as the fundamental elements to the music you make?
Since I have been living in London, grime and bass have influenced my music a lot. What's happening in this city now is amazing. But at the same time I don't think my image is fitting to grime. So let's just say that I'm doing bass music, ok?
[SENSELESS014] venice calypso – tunguska by venice calypso
You are from Poland originally, but are now living in London. Did music play a role in the decision to move to London at all?
Yes. London is definitely the place to be for producers/musicians. There is something in that English fog which is affecting your music if you like it or not. But it's worth mentioning that Poland is doing very well with electronic music. We have a lot of hot producers in Poland nowadays. With examples like Phantom, Supra1 and Intreau who smashed me completely with his Alpha track (first track from my mixtape) as it is exactly what I love in electronic music.
You have two tracks on the forthcoming 'Synesthesia #1' EP for Senseless Records. Can you tell me about the project and how you linked up with them?
The tracks are very different from each other. 'Tunguska' was inspired by an original story about this enormously powerful explosion over Tunguska in 1908. The whole story is real and I recommend you all doing small research about it because it's one of biggest mysteries of the last century. It's one of my oldest tunes and I'm very happy that it finally will be released. 'Drifting' is however my first track that I recorded when I arrived in London. So these two tracks are some kind of bridge connecting my time in Warsaw with time in London.
Do you have any other releases in the pipeline for the coming months?
Yes, at the moment I'm working on a couple of remixes and tunes. I can't reveal anything at the moment but there will be more and more music from Venice Calypso in next month! For London Fashion Week in September I am creating the soundtrack to Ada Zanditon's film for her SS12 collection which will be screened at Somerset House.
You have been kind enough to put together a mix for Liminal Sounds. What did you want to showcase with the mix? Is this a good representation of your DJ sets at the moment?
Yes, the mix reveals the diversity of my musical taste. I love mixing genres together like grime, techno, house, and a lot of indescribable bass music. I prefer to concentrate on finding music that will be more timeless than following trends, because as someone said before "Fashion is bullshit, style is eternal".
VENICE CALYPSO – VACUUM
DOWNLOAD: HERE
LIMINAL SOUNDS VOL.08: VENICE CALYPSO
DOWNLOAD: HERE
Intreau – Alpha (Space, Ladies Cosmodrome remix)
BD1982 – VHS Nite
Jam City – Countess
NKC – Right Back
Brenmar – Waiting On
Hindzy D – Target rmx
Nguzunguzu – Water Bass Power
S-X – Wooooooo Instrumental
Marc Houle – Techno Vocals
Blawan – Getting Me Down
Paul Johnson – Feel My M.F Bass
Buckone – Voodoo
-'SYNESTHESIA #1' IS OUT NOW ON SENSELESS RECORDS