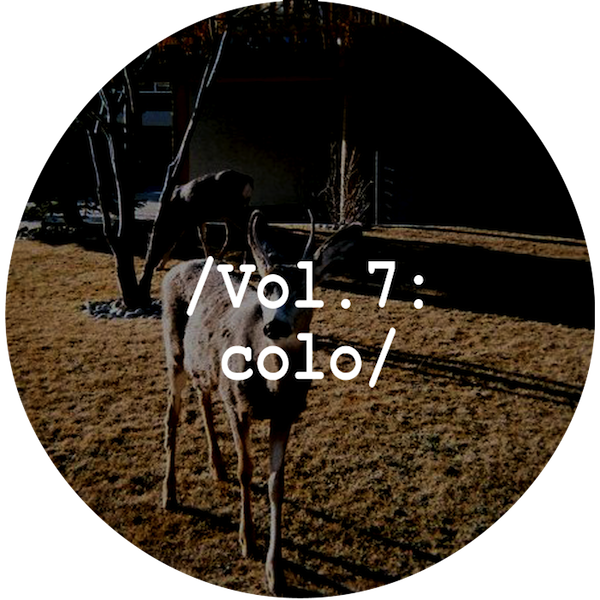 The digitalization of music and the increasing availability of production software has undoubtedly contributed positively to the burgeoning bass music scene and the prolific creativity that seems so abundant at the moment. As a result, we are inching closer to a new meritocratic musical paradigm where so long as you are equipped with a laptop and some ideas you can get yourself heard. However, the increasingly over-saturated market and constant improvement of software means that in people's efforts to get heard there has been a shift in ideals towards technical criteria and to music that values volume over depth, brute force over impact and perfection over soul. In the process the music has dissociated itself from any human source. So upon coming across South London production duo colo I was completely enamoured. This is music that beats with a human heart.
Ever since first being introduced to them by their contribution to the free EP that Take Records gave away at the end of last year, their music has provided a sanctuary away from the cold, mechanical and clinical productions that have come to characterize a large proportion of electronic music. Their slow-burning take on house has an otherworldly alechemy to it that sounds at once familiar and only half-remembered, as if the vague recollection of last night's dreams that leaves you yearning to return. Favouring hardware over software and playing music over arranging sounds, their tracks retain an imperfect ebb and flow that gives the tracks their unique groove and feeling. 'Twentysix', the track that first brought them to my attention, is a perfect example of this. Driven by the slow pulse of the kick drum, the echoes of the loose percussion flicker through the hazy synths, drifting on a tidal swell of pads. Melodies drift in and out of the mix before raining down in fidgety arpeggios over the drums as the track reaches its climax. The interplay of dusty timbres and dense layers of atmospheres give it an organic movement while retaining a visceral power.
Their recent remix of Disclosure's 'I Love…That You Know', which was given away for download by XLR8R, has further cemented the interest that is developing in them, and rightly so. Slowing down the original and removing the skittering drum lines, they let the track breathe, making room for the soft swathes of synths and languorous drum line which sweep the vocal along.
With the release of their stunning remix of 'Alone' from Jack Dixon & Robin Card's 'Decade EP' imminent on Take Records and them currently hard at work on their debut EP I got some questions at the enigmatic duo to find out more. They have also generously put together the brilliant 'colo mixtape001' to accompany the interview and provide Liminal Sounds with the seventh edition of its mix series. The resulting forty minute mix is a beautifully crafted selection of tracks that goes some way towards understanding what colo are all about. 'We didn't want to make it a throw away collection of current tracks', they explained. 'We want it to be something that you can keep coming back to'.
You can stream and download the mix after the interview.
Hi guys! First up, for those that don't know can you please introduce yourselves?
Hi. We are two friends, Nick and Ben, from South London who make music.
When did you guys first start producing together? Was it a natural evolution to do so?
We started producing tunes at college and since then have been making stuff under various names. Our first colo tune, 'Motiv', was made in Canada and based around a recording of a train going through an epic valley.
I always find it interesting to hear the different elements that people bring to collaborations as a result of their own unique musical upbringing, and how those elements are amalgamated to form a whole. Do you come from similar musical backgrounds?
We have similar musical backgrounds in that we both started out playing classical instruments and got corrupted by techno.
How do you think what you create as a unit differs to what you would produce individually?
Ben would just make noise and club tracks and Nick would play jazz at people's weddings.
How does the creative process work between you when you are in the studio? Do you tend to adopt set roles?
Usually starts out with a kick drum and messing about on the Juno 6 and cutting out the good bits. We just bounce and develop ideas off each other.
Stealing Sheep – Noah's Days (colo's twobytwo mix) by colo.
Do you feel that there is anything inherent to everything that you make? Are their any fundamental underlying principles to your music?
Sidechain compression is always a key player, as is the Juno. Without them our sound wouldn't nearly be the same. Also there is always quite a lot of ambience/noise on our recordings. We've just bought a mixing desk off ebay that is so noisy it's unusable for anything other than colo.
Given journalists' desire to put tags and genre descriptors on everything, I find it interesting to hear artists' own perception of their music. Without necessarily talking in terms of genre or scene, how would you describe your music?
A main theme of a lot of colo tunes is taking recognizable elements of existing genres – especially house – and slowing them down. Also, even though the overall sound of our tunes can seem quite minimal at times, each pad/bass etc is usually made up of lots of different layers.
The textures and sounds in your music have a very organic quality to them, is this representative of the equipment and processes you use?
We only use the computer to record to and do the final mix on. We play everything in live on hardware synths and instruments so that gives the music quite a loose feel. Also it's more fun than drawing in dots on a grid. A lot of our sounds and textures are a result of complete accidents. Like our music, our studio is messy and full up of things.
Following on from my questions about the organic quality to your music, do you see a human element as being important in electronic music?
We don't think a human element is important to electronic music as a whole, but for us it works.
A lot of your music has a very dreamlike quality to my ears. Would you agree with this? And if so, do you think there is a reason why that is?
Not intentionally, suppose it is quite downtempo and spacey in places though.
You give a fair amount of your music away for free through your soundcloud. What is your take on the value of music and its different formats? Are you vinyl heads?
We just want as many people to listen to our tunes at the moment. Giving them away for free means that people can share them easily and blogs can post them if they want.
You have a remix of 'Alone' by Jack Dixon and Robin Card forthcoming on Take Records with whom you also released 'Twentysix' recently. How did you link up with the label?
Nick's brother's band's drummer's manager sent 'Twentysix' to Rick from Take Records. That's how we got the remix.
Have you got any other releases or projects in the pipeline for the coming months?
We have another remix for Nick's brother's band's drummer's production project, Disclosure (soundcloud.com/disclosuremusic), which is out now on Transparent Records. We've got an ambitious list of things to do before the year is out including collaborations, releases and gigging a full live set soon. Down the line we want to get into producing and recording bands too.
Disclosure – I Love…That You Know (colo remix) by colo.
LIMINAL SOUNDS VOL.07: COLO MIXTAPE 001
DOWNLOAD: HERE