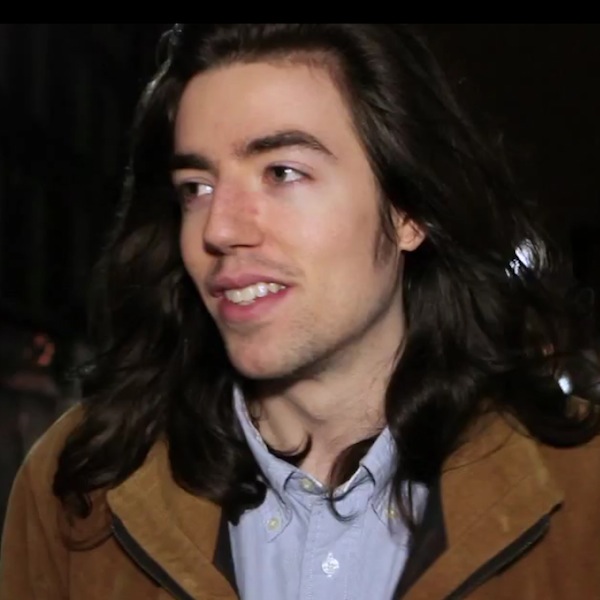 Ever since first hearing 'In Your Gut Like A Knife' on his soundcloud nearly a year ago I have been mesmerized by the world that Gang Colours creates with his music. Far away from the overloaded, claustrophobic productions that electronic music nurtures, his songs are fragile, fluid and inherently human. Ignited by the push and pull of opposing forces, his music has an inexplicable draw to it that only gets stronger with repeated listens. Brownswood, the label that he now calls home, places it well by saying: 'He routinely conjures the most elemental, uplifting melodies from his 0s and 1s…drawing as much from the hardcore continuum's low end theory as the British folk songbook'.
The young Southampton-based producer, known to friends and family as Will Ozanne, has quietly honed his sound away from the demands of the collective consciousness, emerging with a sound that is completely his own, informed by an eclectic taste and open mind. At once melancholic and uplifting, visceral and ephemeral, built for the club yet dissipating into the morning air, there is an ambivalence about Ozanne's music that refracts differently with each listen, glimmering with new layers of depth each time you return to it. His irregular song structures subjugate themselves to this evocation of feeling with a sincerity that is deeply affecting, hinting at a songwriting ability that goes beyond that of the electronic world. Whether it is the woozy pitch-bent synths that he deploys so masterfully, the stuttering, often-awkward drum lines or the beautifully snatched vocals that appear throughout his music, he has an uncanny ability to evoke a breadth of feelings with each stroke that he layers on the proverbial canvas.
One listen to 'In Your Gut Like A Knife', his debut four-track EP for Gilles Peterson's Brownswood label, will articulate these sentiments better than I ever could so i would recommend getting hold of it now if you don't already own it.
With Ozanne currently working on an album for the label, I got in touch to probe him about influences, work processes and consciousness. Read the interview below…
Gang Colours // In Your Gut Like A Knife // EP Teaser by Brownswood
Hi! For the uninitiated, who and what is Gang Colours?
Gang Colours is me, Will Ozanne and I make experimental and emotionally driven electronic music
When did you pick up production and what impelled you to do so? Was there any decisive moment for you?
I was 13 when I got my first bit of music software from PC World called 'hip-hop ejay' which i liked a lot but eventually felt I needed to take it to the next level. So, my cousin showed me fruity loops which I had a long and enjoyable stint on but in the last few years I've settled comfortably into Logic. I'm not entirely sure what impelled me to get involved into music production, I just wanted to play around with loops and make hip hop beats at the beginning, then after a while I felt I wanted to make my own small imprint on the industry with my own approach to music making.
Your arrangements and song structure are unusual for electronic music and hint at a much wider sphere of influence. How have your musical tastes, influences and style developed to the point they are at now?
I've always been interested in using styles that would usually fit to one particular genre but then bringing them into my music in my way. That for me is the only way I can convey my influences across. I think it is brave and exciting when people dare to be slightly different when creating music. And then for the music to be embraced by millions is the dream really. Queen's 'Bohemian Rhapsody' is, for me, a fine example of that. The Structure in the song is all over the place, there are very loud moments and very quiet moments but it has been arranged so well that it just works.
Do you think that it is important to draw from music outside of the realms of electronic and dance?
Absolutely. I grew up listening to what my mum and dad where into, which ranges from Carole King to Ralph McTell. And I still listen to them all today. I would like to think that one day I will make music that could have that kind of longevity and could be appreciated by the people that are still only tiny sperm looking for a nice home to grow!
The organic and synthetic elements in your music really pull against each other. Do you see the human facet, and that juxtaposition, as important to electronic music?
It has significant importance in my music, I mentioned in the last question I had grown up listening to whatever my mum and dad was pumping out on BBC radio 2. which meant a lot of live recorded music all with their own unique textures that I try to represent in my music with recordings from my dictaphone that almost sound like white noise, and add them to the mix. This gives the tracks an important edge as electronic music can sometimes sound too clean for me.. For the upcoming album there is a lot more live recordings of my piano and vocals which often pick up there own weird and unpredictable noises in the background, these sounds are always left in the mix. i love that shit. it give the track that organic element i feel.
The Makers Motive by Gang Colours
You utilize vocals in the majority of your work, which are neither full nor completely chopped. What role do these play for you in the songs?
They can provide unique element to the sound of each track, like in a UK garage classic where you cant exactly make out what the chopped up vocals are saying but you sing it anyway, maybe even with your own lyrics. vocals seem to stick in peoples heads, well for me it does. so it is important that they are involved in the majority of tracks. Having said that i do like tracks that are just instrumental too. I think that it is a great skill to be able to put across the same emotions without using vocals.
I am always interested in how people build their tracks. Do you have any kind of set processes by which you work? Are there certain elements of a song that lay the foundations for you?
well I spent a long time creating patches of individual sounds that i use in each of my tracks at the moment. for example i put together a collection of Kicks that i like the sound of and put them into a sampler to have a play with on my midi keyboard. these have all been saved as a template in logic so that they are there each time i start up a new track. ill probably start that process again when I'm writing the next album, but it is important right now for me to have a consistent sound and going through the long process of sifting through thousands of kicks and snares has definitely been worth my time. But aside from percussion i have a few other boxes that need ticking before i can say to my self 'this is complete'.
For me, your music is different in that it isn't so much evocative of urban landscapes as the pastoral. Is this something that you would agree with? And do you think that this a product of your surroundings, conscious or otherwise?
When i make music i try and go into it with an open mind, so anything is possible. I could be making an RnB slow jam one moment then a club banger the next. it is whatever evolves naturally when making the track. Whether the tracks themselves are a product of my surroundings is something I've never completely got my head around. i grew up in a pretty small village, on a fairly busy road, sitting opposite a farm in which cows moo through the night. i guess subconsciously by living in a place like that, it makes you appreciate different kinds of natural sounds that come from that type of environment rather than the hustle and bustle of life in the city. Although all of my released music has been made whilst I've been living in a city so i don't know much of the environment I'm taking in really. The important thing for me to make music that anyone can relate to.
Do you have any releases or projects in the pipeline for the coming months?
Well now that my EP is out, the focus is on my album which should be available toward the end of September. which I'm really excited about. There will be bits released between now and then and also there are a few mixes I'm putting together in the next few weeks so keep an ear out!
Lucky Paul – Thought We Were Alone B1 (Gang Colours Remix) STSEP03 by somethinksounds
-GANG COLOURS 'IN YOUR GUT LIKE A KNIFE' IS OUT NOW ON BROWNSWOOD