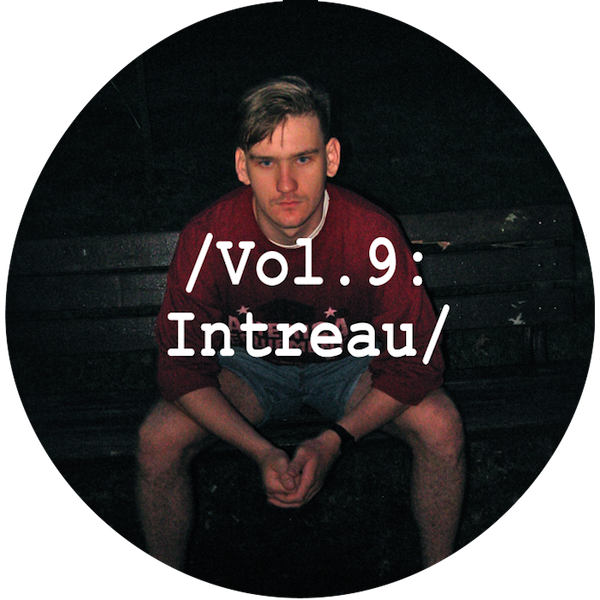 Sadly gone are the days of a DJ mix being cherished as a coveted artifact, a bold artistic statement that gives a glimpse into one's own unique musical DNA. On any given day you could download an infinite amount of mixes as people churn them out as part of the promotional merry-go-round. However, this is not to say that the romantic ideals and mysterious art of mixes do not remain. Part of the joy of putting together this mix series (albeit very slowly) has been the exposure to new music that you otherwise might never have stumbled upon. And so i must thank Venice Calypso for bringing the curator of Vol.9 in the series to my attention. His mix opened with the Space, Ladies remix of a track called 'Alpha' by a fellow Polish producer unknown to me at the time by the name of Intreau. A little investigation and some great music later and I found myself in the presence of a great new producer, so I quickly chased him up.
Intreau's music dissects influences from the UK's vast underground heritage while retaining the kind of unique perspective that only an outsider can have, also touching upon a broader array of influences that stretches across hip hop, jazz and afro-beat. Uniting the physical impact and adept construction of space that made dubstep in its earliest forms so groundbreaking with the rhythmic and sonic freedom that has blossomed from grime into the vast pool of unidentifiable club music that we are witnessing at the moment, Intreau articulates a sound that gives a nod to its influences while never being defined by them. This approach is exemplified perfectly by his track 'Alpha' which has just been released on Wicked Bass alongside a stellar crew of remixers (Bowly, Sentel, Skinnybones). Bounding into life on waves of rolling percussion, the light soca snares and swirling vocal loop give it a light-footed bounce that align it with the tougher strands of house and funky. However, the track morphs into something different as it gives way to an lfo'd midrange bass line that is reminiscent of early Coki, riding this line between dubbed-out early dubstep and its more rhythmically boisterous descendants brilliantly.
While I am slightly wary of bringing geographical location into the equation, Intreau does seem to be part of a burgeoning scene developing in Poland at the moment. A number of like-minded producers have been popping up on my radar in the last year or so each with a refreshingly different interpretation of the UK underground influences of dubstep, garage, grime, house and jungle and a collective arsenal that rivals the best the UK has to offer. With artists like Sentel, The Phantom and Liminal Sounds mix contributor Venice Calypso as well as labels like Concrete Cut occupying more and more of my time of late, it seemed a good time to delve further.
As not just a talented producer and DJ but also a promoter in his native country, Intreau is at the centre of this blossoming scene and so seemed like the perfect candidate to introduce more of the artists that it has to offer. He has put together something rather special for his mix, delivering just under an hour of music from an all Polish cast of producers that gives an insight into the wealth of talent there at the moment and leads us to plenty more hidden gems along the way. With a stacked tracklist and plenty of unreleased material, I will leave you to get stuck in. Stream and download the mix after the interview.
Hi, how is everything going?
Great, we didn't have much of a summer here so instead of hitting the pool and playing basketball like I would normally do, I made some tracks, mixes and worked on my live set, all of which is to be seen in late 2011.
First up, for those that don't know can you please introduce yourself?
I'm Jakub, from the city of Wroclaw, twenty-something. DJing, producing, blogging, working as a promoter.
When did you first get interested in electronic music? And how did that lead to the music you create now?
When I was in high school I was on a trip to the UK, London and Nottingham and that was where I bought my first UKG & Grime CDs, while I was still listening to jazz, funk, hip-hop and afro-beat at the time. The latter was what I was playing on my first nights, too. The more I was djing the more I was attracted to the straightforward, bass driven sounds of UK club music rather than to the skippy percussion and wah wahs of the 70's.
When did you first get into music production and what impelled you to do so?
About a year and a half ago. I felt it was a logical step up from just spinning tunes to making some of my own. A friend of mine at the time urged me badly to start working on it, too.
How would you describe the music that you make in your own terms? Are there any fundamental elements that run through all of your music?
Mmm… I don't feel very confident describing it on my own, but on the most basic level it's inspired by what is happening in the UK while trying to maintain distinctive flavour by dropping some Caribbean percussion or analogue, sample based bassline instead of programming lfo's. I feel like kick and bass are pivotal to the whole concept, to have them nicely work together and sound original. Early dubstep, 90's ukg, grime and the beginnings of funky are certainly some of the sounds that I'm trying to move between, for better or worse.
It seems that there is a healthy bass music scene in Poland at the moment. How has it been developing? Is there a growing community there?
That's true. 2010 was key year I think, with many important artists, tunes, nights and mixes to surface. Also in breaking capital city, Warsaw's, monopoly for successful, packed events. Before that there was a strong minimal house scene and dnb scene where I'm from, with little tastes for new things like the whole bass sound, niche or uk house that gained widespread popularity sometime in 2009/10. Thanks to dubstep's popularity mostly.
I have seen a lot of support between Polish artists recently. Is it quite a tightly knit scene?
I guess so, with the scene growing it's hard to keep in touch with everyone and be up to date with everything but generally people are very supportive, everybody knowing each other and plays in each other's cities and nights, on more or less a regular basis. Dubs are circulating quite freely. From time to time there are also events gathering literally everybody, which is nice too.
You were involved in the BBQ series of nights and mixes, bringing over artists like Hackman, Mosca and Xxxy. How did that come about? And what was the idea behind it?
Yes, there was three of us working on the project, and the idea we coined was as simple as it gets. To bring artists here who we couldn't see otherwise, whose music we love and to make it work for the people too. At the time we started there was only one dubstep/funky/grime night in Poland, by the name POW!, hosted by Supra1 and it was super successful in its time. The idea of mixes came quite spontaneusly, when I managed to convince Mosca to record one of his notorious Ustream sets for us to give away before the party. Later we asked other guests as well and that's how the series came out.
You have put together a mix showcasing some of the current Polish talent around. Can you tell us how you went about putting together the mix?
The tracklist is strictly 100% Polish producers. My Cracow friends Sentel, Space, Ladies from Warsaw who are undoubtedly rookies of the year, Mayster who's Polish based in NY, Venice Calypso, great producer sharing his time between Warsaw and London. Zeppy Zep, The Phantom obviously. From yet lesser known producers: Phat Trakz, Broken Fuse, both of whom I'm working with right now on some things. Couple of my own tracks, too. Basically I tried to fit the diversity of styles that people are working in right now, but it proved pretty impossible, it could easily gone in a strictly dubstep way or more housey.
Are there any Polish producers who you feel are killing it at the moment that we might not know about?
Space, Ladies for sure. They did a killer remix of my track 'Alpha', their originals are prime quality, too. MNSL, who was a Red Bull Music Academy London participant, makes less dancefloor oriented vibes, but I love all of his work too. Phat Trakz from Wroclaw are a really hard working duo you'll hear about sooner or later. In funky/garage niche there's Vanatoski. Kofler is coming up with some real nice moombahton remixes recently.
Your 'Alpha' EP is forthcoming on Wicked Bass shortly. How did that come about?
I knew Nazar, Kiev's bass music CEO, playboy and number one hipster from the times we were doing BBQ mixes. We exchanged a couple of emails, he was kind enough to write about us on his blog frequently, than when I published 'Alpha' on my soundcloud he was the first who asked me to release it on his label. I just couldn't say no. There are three remixes from my friends: Bowly, Sentel and Skinnybones, and other three are or will be published on various sites to grab.
'Alpha' recalls early dubstep productions but tied to tough house drum lines. Did you come from a background of listening to dubstep?
I did, yes. Mary Anne Hobbs 'Warrior Dubz' compilation was first dubstep record I bought, and it was like 2006 or 2007. Me and my girlfriend were literally obsessed about 'Anti-War Dub' ever since it came out. I'm happy to say we have a single best dubstep rave in a country which goes by the name of My Head Is Dubby and they're doing great work bringing artists like Mala or Untold here. So, yes, thanks to those nights and records, early dubstep was a great influence for me.
///
big ups lineout.pl, concrete cut fam, junoumi, future-bass.pl, my head is dubby, unsound festival, all the labels, djs, blogs, producers that make it work here.
LIMINAL SOUNDS VOL.09: INTREAU
DOWNLOAD: HERE
1. Venice Calypso – Drifting (Intreau Remix) [Unreleased] 2. Liquid Molly – HHD (Sentel Remix) [Concrete Cut] 3. Broken Fuse – Nfjm [Unreleased] 4. Broken Fuse – Wireless [Unreleased] 5. Venice Calypso – Vacuum [Unreleased] 6. Mayster & Contakt – Korak [Dutty Artz] 7. Umba – City Slicker [Unreleased] 8. Zeppy Zep – UK [Unreleased] 9. Viadrina – All I Want (One Dark Martian Remix) [Top Billin] 10. Deam – Pinch [forthcoming Concrete Cut] 11. Martin Augistin – Bubba (Supra1 Remix) [Pets] 12. Phat Trakz – Put Em On It [Unreleased] 13. Intreau – Alpha (Space, Ladies Cosmodrome Remix) [Wicked Bass] 14. MNSL – Celestial [Unreleased] 15. Vanatoski – She Is [Unreleased] 16. Space, Ladies – Medusa [forthcoming Senseless Records] 17. French Fries – Laquisha (The Phantom & Zeppy Zep dub) [forthcoming Youngunz] 18. MCQ – Roofs Of Jerusalem (Teielte Remix) [Junoumi] 19. XTNT – As If [Unreleased] 20. Tom Encore – Spellbound (Zeppy Zep Remix) [Concrete Cut]
-INTREAU 'ALPHA' IS OUT NOW ON WICKED BASS