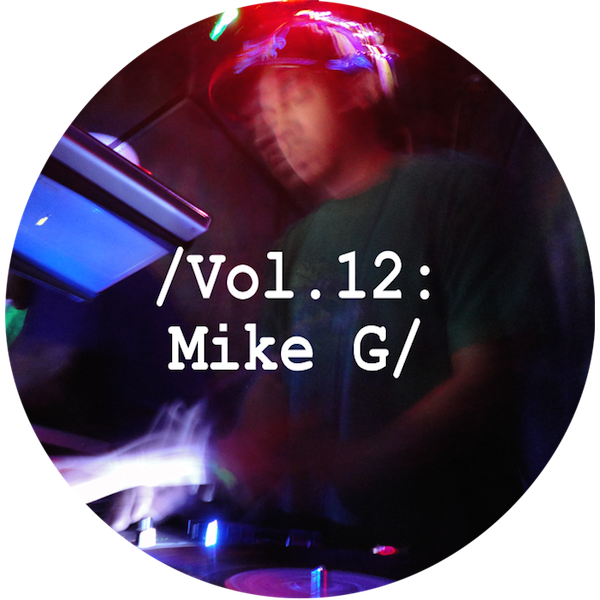 The Seattle-based Car Crash Set label has consistently proved a goldmine for emerging talent over the last couple of years.  I have long-been a fan of the label, and even tapped up label head Ill Cosby for an interview and mix last year (Liminal Sounds Vol.06: Ill Cosby). Irrespective of any kind of musical niche, I know that when a new release drops in to my inbox from them, it is guaranteed to be worth checking out. And it is them I have to thank for introducing me to LA-based producer Mike G, an artist of whom I wasn't previously aware but whose heavyweight debut single for the label, 'Throw Back / Disco Radio', immediately grabbed my attention.
Mike G makes music for the dance – These are beats to get down to. While that might seem like a simplistic and obvious statement given the music we generally talk about on the site, it goes deeper than that. Honing his sound around this fundamental concept is precisely what makes his music so instant and vital. His tracks are imbued with an uncanny understanding of how to work a dance floor based on the timeless principle that if it feels right, it probably is. Built around dynamic grooves which act as the focal point of his music, his tracks are shot through with deft melodic licks and the kind of low-end that will pummel a big soundsystem. Working in elements of whatever he feels like, from hip hop to house, juke to jungle, everything is moulded together into one robust, driven  and focused entity. The 'Throw Back / Disco Radio' single which has just dropped exemplifies this approach perfectly. To put it in context, this is what I said about it when I reviewed it last week…
"…two heavy 808 cuts that know precisely how to work a dance floor, removing any extraneous weight in favour of a streamlined and powerful propulsion.
'Throw Back' is straight up club power. Building a snapping 808 drum line cut apart only by the pitched-down vocal chops and sinewy atmospheres, when the distorted bass hits drop through the mix they hit you straight in the gut. Keeping the track's focus tight Mike G doesn't dilute it with any melody, rather utilising spurts of white noise and seeping atmospheres to glue together the rhythmic lead. The accompanying 'Disco Radio' acts as the perfect counterpoint, taking the same foundational elements and switching them up with a lighter rave-infused touch. While the old skool flavoured keys rise through the track amongst the pitch-bent vocals and splashes of percussion, the track drops in to a bouncing shuffle that again rides a wave of detuned bass hits."
With his debut release out now and a few more projects in the works, it seemed like a good time to corner him for a chat and get him to contribute the twelfth installment of the Liminal Sounds mix series. In the spirit of the tracks he makes, the mix is a consumate lesson in how to build a set, riding through a tight selection of upfront dance floor bizness featuring a number of his own dubs amongst tracks from the likes of Pusherman, French Fries and Magnum.
Read the interview below and grab the mix after the jump.
First up, for those that may not be aware of your music can you please introduce yourself?
My name is Mike Gorman, I'm 29 and I was born and raised right outside of Hollywood. I now live about 30 minutess outside of the city. I produce and dj underground club music of all kinds. I also co – host the Seismic Imports Radio show on RWD.FM with DJ Leukos. I currently have a release on Car Crash Set and a promo remix for Hot N Heavy Recordings that you can grab on their sound cloud.
When and why did you first get in to production? Was there any particular catalyst for it?
I used to mess around on FL in like 2003 making kinda silly gabber and dnb tunes right before I started DJing. Then started DJing in 2006. Played a bunch of gigs and felt like I was going nowhere by only DJing and not producing. So I started making tunes.
Your music is imbued with an understanding of how to work a dance floor. Were you a DJ before a producer? and do you think that has had an effect on how you approach the two disciplines?
I made some crappy tunes before I started DJing but then definitely spent a lot more time as a dj before getting seriously into production. The DJing gave me the knowledge of song structuring and phrasing that I never had. I used to go to a lot of club nights and raves and would just kind of study the dj and see what they did, see what the crowd reacted to, and just kind of learn like "ok this is what you do to make people dance"
When you are building tracks are you conscious of things like soundsystem dynamics and how it will work on a dance floor?
Absolutely. I try to tailor my tracks for big sound systems mainly but I like to kinda make sure it sounds good on any system. But they are definitely built for big sound systems with nice bottom end. In my sets you'll notice I don't just play banger after banger. I like to establish a groove and have nice dynamic. I know when to give the dance floor a break you know? You need a nice balance of filler and banger and I try to implement all that in my production as well.
What music has had the biggest impact on you over the years? And does that correlate to what influences your own productions?
Well I'm just in love with this whole, I hate to call it, 'post-dubstep' emergence of new fresh sounding dance music. There are so many people making so much cool music right now, and a lot of it can't be placed into one specific genre. There are no rules and it just seems like producers are having fun with it and just spreading cool ideas. However, I originally started as a jungle dj, so I think jungle has really had the hugest impact on me as far as electronic music goes. You can kinda see it in my productions. As far as my current influences, as of late I'm really feeling the juke/footwork stuff from people like Cedaa and Kramphaft and also really digging the ballroom and jersey club thing that dudes like Mike Q and DJ Sliink are doing.
I'm slightly hesitant to reference it, but to my ears your tracks are imbued with LA's rich heritage in hip hop. Not so much in an overt way, but in the sense of melody and sonic palette. Is this where your grounding lies?
I love all kinds of music but hip hop has always had a special place inside me. I used to really be into the underground hip hop scene in LA. So just being around that a lot definitely influenced my sound to an extent. I do a lot of sampling of hip hop vocals and what not because I was always intrigued with what all the cool stuff people like Madlib and RZA would do with sampling.
The Seismic Imports show that you co-host on RWD FM gives a good insight into your musical tastes, covering a broad selection of music from hip hop to grime to juke and just about everything in between. Is this a fair approximation of what goes into your own productions?
Yes definitely. Some of my tunes are very housey and clubby in the 130 bpm range, I've been dabbling in the Juke 160 bpm stuff lately and also everything in between. I like to try and bring together elements from different genres of music together and make 'em fit seamlessly.
Across all of this, do you think there are any fundamental underlying principles to your music that tie it all together?
I don't really claim to be an innovator or envelope pusher or anything. I'm just trying to make good sounding dance tunes, that aren't of the mainstream variety with roots grounded in house, garage, grime, juke, 808 breakbeat, hip hop, jungle and what ever else I'm into at the moment. All with a liberal amount of bass and a nice groove.
Your latest single 'Throw Back / Disco Radio' is coming on the Seattle-based Car Crash Set label. How did you hook up with them?
I was introduced to label boss Will (Ill Cosby) through a mutual friend and we kinda became internet friends swapping tunes and what not. This was maybe a few months before I started producing seriously. Once I had some tunes made I sent em to him and he liked them, which I feel is an honor because I was a huge fan and still am of the label. I think it's one of the most forward thinking bass labels in the US. And just one of the best labels around period. The tracks on there are always quality.
Can you tell us a little bit about the two tracks that feature on that single?
These were actually my first two completed tracks I ever made. I wanted to make some 808 sounding stuff but on a clubby tip not so much on the deep vibe. Just a couple of fun bass heavy club tunes. Very danceable stuff. It's a little overwhelming to me how good of a response the single has gotten in promo. It's getting support from some really awesome DJs. I feel very blessed.
What's next? Have you got any further releases planned over the coming months?
Well I've got one tune confirmed for a B.YRSLF compilation and also working on a remix for a Hot N Heavy release but can't really go into detail on that one. I've also got remixes from Admin and DJ Sliink of my track ' Boost' which I'm trying to plan a release for as well. Bosstone is also working on a remix for that release as well. I might also be doing some shows on the east coast US soon so look out for that.
Thank you for putting together a mix for us. Can you explain a little about how you put together the mix and what you wanted to showcase with it?
I always approach recorded mixes differently than my live sets because there is a big difference in what you wanna hear in the club and what you wanna hear on your iPod. I wanted to showcase some of my sound along with artists and labels that I'm friends with and support. I like to start my mixes off kinda mellow and build up and that is exactly what I did hear in regards to sound and tempo. I hope you enjoy!
LIMINAL SOUNDS VOL.12: MIKE G
DOWNLOAD: HERE
00:00  Sei A – Flux (Martyn's Electromagnetic Mix) [Turbo] 01:33  Bambounou – Fake Jake [Youngunz] 06:38  Boddika & Joy Orbison – Swims (Alternate Mix) [Swamp81] 08:54  Mike G – Boost (Admin Remix) [DUB] 10:23  Worthy – Worthy [DirtyBird] 13:31  Mike G – Throw Back [Car Crash Set] 15:52  Kill Frenzy – Booty Clap [DirtyBird] 20:05  Majora & Corporal F – Majora's Mask [HotNHeavy] 22:09  Disclosure – Tenderly [MakeMine] 24:30  Lazy Flow – Blue Jets (feat. Girl is tough) [Youngunz] 27:38  Pusherman – Shake It Off [LNUK] 30:01  Runamucker – Caroline (Gage Remix) [InfiniteMachine] 31:37  French Fries – Crushin On Me [Youngunz] 35:12  Mak & Pasteman – Jungle Juice [Forthcoming HotNHeavy] 36:24  Ill Cosby – Opportunity To Dance [DUB] 38:15  Mike G – Trap Shore Ha [DUB] 40:24  Bosstone – Lean (Dj Sliink Remix) [Paradisiaca] 44:05  Major Lazer – Original Don (DjSliink Remix) [Freelease] 45:26  GoldFFinch – Point Of Entry [877 Records] 47:56  F – Full Throttle [7even] 49:55  Magnum – Dense (French Fries Remix) [92Points] 51:49  Mike G – Sniff Riddim [DUB] 53:10  Trick Daddy feat. Trina – Nann Nigga (Clicks & Whistles Bootleg) [Freelease]
-MIKE G 'DISCO RADIO / THROW BACK' IS OUT NOW ON CAR CRASH SET