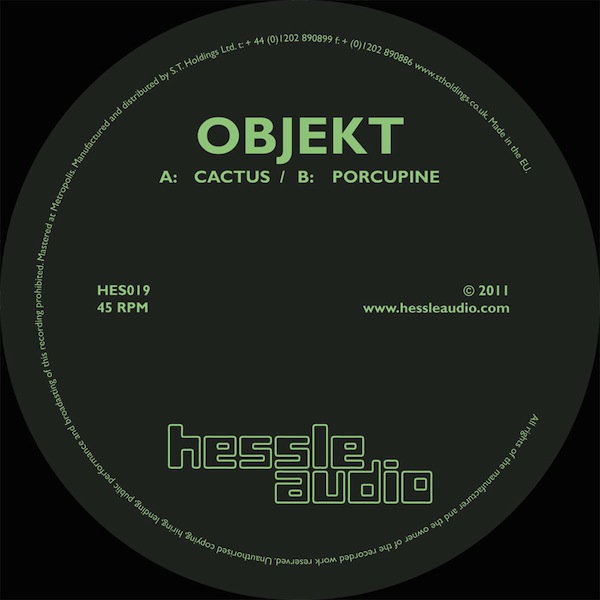 OBJEKT – CACTUS / PORCUPINE
(HESSLE AUDIO – HES019)
1. Objekt – Cactus
2. Objekt – Porcupine
Release Date: Mon 6th Feb
Hessle Audio's mantra has always been one of quality over quantity, and it is one that has stood them in good stead as the gradual growth of the label since its inception in 2007 has continued to progress right up to the present. So, following a prolonged absence since the  release of the '116 & Rising' compilation in May of last year, it was always a safe bet to assume that their next transmission would be something special. Inviting Objekt into their tightly-knit circle, 'Cactus / Porcupine' is the brilliant end product, and one that epitomises the dance floor finesse of the label perfectly.
The Berlin-based producer was undoubtedly one of the most exciting artists to emerge last year. Having honed his sound in the secrecy of his studio, he came out of the blocks as a fully formed entity. Pitched somewhere between the sounds of his native Berlin and that of the UK underground, as practised by collectives like Hessle Audio, his broken structures, sharp percussive edge and heaving low-end mastery immediately marked him out as a cut above many of his contemporaries. Thought for a long time to be a pseudonym of an already well-established producer, you start to get an idea of the quality of music that has been emanating from his studio since first appearing. A pair of self-released white labels followed by a selection of carefully picked remixes found him at the center of a groundswell of speculation and hype that has reached new levels of anticipation with this single.
Having featured in Ben UFO's excellent Rinse 16 mix CD, people have been salivating over the prospect of getting hold of 'Cactus' for months, and understandably so. The track takes on some of the most prominent and omnipresent tropes of dubstep in its more traditional guises and teases out of them something entirely new and exciting. Built around a scattershot, tumbling drum line, the spasming bass modulations re-invigorate the iconic sound of dubstep's early incarnations. As the bassline shoots out into the pervasive darkness, faint synth strokes streak across it giving you a glimpse into the cavernous depths of the production, while the midrange bass evolves into laser-like shots firing from its core. This is a track that has to be heard on a big rig for you to be able to really appreciate its full power. On the flip, 'Porcupine' takes a more linear but no less effective approach to the same end. Wavering chords and metallic arpeggios hang off the rattling kick rolls and drawn out bass tones as the track careers off down a dark and inexorable path.
This is deep, dark and forward-thinking electronic music at its most potent, primed with the ability to reduce any dance floor to rubble without resorting to tired tactics to do so.  This pairing between Objekt and Hessle Audio could herald some really special things in due course.