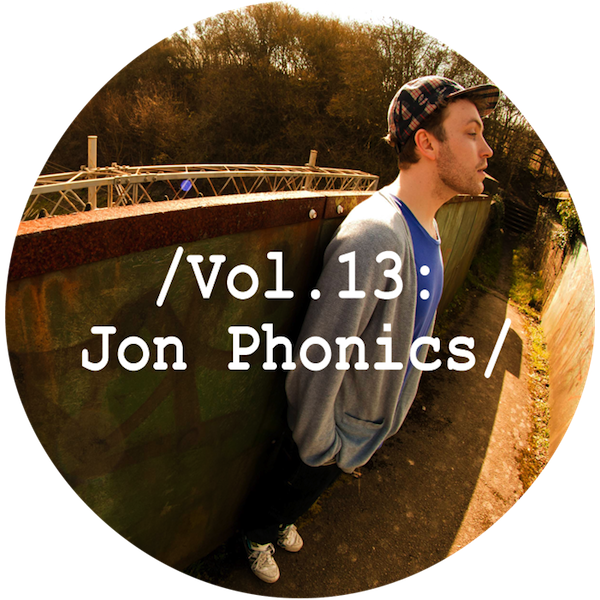 Having primarily made his name amongst the UK hip hop community over the last few years with a series of well-crafted mixtapes, including the two acclaimed 'Half Past Calm' volumes, the release of the 'Bruck Out / The One' 7″ on Chakra Sounds last year made a lot of people stand up and take notice of Jon Phonics. Flipping the classic hip hop influences that had ran through his earlier releases with a more skewed electronic ear, the single showcased a new facet to his music that found itself taking its place in the record bags of a whole new set of DJs. Now with the release of the 'Grid Games' EP he is building upon those latent influences with a refined energy and vitality that is sure to mark him out as one to watch for 2012.
Teaming up with friends and like-minded producers BUG, Pete Cannon and Jeeks, Phonics dropped the aforementioned inaugural release on the PRISM label this week. Delivering three heavyweight collaborations  – backed with three impressive remixes courtesy of Kidkanevil, Ghost Mutt and Pedestrian – the EP takes these hip hop foundations and re-wires them in to blazing, expansive electronic instrumentals. Stepping away from studio solitude and pairing up on each of these tracks, they are imbued with the fluid vibes and undiluted excitement that can only come from jamming with friends.
On 'Jack Duckworth' Phonics teams up with BUG for some hazy, skittering RnB action. Opening on a fluttering bed of lush synths, the track unfolds with in a mesh of tangling, warped synth lines that sway and wash over the anchoring kick thuds and skating snares. Up next, he teams up with Pete Cannon on 'ROMES'. Crushing the synths into a sheet of electrostatic energy, the drums take the lead with a forceful snap to them that juts through the glitchy edits and heated bass manipulations. To round off the EP, Jon Phonics teams up with long-time collaborator Jeeks on the epic 'Double Vision'. Built around squirming vocoder smudges and a dense fog of shimmering pads, it raises itself up into a huge exhalation of tumbling drums, astral arpeggios and loaded bass vibrations.
Ahead of the EP's release, I caught up with Jon Phonics for a chat about UK hip hop, collaborating with friends and what he has in the pipeline. He has also been kind enough to put together a mix for us, taking the listener through an on-point selection of some of his favourite tracks at the moment alongside a scattering of his own material. Have a read through the interview below and grab the mix at the bottom.
For those that may not be aware of your music, can you please introduce yourself?
Hi, I'm Jon Phonics and I enjoy producing music.
To go back to the start briefly' when did you pick up production and what impelled you to do so?
I first became interested in the production side of music when I was about 15/16. I was recording with a band I was in at the time with a producer called Mark Williams. He had just moved his studio from out of his Mum's house (where I had recorded my drum tracks) to a big space in Archway. We were the first band he was recording at that spot and he kept disappearing to have meetings with major labels which I was thought was cool. I remember him playing N Sync and just bugging out to the production values and I had never really listened to music that way before. I think I was also intrigued by the open mindedness displayed by a guy that produced hardcore punk records.
Coming from a hip hop background, do you approach beat making within those traditions of sampling, MPCs etc? Like, in a physical way?
I would like to think so. I still use the MPC primarily and build the skeleton for most of my productions in there. I like to take it as far as I can in the box before having to use a DAW. I tend to favour analogue synths over MIDI because of the hands on approach that comes with them and I still have a lot of fun flipping samples.
Having made your name primarily amongst the UK hip hop community over the last few years, the last 'Bruck Out / The One' release, and even more so the new EP, come from a more leftfield, electronic perspective. Has this always been a part of you as a producer?
Definitely. Prior to the Half Past Calm records, Jeeks and I were part of a group of artists and musicians called 'The Arabada Collective'. If you're unfortunate to find some of those CD's you can hear early productions of mine which are a sort of blend of 2 step and trip hop, it's all pitched vocal samples and rhodes stuff which, at it's core, is pretty close to where we're at now.
Your new 'Grid Games' EP is the inaugural release on the PRISM label. How did you hook up with them and how did the EP come about? It is pretty encouraging to have a new label making their opening statement with your music right?
Yeah, for sure! I feel very privileged any time anyone chooses to put their faith in my music. I actually met Jake, who runs Prism, through Louis Den. Jeeks, Bug and myself were all living in close proximity at the time and so were making music together. Jaisu had came to stay for a bit whilst he was in town and after some time I just had accumulated a bunch of tracks with a similar vibe so decided to make a release out of it.
Can you tell us a little bit about the tracks on the EP and the thought behind it as a whole?
For me, the name 'Grid Games' is supposed to represent a sort of production battle ships on a sequencer grid. The tracks were made around the time I was completing Half Past Calm 2, coming from a background of playing in bands growing up, I was missing the vibe you get from just jamming something out naturally with other musicians and that's how the tracks with Jeeks, Jaisu and Bug were made. Jeeks and I produce a lot together but 'Double Vision' seemed to fit in perfectly with the other collaborations so I chose to include that one.
The new EP features collaborations with five different producers, which is a really interesting basis for an EP. Do you find working with other producers conducive to productivity & creativity in the studio?
Hmm, I'd say it can go both ways. I think in this case I was friends with the producers involved so we are comfortable enough to say if we're not feeling something or just let the other explore ideas. I find i'm quite a rhythm based producer and that's something I often vocal to Bug & Jeeks, but working with them gives me more confidence in my own melodies. The collaboration with Pete Cannon we did via email and we didn't have the separates, so we were both just really geeking on how we could take the section the person had my prior to that, chop it up like a sample and just freak the shit out of it.
Does it relieve you from some of the self-questioning inherent to locking yourself in the studio on your own?
Yeah it can definitely be the confidence boost you need to have someone just shouting 'record that!' when you're sat on the keys working things out.
It must be a completely different dynamic to collaborating in the sense of writing beats for MCs?
I would say for me the plus side of working with a producer is that you both to some extent, think in a similar way. But essentially it is all about knowing how to compliment one another.
Do you find that you adopt certain roles in the studio regardless of who you are working with?
I guess I like to start the idea and in the case of Grid Games finish them too.
The EP moves about in style quite substantially. Do you think there is anything inherent to your production outlook that can be heard running through the whole EP and tying it all together?
Listening back to the original tracks I can hear I was just starting to use my vocoder around the time I was making this so there's traces of that in most of the tracks, albeit distant ones. I was using another particular old synth at the time that can be heard on every track and am responsible for all of the drums on the record except for Pete's input on Romes so guess that has dictated a style to some extent.
What is next for you this year? Have you got any further releases or new projects in the pipeline?
Jeeks and I have some songs that we are looking to release in the near future under the name 'Satellite 100'. I've also been working on something so hopefully I'll figure out exactly how to present that and see another solo release by the end of the year too.
You have been kind enough to put together a mix for us. Can you explain a little bit about how you put together the mix and what you wanted to showcase with it?
This is a mix of some songs I like to play and some new bits from me and other folk involved with the EP. Enjoy…
LIMINAL SOUNDS VOL.14: JON PHONICS
DOWNLOAD: HERE
Royalty – Octane (Five Easy Pieces)
Satellite 100 – Worlds Fall Apart (White)
Joey Negro presents the Sunburst Band – Journey To The Sun (Dennis Ferrer Remix)(Z Records)
Pete Cannon – Rhodes 2 4 (White)
Darling Farah – Division (Civil Music)
Falty DL – Jack your job (All City)
Gang Colours – Dance Around The Subject (Pedestrian's Dusty Warehouse Remix (Brownswood)
Fur Coat – Space Ballad (Totally Enormous Extinct Dinosaurs Remix) (Crosstown Rebels)
Foals – Spanish Sahara (Deadboy Remix) (Warner Music)
-JON PHONICS ' GRID GAMES' EP IS OUT NOW ON PRISM