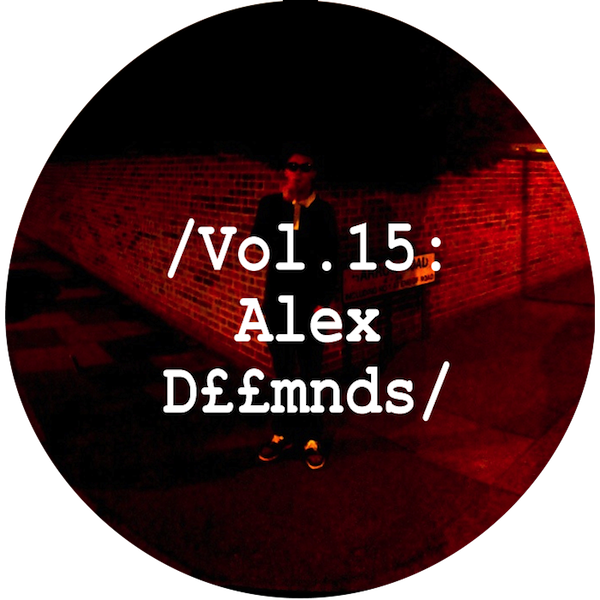 On Monday Alex D££mnds dropped the inaugural release on the freshly minted Switched On Records imprint. The three track 'Credentials' EP is an impressive start for the new house focused label venture from S.E.F, formerly one half of Deep Teknologi Records. Over the three tracks on offer D££mnds, AKA Alex Deamonds, delivers a refined take on house that is as educated in its rich heritage as it is born out of years growing up in the UK underground on a diet of garage and grime. Stripped back, low-slung and rugged, the EP has a razor sharp vitality to it that acknowledges these origins and channels them into unequivocally powerful dance floor material.
The eponymous lead track is a strong statement of intent and grabbed me from the off. Harbouring just enough of UKG's percussive skip to give the rhythm section its bounce, the wiry synth line and deep bass weight attack with a surprising amount of ferocity, bolstered by the grainy gangster film samples. The morphing two note hook at the track's core always holds back just enough to make you work your own groove around it as scattershot snares scuttle through the mix to provide an additional motor over the bubbling low-end syncopations. 'Pressure (D££mnds Olympus Mix)' is another streamlined affair that utilizes its constituent parts to maximum efficacy. Working the insistence of the sinewy rhythm section to its full extent, the pitched percussion and icy hats work anxiously as they are enveloped by a persistant wash of glacial pads. 'Baidin' then rounds off the EP on an easier and more expansive groove; working a roughly cut shuffle that flickers with the propulsion of a muffled marching beat underneath, warm pads and bright synths stabs counterpoint the diving bassline to give it a an organic and slightly off kilter vibe that plays out the EP nicely.
With the EP worming its way further and further into my subconscious, I caught up with Alex ahead of the release to find out a bit more about his background, the new EP and some of what we can expect from him over the coming months. He has also kindly obliged in providing the fifteenth installment in the slowly blossoming Liminal Sounds mix series with a 40 minutes mix of tough house jams that gives a good insight into his current musical state of mind. Read the interview below and stream and download the mix after the jump!
Hi Alex, thanks for taking the time out to speak to us. How's everything going?
Yeah it's blessed.
First up, for those that may not already be aware can you give us a quick intro?
I'm Alex. I like dangerous liaisons.
When did you first get into production and what impelled you to do so?
Going out and listening to tunes on radio, not too sure when, but I've been on and off for a while.
What were you making at the time and how did it lead to where you are now?
Used to make grime/dubstep type stuff on fruity years ago, never shared it with anyone. Started listening to Funky/House a lot more, just started making it.
I won't ask you how you would describe your own music, but do you think there is anything fundamental to your productions? Any key foundation to everything you make?
At the moment, Deep/Chicago house, nothing groundbreaking. Other than that, no. I try and do something different each time. I like to think I don't really have my own sound so I just try and make what feels good.
While your latest productions are ostensibly house, they are underpinned by a very UK vibe to my ears. On a track like 'Credentials' for example the drums retain the skip and swing of garage and there is something in the melody that reminds me of grime. Are those sounds that you grew up on? And do you see them as being an influence on your current productions?
Totally. Been Dj'ing since I was about 14 or so. Going to pirate radio stations and stuff. So what I grew up on, I like to think I retained enough of in my memory for it to show in my own productions.
At the moment we are seeing quite a lot of producers moving away from dubstep, grime and garage and focusing their attention on more straight up house. What do you think the reason is for this?
Stronger ecstacy? I don't know. It depends who you follow. If you look at all these UK artists who came out of Dubstep & Grime music then yeah of course you're gonna notice that trend.
What do you think of the health of house in the UK at the moment? Is there anyone particularly impressing you at the moment? Or any certain vibe that you are feeling?
It's decent man, there is a tough amount of DJ's to go out to every weekend. Not really one certain vibe I'm feeling, I really like what Gavin Herlihy's been making deep house wise, I think he's from Ireland. My favourite artist recently though is Deetron, he's from Switzerland. His remix of Miguel Migs hits the spot!
Can you tell us a little bit about the EP? Did you set out with the idea in mind to write an EP? Are there any themes running through the three tracks on it that ties it all together?
For two of the tracks there is a similar bond, (Credentials & Baidin'). I made them within 2 weeks of each other, made Baidin' off the back of Credentials. That's about it really.
Have you got any further releases lined up for the coming months that people should know about?
Yea there will be a second EP dropping on Switched On Records plus I'm finishing some Hip-Hop tunes up too.
You have kindly put together a mix for us. Can you talk us through how you put it together and what you wanted to showcase with it? Is it a fair representation of your sets when you play out?
Usually I play a quicker tempo set when I play out, but I think this is a fair representation of some of the stuff you will hear me play. I always forget to play my own tunes, which I know is probably kinda why you asked me to do the mix, so I'm sorry about that. I do usually play them though and there will be alot more tunes coming from me soon, so watch this space : ) Cheeky intro from one of my favourite artist's seein as we may not be hearing from for a while him after tomorrow!
LIMINAL SOUNDS VOL.15: ALEX D££MNDS
DOWNLOAD: HERE
Theo Parrish – Soul Control
Art Department – Touch You Gently
Mike Richardson – Looking Back (Huxley Remix)
Roberto Rodriguez – I Keep Thinking Of You
Franck Roger – This Is Now
Dole & Kom – Theme
Langenburg – Times – (MT's Kugelrohr Dub)
Gavin Herlihy – Witching Hour
-ALEX D££MNDS 'CREDENTIALS' EP IS OUT NOW ON SWITCHED ON RECORDS