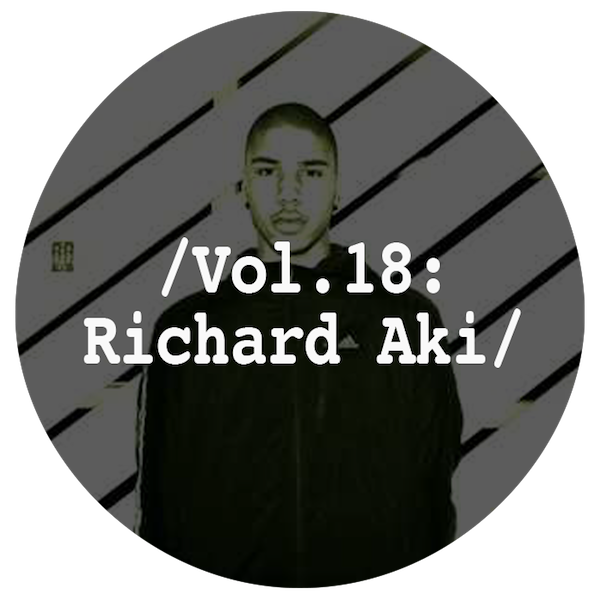 As contradictory as the statement is, DJing is very much a producer's game. It is releases that get you booked, and due to the sheer volume of new music that floods the internet on a daily basis it is harder than ever to make any kind of headway based on technical and selection skills alone. With that in mind, for the next volume in our mix series we turn to 19 year old London based DJ Richard Aki, one of our Get Some family and a name that has continually impressed us with his tight mixing, impeccable selection and creativity behind the decks and whose reputation is starting to spread across the capital.
Combining a deft touch with flawless selection skills, Aki seamlessly mixes together a patchwork of house, techno, dubstep, garage, grime and beyond that references past, present and future sounds with an incisive understanding of musical narrative, simultaneously exploring a diverse range of music and highlighting the common threads that unite them. Fully utilising the resources at his fingertips to delve further than ever before, with each set comes a new refractions of his myriad tastes.
Ahead of his set at our 1st birthday party alongside Visionist, Logo, Blackwax, Tim & Barry and Wattville, we invited him to take the reigns for the eighteenth installment of our mix series. He kindly obliged with a brilliantly concise 35 min mix that cherry picks a selection of upfront dubs tied together by some carefully chosen cuts from the vaults.
Check the interview and mix below, and if you like what you hear, make sure you are down at Rhythm Factory on Friday!
First up, for those that may not be aware can you please introduce yourself…
Hi! I'm Richard, I'm a student in London, work for Hyponik and am part of Get Some.
When did you first pick up DJing and what impelled you to do so?
I've kind of messed around since I was about 15, but I only started playing out once I moved to London last year. It was hearing the early dubstep tracks i think, and just wanting to be able to do what all these wicked djs could.
When you started out what music was inspiring you?
As I just mentioned, dubstep. I remember a friend taking me to 'Why Not?' at Scala when I was about 15, and having no idea what was going on, but I think that was my first experience of sound system music. It was Chef and Horsepower Productions etc. that played.
How have your tastes developed over time to where you are at now?
In a pretty similar way to lots of people my age I think…From the roots dubstep, through a phase of the more tear-out stuff, to garage, and then house and techno. Who knows whats next.
What is your current DJ setup?
At home I've just bought Pioneer CDJ1000s and some dodgy mixer! When playing out I'll use cds, or timecode cds/vinyl, depends what I'm trying to do. Unfortunately, my record collection isn't big enough for whole sets yet, but I'm getting there slowly.
How would you describe your DJing style? Who are your influences in that respect?
I remember seeing Oneman play in the moat at Outlook 2011, just before I started playing out, and I used to want to dj like him – but gradually began to play slower tempos, longer mixes etc and thats where I am now. I don't really think I'm that influenced by anyone in terms of style, more so selection – and in that respect there's too many to mention! Probably the radio djs most, on Rinse and NTS.
These days electronic music is very much producer led. Have you found it hard to make a name for yourself purely on your DJing abilities?
Yeah of course it a bit harder, because people need to see you play in a club to see what your about, online mixes only show only one aspect of a dj's skill.
Do you think this is a balance that should be re-addressed?
No not really – DJing and producing are very different skills, there's not much that could be done I don't think, and its not really something that bothers me.
Do you have any plans to move into production in the near future?
Er yes and no, I've recently bought Ableton and made a couple of tracks that I'm going to run for the first time at Liminal Sounds, but nobody has heard them yet, and I'm not in a rush to put anything out there for the sake of it.
Which new producers should we be looking out for?
Ah so many!  A few examples might be Alfie, Rumah, Kam-moda, Happa, and Ziro.
Can you talk us through the mix you have put together for us a little bit…Is it a fair representation of what people can expect when they see you playing in a club?
Yeah I reckon its fairly similar to what I'd play in a club – I tried not to put too much thought into the selection etc, its just music I like right now, some quite old stuff too.
LIMINAL SOUNDS VOL.18: RICHARD AKI
DOWNLOAD: HERE
Rise 'Em – Bandshell
D Transition – Graphics
Acid Battery – Boddika
Curse – Darling Farah
Mega Drive Generation – Martyn
Coded – Ziro
No More – Dusky
Going Down – Sei A
Keep Running – Locked Groove
Narst – Cooly G
About Midday – Alfie
Isp – Nick Höppner
Easy Love (with Florian Schirmacher) – Alex Niggemann