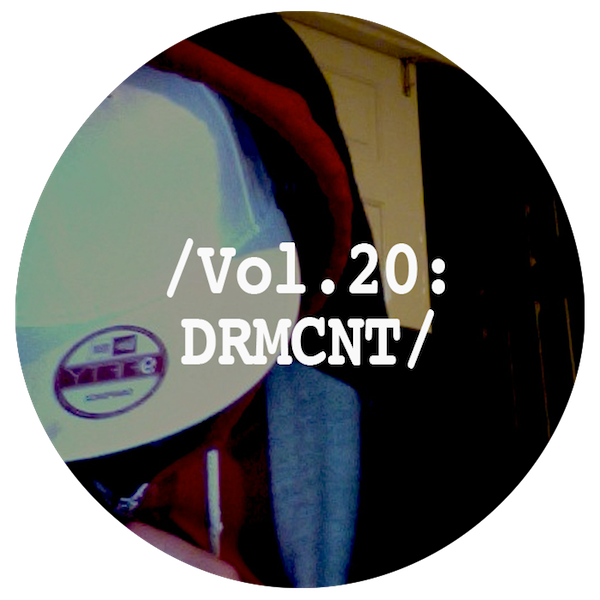 In all honesty I do not know a huge amount about Drmcnt other than the handful of tracks that I have heard, but then given the sparsity of information around it seems that he likes it this way, and besides that, with the sheer quality of music emanating from his studio I don't feel any need to challenge that and try to look beyond it. So with that in mind, I am really excited to be able to hand over the reins to him for the twentieth installment of our mix series and let the music do the talking.
Back in February he dropped his long awaited debut 'gangsigns' 12″ on the newly minted label of the same name and let out into the world with minimal fuss it quickly proceeded to sell out, winning praise from those lucky enough to get hold of it. The four tracks display an uncompromising rhythmic tenacity that translates across a broad and subtly treated palette of influences on the EP, deftly switching tack without ever losing focus on the dance floor; the hardcore-bating tumble of 'BDM', the tunnel vision ferocity of 'Oldschool', the low slung stomp of 'Work', the creeping intensity of 'Kingdil'…each track attacks in a different way, but all of them are wired for maximum efficacy.
With the new Acidliner EP out now on Gangsigns, a 12″ slated for release on Mighty Robot before the end of the year and the first live outing for Gangsigns at Birthdays, Dalston on Sat 20th October, it seemed like the perfect time to call in volume 20 from the man himself. The result is just under an hour of prime club tracks, displaying the same deft guiding hand as his productions, running through fresh tracks from DMX Krew, Daniel Avery, James Martin, Trusta and more. If you don't know get to know.
LIMINAL SOUNDS VOL.20: DRMCNT
DOWNLOAD: HERE
DMX Krew – Decaying
Acid Liner – Funkhouse
Daniel Avery – Flash Lights
Transparent Sound – Cider Club
Unknown – of iam
Acid Liner – untitled 8
Scuba – Raptured (Surgeon Remix)
James Martin – Gettos and Gardens
Disclosure – Control (feat. Ria Richie)
Bicep – Silk
Mr Fingers – Washing Machine
Trusta – Hypnitic
DRMCNT – Am Banging
Model500 – I Wanna Be There (Juan Atkins remix)
Funk Bias – Last Forever
Mickey Pearce – Dont Ask Dont Get
Basic Soul – MindStorm
Videodrome – Temptations Daughter (Donga & Blake mix)
Deadboy – If You Want Me
LV – Thatha Lo (feat. Ruffest)
Jon Convex – Idoru
John Selway – Shake The Snow (extended rub)