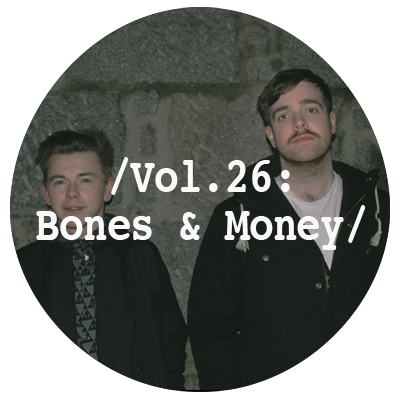 On Monday, Bones & Money are set to release their latest EP on Tuff Wax, the label they co-run with rising beatsmith Lockah. The 'Black Diamond' Remix EP will round off the 'Aberdeen Truth' series by collecting together a diverse selection of friends from across the globe to put their own spin on the track which originally came out in September of last year. Ahead of the release we hit the guys up for a chat and got them to throw down Vol.26 in our mix series.
Still relative newcomers Bones & Money's stripped back club constructions have quickly garnered plenty of attention, and it is easy to see why. Informed by the same catch-all approach to production as their DJ sets, their tracks straddle both sides of the Atlantic, refracting RnB, Hip Hop, Ghetto House, Footwork, Grime and Jungle through their crisp productions. Following a free introductory release at the start of last year ('Close / Anxious'), they made their contribution to the 'Aberdeen Truth' 7″ series with their first official release 'Black Diamond / Footage 4 Days' back in September.
Largely eschewing the gauzy RnB inflections of the former release 'Black Diamond' hones in on a harder, more propulsive sound. While the hazy chords and pitched down vocals sit with their previous releases, here they are used to add a smoky weight to the skittering percussive drive and flurries of rugged bass pulses that violently career through the low end. Poised at a tipping point early in their production career, it will be interesting to see where they go next and we will certainly be keeping an eye on them.
In honour of the forthcoming release, we caught up with the duo and tapped them up to put together a mix for us. Their volume is a varied, upfront selection of club cuts that blends old grime dubs with fresh bass mutations from the likes of Tuff Wax alumnus Grobbie, House Of Trax don Rushmore and 'Black Diamond' remixer Strict Face. This is the perfect way to hype you up for the weekend ahead and displays their innate understanding of how to work a dance floor.
First up, for those who may not already be aware can you please briefly introduce yourselves…
B&M: Hey Liminal Sounds, we're Shaun & Calum of Bones & Money, co-owners of Tuff Wax Records and production duo from the Granite City, Aberdeen.
When did you guys first start producing together? Were you producing individually before and was it a natural evolution to do so?
B: Bones & Money started out as an alias for us DJing together. I guess we were initially producing individually but nothing that ever saw the light of day. More lessons in what we might want to be working on together.
I always find it interesting to hear the different elements that people bring to collaborations as a result of their own unique musical upbringing, and how those elements are amalgamated to form a whole. Do you come from similar musical backgrounds?
M: Growing up I guess we were on different musical planes, but when we first met we were both really into similar club music. All the niche genres that were appearing around the world – grime, bassline, kuduro, baile funk, ghetto-tech and bmore. That stuff really excited us and in a small city like Aberdeen it was refreshing to find someone with such similar tastes.
How do you think what you create as a unit differs to what you produce individually?
M: My recent solo efforts (OTOH) are a little more experimental and less structured. Basic sketches using the same drums kits and piano samples, with found sounds recorded on my phone – bus journeys, conversations, tape mechanisms and my dog Poppy (RIP).
B: A lot of my initial solo ideas become fully fledged Bones & Money tracks after some collaboration, so what I make on my own maybe sounds closer to the Bones & Money sound than OTOH.
How does the creative process work between you when you are in the studio? Do you tend to adopt set roles?
M: There are no concrete set roles, but Shaun usually builds up the structure – the bones of the tracks. Then I'll come in to layer and fill them out, throw in new ideas and directions.
B: Pretty much everything is worked on when we're in a room together. It's nice to have someone sitting next to you to ask "how about this?" and "what about that?". People are surprised when they find out we don't send project files back and forth to each over the net.
When you are building tracks how conscious are you of how they will work in a club setting? Is that in your mind at all?
B: The club is definitely something we keep in mind, but it's not always a defining factor. The A-side of our most recent release is very much club-driven, but the B-side turned out to be more of a slow-burner. Our first release on Tuff Wax too was very light and not intended for the club at all but DJs still managed to fit it into their sets.
To my ears I can hear a number of influences feeding into your productions from RnB and hip hop to footwork and even grime. Across all of your music, do you think that there is anything inherent to everything you make? Any fundamental principles that tie it together?
B: All the genres you've mentioned I would definitely agree influence us, the simplicity of some old grime instrumentals especially. We take great influence from stripped back old house and jungle tracks too – a solid foundation of drums, bass, vocals and sometimes nothing else.
So can you tell us a little bit about the Tuff Wax label that you run with Lockah? How did that come out and what was the initial vision for it?
B: Tuff Wax started with Tom (Lockah) in 2009. The initial vision was to create a label that could release anything on vinyl, with a fan base that would trust it was worthwhile regardless of genre or style. At the time of creation, we weren't involved, but after I moved with Tom we all quickly started working together.
M: From there, we collectively formulated the Aberdeen Truth series. A 4-part series of coloured 7" records showcasing 4 Aberdeen producers – Lockah, ¥oin, Grobbie and Bones & Money. That idea has kind of changed the driving force for Tuff Wax today. We're still looking to release anything and everything, but for the moment we're very focused on electronic producers and club music.
Can you tell us a little bit about the 'Black Diamond' Remix EP, which is coming out imminently on Tuff Wax and what people can expect from it? How did you go about compiling the list of remixers?
M: You can expect a 6-track EP with remixes from Rewrote, Chrissy Murderbot, Zubuntu, Lockah, Strict Face and Moist Ghost. Sounds ranging from bare-bones juke to industrial tinged grime to all-out old skool jungle.
B: The remixers are kind of a collection of the people we've come into contact with around the world through mutual support of each other's music. Very happy with the end result.
Looking forward, what have you got coming up over the next few months? Any new releases or projects in the pipeline that people should know about?
B: Aside from an ever increasing pile of half made songs, we're working on a remix for a collaborative project between Lockah and Freshmore label boss, Sines. Also hoping to finish an EP soon and trick some label into releasing it.
Can you talk us through the mix that you have put together for us a bit…How and where was it recorded? Is it a fair representation of what people can expect to hear from you if they go to see you play in a club?
B: We recorded this mix using Ableton Live in "our studio", otherwise known as my bedroom. This is very much what you can expect from us in the club. We maybe put more of a grime lean on than usual, but there's definitely nothing in the mix that we wouldn't play out in a club environment.
M: The mix was an exercise in compiling some of our favourite old grime tunes and mixing next to house/techno/bass/??? tracks that we thought were taking direct influence from grime. The kinds of thing Sound Pellegrino, Night Slugs and Body High have been putting out.
LIMINAL SOUNDS VOL.26: BONES & MONEY
DOWNLOAD: HERE