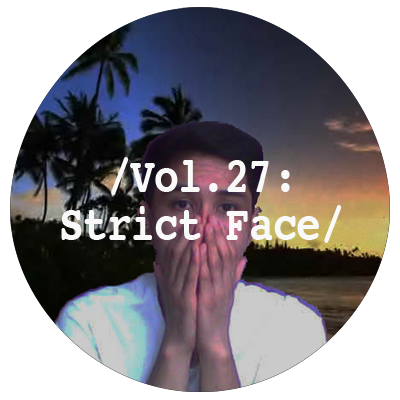 If you have checked out the last couple of volumes in our mix series you will have noticed the unique work of young Australian producer Strict Face popping up in their tracklists. Dig a little deeper and you will quickly find that this is just the tip of the iceberg from an artist whose music runs deep and is starting to get the attention to reflect that. Whether it is fuelling standout moments in recent sets from Dusk & Blackdown and Slackk, contributing an instrumental to Le1f's 'Fly Zone' mixtape ('Autopilot'), or reworking tracks for Tuff Wax and Sonic District, you begin to get an idea of both the quality and diversity of his work.
I have spent ages trying to think of an angle to dissect his music in a way that does it justice, but failing to do that adequately all I can do is implore you to go and check it out. From the two 'Birthday Riddims' EPs (which are available for download via his soundcloud) to recent dubs like 'Mylar Swamp' and 'Highbury Skyline', or his new collab with Rabit, his music traverses grime, hip hop, RnB and more while imbued with the same rhythmic power, melodic finesse and unpredictable approach to the dance floor that make it immediately unique.
Alongside the interview below he has kindly obliged in contributing Vol.27 to our series, delivering an exceptional 45 mins of new music that draws together a selection of exclusive material from the likes of Rabit, Moleskin and Neana, neatly showcasing precisely why we are so excited about music at the moment. Do not sleep on this!
First up, for those who may not already be aware can you please briefly introduce yourself…
My name's Jon. I'm a 20 year-old dude who deals with grumpy neighbours at 3 in the morning when I make music under the alias Strict Face. I'm currently based in a little city in South Australia called Adelaide. It's a great city despite being the butt of so many Australian jokes.
To take it from the beginning, what was your first contact with electronic music? And how long was it before you started producing?
I guess it depends on what you mean by 'electronic' music, haha. I was addicted to Eurodance as a young kid, but hearing "Sweet Like Chocolate" and the Artful Dodger's "Rewind" for the first time when they came out left a big impression on me. In the 'puristic' sense though, a teacher loaned me his copy of Kid A one day in primary school and that record ended up changing my life. Eventually I found stuff like Aphex Twin, Squarepusher and μ-Ziq through being into that record, but I was still into a lot of the chart cheese at the time as well. Eventually those guys were the jump-off point for me getting into heaps of other stuff for the next few years, but it wasn't until my fourth year of high-school that I really got into a lot of the underground British and American stuff and started "getting" grime, even though I was familiar with the more well-known stuff before then.
Looking back on it, I think I've been making music for close to ten years. I started off making rap beats with Fruity Loops when I was 10, which eventually turned into making mash-ups for a few years. During high-school I had an "experimental" project, but in my last year, I took production more seriously and started making "club-oriented" music. I hadn't really shown anyone what I was doing until I started making 'club' music as well, so I suppose that was the point of no return, haha.
There is a real focus on interesting rhythms in your tracks. Do you have background as a drummer or in bands?
Surprisingly, no! I've only sat behind a drum kit a few times, actually! My first drumming experience was when I auditioned for the drum line at the Filipino high-school I was attending at the time. It sounded like Animal's drum solos gone wrong, but the leader of the drum squad let me practice whenever the drums weren't used. I'm marginally better at playing basic rhythms now, but I can't incorporate the hi-hats to save my life.
I've had a bit more experience with bands, though. I was in a music ensemble for most of high-school and shortly after I graduated, I was in a punk band that lasted for about a year. It was enjoyable for the most part, but eventually I got sick of all the business and negative bullshit that comes with being in a band these days. I think everyone in the band came out with some pretty valuable lessons after we split up.
In all honesty though, I have no idea how or where I got my obsession with rhythms from. I do remember cringing to tracks that had really cheesy rhythms or drums whenever they came on the radio or at parties as a young kid though, so maybe that must've spurred it.
There is also a real breadth of variety to your tracks that touches upon everything from hip hop and RnB to grime to house and techno. Does the same go for your listening habits?
Yeah, it's pretty varied, but much less so than a couple of years ago. For a while, I was listening to everything I could get my hands on. Just learning about genres/movements and dissecting a lot of the stuff I came across… total music nerdery, really. I've learnt to pare down my listening habits quite a bit though… listening to too much stuff can be quite overwhelming and detrimental at times, I'll admit. On the other hand though, it's helped in approaching new stuff with an open mind, albeit with a little apprehension.
When you sit down to make music are you conscious of what you want to do with a track before you start?
Definitely, and I think doing music for most of my school years is to blame, hahahaha. A lot of the time, I'll sit down with a rough idea or a melody I've had in my head and try to flesh it out without exhausting it or throwing too many layers on it. Lately I've been trying to be more spontaneous with production to keep a balance, though. I've become a bit more open to fucking around with stuff without having a clear idea in mind, and I've found that it isn't too healthy to over-think about stuff beforehand. I think deadlines and off-the-cuff collaborations have helped with that a lot.
Across all of your music, do you think that there is anything inherent to everything you make? Any fundamental principles that tie it together?
I think being able to maintain a balance between certain concepts is something I've tried to do in a lot of my music. I feel pretty cheesy pointing them out in text, but I think most people will be able to spot them when they listen to my stuff. I also try to switch up or fuck with certain things when I make music as much as possible, otherwise I'll get stuck into a loop without finding a way out of it. There are a few exceptions, but if I can't throw even the slightest curveball or bring closure to a track, there's no way I'll be able to finish it.
You had a track featured on Le1f's recent 'Fly Zone' mixtape, which is a really interesting hook up. How did that come about?
Khalif messaged me out of the blue one day asking for a copy of a track which was on my Soundcloud last year, and being a fan of his Dark York mixtape and his earlier stuff, I sent it to him straight off the bat. Not long after that, he sent me another message asking me for any tracks he could spit some bars over, so I whipped up the instrumental to "Autopilot" a few hours after I got it and sent that to him a few days later. He liked it a lot, but it wasn't until a few days after the mixtape's details surfaced that he told me that the track I sent him was definitely going to be on there. Khalif and SAFE fucking slayed that instrumental, and I couldn't be happier with how it turned out. That whole mixtape is fire, really.
I saw another reference on your facebook page to an MC wanting to use one of your instrumentals. Can you give us any more info about that?
Haha, that was Cakes Da Killa asking me if he could use an old track of mine on his new mixtape! I'll admit the backstory behind it is a little baffling… somehow, some guy managed to get his hands on a copy of the track and sent it to Cakes even though I don't remember giving it away for free. However, Cakes was kind enough to holla at me beforehand and I really like his stuff, so I was pretty curious to hear what he did with the track. He actually one-ups the original, to be honest… what he did with that track is impressive.
Your productions are largely standalone instrumentals, but is working with MCs and vocalists something that you would like to do more? Are there any plans in the works already?
It's definitely something I'd love to do more often. I suppose it's logical as well, seeing as I've done stuff with Le1f and Cakes Da Killa already. I'd be keen on doing stuff with singers as well though, as I think the idea of having to strip back layers to allow the vocals to breathe would be an interesting challenge. As for plans… there's some stuff in the works with a few rapper friends of mine, but there's not much I can say about 'em at the moment. I also sent SAFE an instrumental not too long ago, so I'm pretty excited to hear what he does with it. Another rapper from Berlin messaged me recently about doing something with him and I liked what he's shown me so far, so I'm hoping something happens out of that.
Looking forward, what else have you got coming up over the next few months? Any new releases or projects in the pipeline that people should know about?
I've got a few remixes coming out soon. There's one I did for Jackie Dagger outta Serbia, which should be coming out on his Sonic District label at any minute now. I also did one for my mates Bones & Money that's gonna be on their "Black Diamond" remix EP on Tuff Wax. Besides that, there's nothing set in stone yet. I've got a few projects in the works, but that's all I can really say at the moment. The information will surface in due time, really.
Can you talk us through the mix that you have put together for us a bit…How and where was it recorded? Is it a fair representation of what people can expect to hear from you if they go to see you play in a club?
I recorded the mix in my bedroom with Traktor one morning. My ears were kinda ringing from the night before, but I think it turned out okay. It's mostly new music from me and stuff from producers I've been digging recently. I haven't done a proper DJ set in a while, but I think this mix captures the sort of stuff I'd play out in a club now pretty accurately, at least for the latter half of a DJ set.
LIMINAL SOUNDS VOL.27: STRICT FACE
DOWNLOAD: HERE