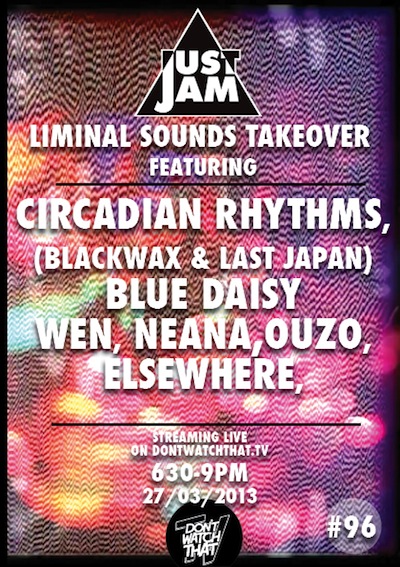 This Wednesday we are overly hyped to be returning to Just Jam for our second takeover with a selection of dope artists and LS family. You can watch what happened at our first takeover last year with Youngstar, Visionist, Logos and Slackk here.
The weekly live audio visual streaming session run by Tim & Barry is a pillar of forward-thinking underground music and essential viewing for anyone with even a passing interest in grime in particular, so we are over the moon to be able to get involved again. Filmed at their studio with a special multi camera system and live visual editing of beat generated graphics, it is a unique concept and definitely worth checking out regardless.
For our takeover we have invited down a selection of our favourite artists to battle it out over three hours…
WED 27th MARCH 6.30PM-9.30PM
LOCK IN: HERE
CIRCADIAN RHYTHMS (BLACKWAX & LAST JAPAN)
Circadian Rhythms is the moniker for the new project from one half of Blackwax and Last Japan. They have lots of future plans for the collaboration, but the first manifestation of it is their show on burgeoning internet radio station NTS (Thursdays bi-weekly, 2-4am). Showcasing a raft of fresh talent on their show as well as hosting a guest mix each fortnight (Check the first three from Facta, Trusta and Jon 1st here), you can be sure that their selection will be absolutely on-point. There is a lot more on the horizon from the pairing so make sure you keep a keen eye on them and get locked to their radio show.
BLUE DAISY
Blue Daisy is one of the most singularly talented producers in electronic music right now. Both as Blue Daisy and his more recent incarnation as Dahlia Black, their are very few artists with the ability to craft such visceral and emotive music, while as a DJ his energy is matchless. 2011 album 'Sunday Gift' on Black Acre topped numerous end of year lists, winning near universal praise and in the process writing his name indelibly on the current climate of underground music not just in the UK but internationally. Having long been part of Liminal Sounds' extended family we are super excited to be able to get him down and his set promises to be an absolute must-see.
WEN
2012 was undoubtedly a pivotal year for Wen, bubbling up with a string of darkside dubplates which have started to come to fruition this year. He sits at the front of an exciting new wave of producers finding fertile creative ground in the murky shadows of soundsystem culture. Following impressive releases on Egyptian Avenue and South Fork Sound, his recent 'Commotion' EP on Keysound Recordings was the best insight into the dark forces at work in his music yet, with plenty more still to come. Drawing from dubstep, dark garage and grime in equal measures, his productions distil perfectly the threads that unite the UK's rich underground heritage.
NEANA
While Neana may not be a name you are familiar with, you can be sure that you will be soon. He is one of our favourite producers at the moment and someone who we are sure will be doing big things this year. Equally adept at making breakneck grime as fierce techno, he continues to hone in on his distinct sound with each new track he finishes. This guy has drums for days, trust us. Check his recent interview with Get Some for a good introduction.
OUZO
Our lineup wouldn't be complete without one of the Get Some family joining the bill and we are hyped to have Ouzo coming down to play. His impeccable selection and seamless mixing is on point every time and you never quite know what he is going to pull out of the bag.
ELSEWHERE
Liminal Sounds resident Elsewhere will be warming up the session with some of the many sounds championed by the site as well as a few bits of his own.