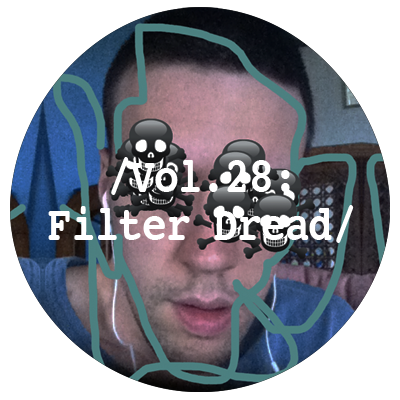 Fresh from the release of his latest 'Underground' EP on Epoch's Egyptian Avenue Records (which we talked up here) and with the promise of an album on the way imminently for Threnody's UK Trends label, we invited Filter Dread to take the reins for the latest installment of our mix series.
Ever since first being introduced to the producer's music via his 'Hyper Lost' EP on Visionist's Lost Codes imprint late last year, his productions have been on heavy rotation at Liminal Sounds HQ. Exploring the more abstract fringes of soundsystem music, his music embodies the dark and vital forces that run through the UK's underground. Densely woven and often disorientating in their construction, his music draws upon tropes taken from traditionally dance floor connected sounds like jungle, dubstep and grime, conveying an otherworldly and immersive refraction of their forms.
His recent 'Underground' EP further articulated this unique handling of his source materials and, having had a chance to listen to his forthcoming album, the longer format proves even more gratifying. Adroitly balancing immediacy against a hyper textural, intricate approach, Filter Dread makes music to get lost in.
For his contribution to the mix series he takes a similar approach. stitching together an immersive patchwork of his own productions and new material from kindred spirits over a dense 30 minutes. With inclusions coming from the likes of Visionist, Wen, Epoch and Etch nestled between a host of new Filter Dread material, it makes for a compelling listen.
First up, for those who may not already be aware can you please briefly introduce yourself…
I am a music producer originally from Cambridge now living in Birmingham, producing tracks under the name Filter Dread.
To start by getting a better idea of the context to your music, what music did you grow up on? And what was your first contact with electronic music? Is it something you were immediately drawn towards?
The first music I got Into was hip-hop when I was about ten. Things like Naughty by Nature, Wu-Tang Clan, NWA, Snoop, Onyx, etc…I then got into dub music like Augustus Pablo, King Tubby, Dr. Alimantado and electronic dub like The Orb and Massive Attack.
I grew up in Cambridge in a very electronic environment, killing Arachnodroids in Doom, messing about on hacking programs and causing trouble in early Internet chat rooms with my mate Ben who was on his computer down the road.
Everyone started getting decks and getting drum and bass and breakbeat vinyl and there were a lot of warehouse raves in fields at the weekend. This exposed me to drum and bass and jungle music and I would go back home and spend the rest of the weekend figuring out the formulas and patterns they used and build those tunes.
When did you first pick up production and what impelled you to do so? Was there any particular catalyst?
I've always wanted to make the music I listen to and when my dad gave me a demo of Cubase he found i started making electronic jungle and dub style tracks and got hooked.
What were you producing at the time and how has that evolved into where you are at now?
Mainly drum and bass. I was really interested in how to get the compressed analogue sound without hardware. I would spend a month on one tune staying up all night going on these mad musical journeys which would end up sounding like five tunes in one track. I started making these drum and bass beats with slow wobbling bass-lines and my friend said that it sounded like Dub-step. I checked it out and got really onto the sound. I then moved to London in 2006 and Dub-step was everywhere. This led me into listening to more grime and garage and going to the raves and producing those styles of tracks.
What are your production processes like? There is a depth of texture to your tracks that suggests hardware, do you take things out of the box at all?
Yes I like experimenting and switching up techniques. I use different programs such as Logic, Reason, Audio Mulch, Recycle and I've got music making apps on my iPhone and on my GameBoy which I use. I also use a Roland sampler for making sounds, getting some compression and effects with it.
Across all of your music, do you think that there is anything inherent to everything you make? Any fundamental principles that tie it together, be that mood, groove, sonic etc ?
Well I'm into deconstructing the rave sound. I'm into making awkward drum loops which confuse people . Essentially I'm trying to get back to those early dubstep and warehouse raves, the culture and formulas in the creation process of those tracks and the vibes that they created. People like Bizzy-B who were making music for themselves and not worrying about perfection but more about vibe and texture.
I was first introduced to you by your EP on Visionist's Lost Codes label, how did you first hook up with him and how did the EP come about?
We were on the same music course at uni hanging around in the studio. We worked on some music together and kept in touch.
Some time last year I posted up some tracks and he heard them and said he wanted them for the label.
It feels like there is a real community building amongst like-minded producers such as Visionist and yourself as well as a host of others. To me it feels like it is picking up where the lost potential of grime and dubstep was left as a reaction to house's recent ubiquity. What are your thoughts on it?
Yes it's mad. I really like what's going on and the levels are really high. It's good to follow your own path but working with others along the way is also part of the fun.
Following on from that, are there any producers that you feel a particular kinship with? Is there anyone we should be watching out for?
I like a lot of producers at the moment. People like Visionist, Sully, Wen, Epoch, Moleskin, BD1982 and Slackk have a really diverse sound and constantly seem to be switching up the styles and blurring boundaries. Etch, Sepia and Underclass have got the dark rolling sound and Threnody, Rabit, Parker and Bloom have got that abstract Grime sound which I really like. I also really like what Luke Benjamin is doing with his vocal tracks and Will Ward is killing it as usual with his experimental techno and garage sounds.
You have an EP forthcoming on Epoch's Egyptian Avenue label and, beyond that, an album for Threnody's UK trends imprint. What can people expect from those and do you know when they will be dropping?
The Egyptian Avenue avenue release has just come out and is available on the Juno Download website. The Album for UK Trends should be out in the next couple of months. I also have a physical release which I'm excited about but want to keep that quiet for now.
How is work coming along on the album? In what ways have you approached it differently to the manner in which you approach EP releases? Are there any overarching occupations or themes informing it?
The UK Trends album was built up from tracks that I was producing very early in the morning when I had just woken up (around 5am) when it's still dark outside and you watch the sunrise and feel euphoric and still in a dream state. Threnody gave me a list of the tracks he liked and I then picked 9 which I thought would work well together.
Can you talk us through the mix that you have put together for us a bit…How and where was it recorded? Is it a fair representation of what people can expect to hear from you if they go to see you play in a club?
I'm probably more experimental with recorded mixes. I like to throw in sound effects and stuff because its quite fun. I also use programs a bit when making recorded mixes to create weird effects but generally this is what people can expect in a club.
LIMINAL SOUNDS VOL.28: FILTER DREAD
DOWNLOAD: HERE
Tracklist
Filter Dread – New Rules
Visionist – Pain
Wen – In
Filter Dread – SP2
Bloom – Maze Temple
Dellity – Cold case (Devil mix) (Rok RIley Dub)
Sully – Simple Things (FIlter Dread Deep Space remix)
Underclass – Klang
Rabit – Double Dragon (Filter Dread Remix)
Etch – Sphynx
Luke Benjamin – Why
Filter Dread – Underground (Epoch Remix)
Major Grave – Paramedics
Threnody – Synchronic
Visionist – ? (Filter Dread Bootleg)
Filter Dread – Enothaone
Filter Dread – Public Energy
Will Ward – Squeak