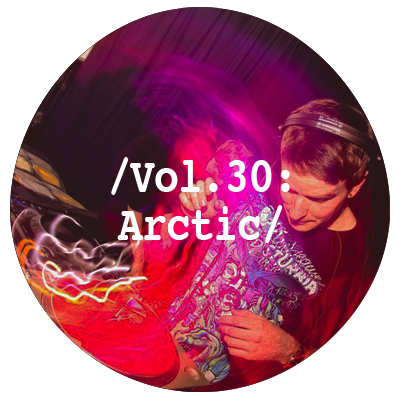 For the thirtieth volume of our mix series we are handing over the reins to Birmingham-bred, Melbourne-based producer James Black AKA Arctic. The young producer has been turning a lot of heads recently with his latest EP and a slew of fresh dubs starting to do the rounds, and we are extremely proud to announce that he will also be taking the helm for the next release on our label.
Following promising digital drops for LS favourites Car Crash Set and Diskotopia, he has just released his first 12″ on label-to-watch Coyote Records this month. Having explored a number of different facets to his music on previous productions that have touched upon a diverse palette of sounds, his most recent release sees him honing in on a jarring and incisive take on grime. The two original productions on the 'Shook EP' (which we reviewed here) pay heed to grime's key touchstones while delivering a distinctly individualistic take. The EP perfectly embodies his approach to production for us, channeling the visceral and raw experimentation of grime into potent, unpredictable and ultimately impactful club tracks. These are all characteristics which he explores in his forthcoming EP for us and we can't wait for everyone to hear it.
Ahead of the news on  LMNL002 we took the opportunity to find out a bit more about his musical education and the influences that feed into his music. He has also delivered a standout forty minute mix for us that runs through Murlo, Mista Men, J Money and more alongside a selection of his own productions and collaborations.
Get to know Arctic and watch out for more details on his EP for us very soon.
First up, for those who may not already be aware can you please briefly introduce yourself…
I'm 25, dj/producer living in Melbourne, Australia, originally from Birmingham, UK. Known to like hawaiian pizza…a lot.
When did you first get into production and what impelled you to do so?
Got into production around 2010. Just before I moved to Australia, I used to hang out in my brother's studio and we'd collaborate on a few projects together – my bro Pete inspired me a lot.
To provide a wider context to your music, how has your production style and musical taste developed to the point it is at now?
I've always appreciated all kinds of music – growing up in bands & listening to cassette mixes from my older brother. The first concert I ever went to was the Beastie Boys, I was 12 years old I think. During the days of touring & recording, I got more & more interested in electronic music, mostly IDM kinda stuff to begin with – Squarepusher, The Flashbulb, etc. Then I got into dnb/jungle with my bro – who quickly started producing it and making a name for himself (Harvest- check him out). Around the same time I got into UKG & grime and then dubstep around the beginning of 07. Everything changed from then on, I quit the band I was in at the time, picked up some decks and was hooked.
There is a real breadth of variety to your tracks that touches upon everything from house and techno to grime. Does the same go for your listening habits?
Absolutely. It's nice to listen to a bit of everything. I love shows like Alex Nut, Brackles, Josey Rebelle, Norwood Soul Patrol…the soul & funk selections are such a vibe. I don't listen to half the metal/post-rock music I grew up with, although I still appreciate it. Working full time & spending my evenings in the studio doesn't leave much time, but when I'm not listening to radio, l'll chill to a lot of UK hiphop & leftfield stuff like Tokimonsta, Nosaj Thing, Lukid, etc.
Grime is a key touchstone in a lot of your recent productions, from icy eski-influenced synths to choice MC samples. How big an influence has grime and those sounds been on you?
Early UKG & Grime has taught me a lot about the culture and the people involved back then. I never really experienced the 'golden age' living in Birmingham, but it's definitely that era which influences my productions today. Hearing new guys coming through with their own twist on the old style is really interesting and it's great to see the sound blossoming.
In the last eighteen months or so I have come across a number of producers taking instrumental grime and really evolving it in there own ways, which for me is really exciting. What do you think about the current state of grime? Do you feel that there a scene of producers building?
I think it's really exciting too. Guys like Butterz have been pivotal in exposing the instrumental sound over the years, with people like Dusk & Blackdown, Slackk, etc pushing the experimental stuff – you can discover so much new talent. There's a lot of support for new producers coming through and it feels like the sound is appreciated a lot further a field.
When you sit down to make music are you conscious of what you want to do with a track before you start?
Yes & no really. A lot of my tracks start out completely different to the final versions..if you heard the original drafts to the track 'Off Peak', you'd be very surprised. Then sometimes I'll be thinking of an idea at work and bang out the track in a night, which is how tracks like 'Shook' came about. I always think about the impact of a tune on a system – that's my general rule when producing the heavier stuff.
Across all of your music, do you think that there is anything inherent to everything you make? Any fundamental principles that tie it together?
I'd like to think my music comes across as quite dark & a little unpredictable. The hype & rawness from old school grime is what got me into the sound in the first place, so I hope this carries through.
How long have you been based in Australia? What is the scene like out there?
I've been in OZ for about 3 years now. Australia is a great place to live and has so many pros in comparison to the UK. The scene in Melbourne is second to none and I love being involved. Obviously we don't get the variety of events you would in England, but on the whole the music scene is wicked.
Do you think that being separated geographically from the UK has impacted the music you make?
Nah, not really. I can keep inspired with everything online these days so I wouldn't say it has affected me. Missing out on the events is what sucks the most though.
You are about to drop the 'Shook EP' with Coyote Records, can you tell us how your first hooked up with them and what those haven't heard it yet can expect?
I discovered Coyote after checking a TS7 promo mix on their soundcloud, as I hadn't heard anything from him in a while. After checking out the back catalogue, I was really impressed and figured it would be worth a shot, so I sent through a bunch of tunes. Tom who runs Coyote was feeling 'Shook' the most and asked if I'd want to release – needless to say I was stoked. Shortly after came 'Know This Don' and after recruiting Kid Smpl for remix duties, the package was complete. I'm real proud of it.
Both tracks were made around September last year and came about pretty quickly. I wanted to make instrumentals that would have an impact on the dancefloor, but not be too hectic if an MC wanted to jump up.
Looking forward, what else have you got coming up over the next few months? Any new releases or projects in the pipeline that people should know about?
I have an EP forthcoming with you guys @ Liminal – I can't wait to announce it officially! Then a tune featured on the next Diskotopia compilation forthcoming on CD & digital. Following that are some remixes on new imprints RTRSPKT & Risin Sound, plus a remix for Car Crash Set. Confirming some more projects as we speak too.
Can you talk us through the mix that you have put together for us a bit…How and where was it recorded? Is it a fair representation of what people can expect to hear from you if they go to see you play in a club?
I recorded the mix around my mates record shop 'Gutterhype' based in Collingwood – using 1210's, serato and some vinyl. I've covered some of my favourites atm & a few classics. Enjoy!
LIMINAL SOUNDS VOL.30: ARCTIC
DOWNLOAD: HERE