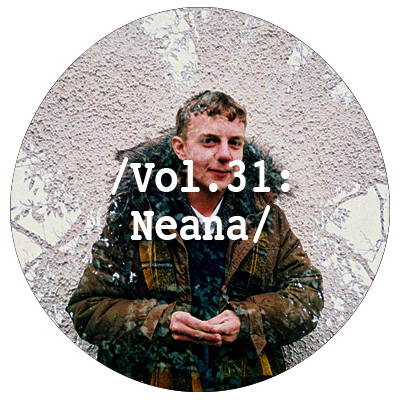 Put simply, it is not often you come across an artist as accomplished and individualistic as Neana so early in their career. With only a sole remix in his discography to date (His impressive take on Llesca's 'Sharks'), you may not be familiar with his name yet, but I promise you it is only a matter of time.
Rapidly amassing a strong arsenal of productions – including a steady stream of rugged bootlegs – Neana is quickly honing in on a focused brand of rhythmically powerful and sonically ruthless club tracks. Forging a sparse but fierce path that blends elements of grime, techno, ballroom and jersey club, his tracks balance lithe dance floor efficacy with dynamic construction, harnessing the raw energy of grime and twisting it through the propulsive motor of techno, bolstered by the swagger of sounds emanating from the US. Given the strength of tracks like the 'Rhythm N Gash' sampling 'Bow Kat' and the relentless gnarled percussion of 'Arrest Mode' (both of which feature in his mix), it is no surprise that they have quickly started popping up in the sets of Bok Bok, Helix, Mumdance, Last Japan, Blackwax and more.
You will have to wait for official releases as he doesn't have anything scheduled yet, but he has just dropped a track on a new EP alongside the rest of his Gang Fatale collective, which is available as a free download for the price of a 'like' on their facebook page. He has also put together the latest volume in our mix series to tide you over in the meantime. Showcasing his talents as both a producer and a DJ the hour long mix will give you a good insight into where he is at, running through tracks from Rushmore, Jam City, Helix and more and completed by a tidy selection of his own productions and bootlegs.
First up, for those who may not already be aware can you please briefly introduce yourself…
My name is Timothy Neate and I write & dj music under the alias Neana, I'm from the Lake District in England but study in London + I'm nineteen.
When did you first get into production and what impelled you to do so?
I think when I was about fourteen-fifteen, me & my friends, we would make little mixtapes for fun in this crusty software. Eventually I moved into fl studio and started chopping up stems for any tracks I could find online. It was only when I migrated to ableton in 2010 that I started messing around on original works.
How do you think your production style and musical taste have developed to the point they are at now, and has one naturally followed the other?
When I started out making trax, I never thought about synths or writing my own songs so for about a year I would just make little edits, adding my own drums. I think that's an aspect that has definitely carried through to my recent productions, I've always stayed in the 125 – 140 bpm territory though. It's only in the past year or so I've enjoyed playing my own music in sets. My productions have definitely followed my musical tastes, from friends showing me rare grime to hearing the rhythms and energy of ballroom & jersey club it has all seeped into my own productions.
Did you set out with a certain vision or focus in mind for the Neana project?
I never started with one, but about the same time Neana began my production style did change; I'd strip everything back off the dance music I was making so that it was almost completely void of melody and ended up raw and hollow. In a similar way when I wrote melodies I wanted it to be just as hollow so I'd leave the percussion out.
You do some live / band stuff as well right? How, if at all, do you think that feeds into your productions and visa versa?
Yeah when I can, I play drums and used to be in a band called Seductive Gaze. Nowadays its a bit more infrequent, but me and Trap Door jam when possible [under the moniker Madison Cole]. Improvisation is great and feeding off the energy of another musician or DJ opens so many more doors creatively.
A lot of your productions are really stripped back, in some cases to just drums and a vocal sample. Are rhythms what draw you in when listening to music at home and in clubs?
Yeah essentially. If I'm in the club melodies often put me off, feels like it takes something away from the drive of a track. When I'm at home I want to get something different out of the music I listen to, but even then its usually something rhythmic like an arpeggio or a great vocal phrase that captures my attention.
Do you make any other completely different music that people perhaps don't get to hear?
I write as much synth-based music as I do club music; the kind of sounds you can hear in the introduction I wrote for this mix. These are never really influenced by anything particular I just let things happen, its a great way to balance the club stuff. Other that that I write the odd drone pieces with my friends and a few rnb sounding numbers.
When you sit down to make music are you conscious of what you want to do with a track before you start?
Most of the time the tracks come from a nice acappella or percussion hit I have found, other than that it can be an attempt to recreate and flip rhythms that resonate with me at the time.
Across all of your music, do you think that there is anything inherent to everything you make? Any fundamental principles that tie it together?
That's a hard question to answer right now, other than keeping things nice and sparse I do like keeping lo-fi qualities in everything.
As soon as music enters the public sphere, each listener is quick to attach their own perception to it, but it is interesting how that often differs from an artist's own understanding of their music. In simple terms, how would you describe what you do?
When I am djing, the tracks that are most fun to play are usually really simple ones with a great rhythm and a little sample that makes it pop in a mix, so I guess I'm trying to recreate that feeling in my own music. Avoiding the term 'DJ tool', thats probably where the sound is at right now.
You recently released a remix of Llesca's single 'Sharks' on Get Some and have been collaborating with him as well. How has that come about? And how do you think your production styles compliment each other?
I met Llesca through a good friend of mine about a year ago, and we have done a few remixes of each others tunes, it just so happens that 'Sharks' got picked up for a release. I was chuffed when Get Some said they wanted it on the EP. We have pretty much been on a similar tip since, through making techno to where we are now. He is a really great producer and tends to make rad stuff whatever style he tries his hand at.
Can we expect more from you two in the future?
I hope so, I'm just about to mix down a tune we wrote the other day so people will get to hear that soon.
Looking forward, what have you got coming up over the next few months? Any new releases or projects in the pipeline that people should know about?
No releases yet, I've had a few artists and labels that I look up to a lot ask for my music recently which has been really encouraging. Also if people don't know, I run a little collective called Gang Fatale with my friend Ra's, we have a show on Sub.fm that we use as a centre to play all our favourite music. We're putting out an EP for free containing different flavours from the some of the producers we are closely tied with; Llesca, Trap Door, Mirror Planes and myself will feature. Hopefully it should be out by the time people read this.
Can you talk us through the mix that you have put together for us a bit…How and where was it recorded? Is it a fair representation of what people can expect to hear from you if they go to see you play in a club?
I recorded the mix on my bookey Sony® turntables and Traktor in the back room at my mum's house, which I recently converted into a little music cave. It was in the morning because that's when I mix the cleanest. I tried to give a fair representation of a club set, trying to tie links between grime and modern ballroom house while giving a nod to Night Slug's current Club Construction series. ∞∞∞∞∞
LIMINAL SOUNDS VOL.31: NEANA
DOWNLOAD: HERE