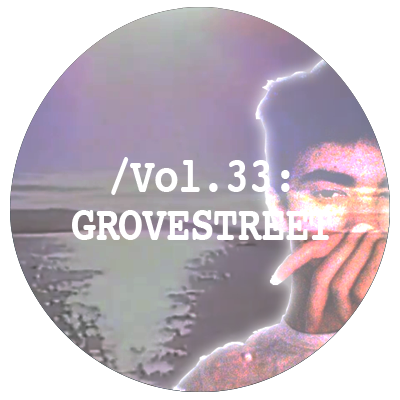 While things have been a little slow on the site during the last few months, there is a lot more to come this year and we are kicking things off properly with our first mix of 2014 courtesy of Oxford-based up-and-comer GROVESTREET.
Yet to have a release to his name it is fair to say that GROVESTREET is still in the infancy of his career, but with a growing list of his productions finding their way into the record bags of some of our favourite DJs and a debut release on the horizon we are expecting to hear a lot more from him this year. This is not a surprise if you have heard his tracks, which exist across the disparate but, in his hands, sonically reconcilable sounds of grime, Memphis hip hop and techno, melded together to form GROVESTREET's own brand of bastardised club jams.
While tracks such as 'Mook' and 'In The Streets' show an affinity with classic era grime, they are by no means the sounds of a revivalist or copycat, deftly deploying propulsive kicks, skippy percussion and, on 'In The Streets', a billowing reese bassline. Elsewhere, tracks like 'If U Wanna Try'  and 'Workout Low' mine a sparser but no less effective pool of sounds, favouring galloping rhythms, warped synths and plenty of hiss and grit. Still playing fast and loose with a broad canvas of sounds as he continues to experiment with the project, GROVESTREET is already building a hefty catalogue of club-ready tracks.
For his contribution to our mix series he turns in an impressive 60-minute session that connects the dots between club jams from the likes of Rushmore, Miss Modular and Neana and grime from Strict Face, Filter Dread, Bloom and more, with a healthy dose of his own productions punctuating its tracklist, a couple of which will feature on a forthcoming Tight Knit compilation. Read our recent interview with him below and check out the mix after the jump.
First up, for those who may not already be aware can you please briefly introduce yourself…
I'm Jamie Smith, I'm seventeen years old and I live near Oxford, England. I usually don't know what I'm doing with music but I convince people to go along with it.
When did you first get into production and what impelled you to do so?
I've been fiddling about with DAWs since I was 14 or so. A friend of mine at the time was making drum and bass and I thought it was sick that you could make music right at home on your computer, so I started making it myself after convincing him to send me a cracked copy of Fruity Loops. I spent a good couple of years messing about until I thought I wanted to produce music properly. It's only within the last 6 months or so that I've taken production seriously.
How do you think your production style and musical taste have developed to the point they are at now, and has one naturally followed the other?
I think they've both developed massively over the past couple of years. I listen to a lot of music outside of electronic music, although there always seems to be some sort of technology involved that seems to be the focus point for whatever I'm listening to – a good example is probably shoegaze, because what would shoegaze be if you didn't have a chain of fuzz and reverse reverb pedals? Probably some shit I'd never listen to. I think I would be dying with laugher if someone told me I would be making music influenced by grime like two, three years ago. Lots of music is still new to me, lots of people probably would expect me to say that I've been listening to grime and electronic music since I was a little kid, but it was only 2010 when I discovered what grime was. Believe it or not I used to pull right faces at Pow 2004 a couple of years ago, and not the good kind of face either, I used to hate it. I think it's a tune now though. The internet helped a lot with finding new music. I still find all my favourite artists via forums or last.fm.
Who / what would you say are the biggest influences on your music at the moment? Are there any producers that you particularly look to for inspiration?
It depends on what kind of track I'm trying to do. In terms of club music, I mostly really only listen to raw, stripped back music, the kind of sound you get with a lot of early grime, Detroit techno, Chicago house, Memphis hip hop, etc etc. I hardly ever listen to over produced 'digital' sounding music, the overuse of unnecessary layering and brown risers every 8 bar just annoys me. I take influence from people who send me tunes, or just whatever I'm listening to at the time, you can have a look at what I listen to on my last.fm if you're interested.
To my ears your productions can be split into two, between grime-focused tracks and club-driven drum trax. Is this something you would agree with and if so do you think the two different styles inform each other?
Yeah I think that sounds about right, I really like the whole 'drum trax' movement at the minute. It's something I've never heard before and the way some people make tracks so simplistic and hollow without them being branded as 'DJ Tools' amazes me. Neana is great for that, and the guys at Her Records too, they're doing sick stuff, blending grime, techno and what not, so big up to them. I think the two styles go perfectly together, especially if you look at how stripped back some of the early grime tunes are, Pulse X, Straight and so on, just the whole raw and gritty feel. The two really go together in my opinion. Plus, it means all the punters can actually try dance without getting confused where the beat is. Those kinds of people confuse me haha.
Did you set out with a certain vision or focus in mind for the GROVESTREET project?
Originally, just to make bangers in the 120-140bpm range. That was literally it, I've had plenty of aliases over the years which I'm not going to repeat as the music I made under them was pretty awful haha, but as soon as I thought of the name GROVESTREET after playing GTA:SA, I thought: "I should definitely make some bangers under this name and I'm gonna take it seriously". It's changed now though, I just make what I want, banger or not.
Do you make any other completely different music that people perhaps don't get to hear?
No not at all, not anything that's recorded anyway, I spend most of my time finding new music at home rather than trying to make anything different and unusual. I only ever make different music at college, which I never finish anyway. If you're hoping I present you a secret link to some drone tape I've made then it's not gonna happen, though making a drone tape does sound kinda fun. I play guitar and drums and sometimes run silly effects through them when bored but that's about it. If anyone in the Oxford area is up for making a shoegaze band then email me haha.
Across all of your music, do you think that there is anything inherent to everything you make? Any fundamental principles that tie it together?
I've been told that my music has its own sound, which I kinda agree with but I think it's probably just down to my backwards way of mixing down haha. I guess it's just a nice groove and a few weird samples ran through lots of short reverbs and overdrive units to make a GROVESTREET tune. Isn't that how everyone makes their tunes these days? I'll let the listener be the judge of what they think of is a GROVESTREET tune.
Looking forward, what have you got coming up over the next few months? Any releases in the pipeline?
Quite a bit; though everything is all talks at the minute so I don't wanna say too much. Only thing I can say is I will be playing out a lot more this year and I will have a 12" out eventually, can't say what label it will be on just yet, but I'm excited. There are a couple tunes in the mix that will be in Tight Knit's compilation album, so make sure you get that when it comes out, some big things coming from Tight Knit.
Can you talk us through the mix that you have put together for us a bit…How and where was it recorded? Is it a fair representation of what people can expect to hear from you if they go to see you play in a club?
I recorded the mix in Ableton on my beaten up PC at home. One of my CDJs is broken at the moment, jogwheel is knackered, but I did the mix on Ableton as if I would on CDJs. Yeah, I think's a fair representation, they're all tunes I like at the moment and there was definitely a bit of pressure to play some tunes that would go down nice in a club environment. I'm not too educated on what goes down nice in a club though; I've only been to a couple nights because I am only 17. But if you like what I play and you want to hear the same stuff in a club I'll happily come and clear your dance floor hahaha.
I'd like to say big up to Morcee at Tight Knit, Rushmore & the Trax Couture gang, also everyone who sent me tunes for the mix and most of all, the 24 Round Clock Sea Lions (Strict Face, Glot, TryTryDieDown and Jawside).
LIMINAL SOUNDS VOL.33: GROVESTREET
DOWNLOAD: HERE
GROVESTREET – Altars
Strict Face – Creep Zones (Miss Modular 8 Bar)
Murlo – Into Mist
Rushmore – Turn It On
Ango – Smile XXL (ISLAND XXXXL EDIT)
Miss Modular – Reflector Pack (8 Bar)
Neana – Kerb Remix
Strict Face – Townhouse
Rabit – Climax Of The Wolf Spider (Moleskin Edit)
Legion – Drive U Ha
Air Max '97 – Escalier
GROVESTREET – Workout Low
Rezzett – Fire Bomb
Greg Beato – Gimme A Light
Dreams – Reality Check
Mumdance & Logos – Wut It Do
GROVESTREET – In The Streets VIP
Strict Face – Passion Theme
Dreams – Trust Me
GROVESTREET – Ground Zero
Neana – Letter
Trap Door – Chaka
Air Max '97 – ???
Filter Dread – System Crash
GROVESTREET – Raw
Glot – Phantom Tager (Strict Face Remix)
Jawside – Roadish
Murlo – Nah Enemy
Bloom – Quartz
Glot – You Never Got Back Up When I Saw You Fell
Filter Dread & Luke Benjamin – Streets Are
Frankie Knuckles – Tears (Korma Remix)