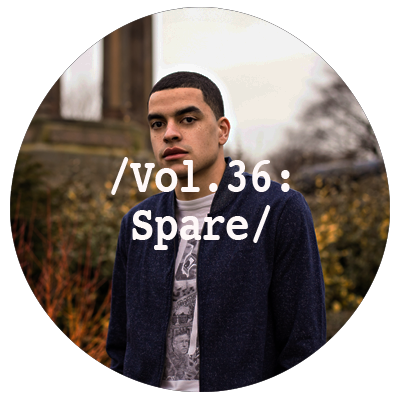 First emerging with a strong debut EP on Well Rounded Individuals at the start of last year that zig zagged through an array of different sounds across its five tracks with ease, Nottingham DJ and producer Spare's skewed club tracks quickly piqued attention. Following some time spent further honing his sound in the studio, he reemerged towards the end of last year with his standout contribution to the 'Coyote Kings' compilation – 'Katana' – and later this month he will follow that with a full EP for the burgeoning Coyote label, so now seemed like good timing to tap him up for an interview and a mix.
Working out from the grime foundation at the EP's core, the four-tracks that make up the forthcoming '1BLT' EP explore the balance between visceral immediacy and structural complexity in Spare's productions. The title track and 'Boss Hog' show the more muscular side to his music, taking a direct approach to the dance floor with  tightly wound layers of tough percussion and rumbling bass juddering through the speakers. On the other hand, 'Glide' and 'Venom' offer a more delicate melodic approach, stripping back the rhythms in favour of rich synth work, while maintaining the same powerful low end frequencies. The results are impressive and the EP signals the start of what promises to be a strong year for both Spare and Coyote.
Spare's 30 minute session for us is a great insight into the forces at play in his music, shifting between club-focused tracks and more leftfield offerings. Punctuated by a selection of his own productions, the mix neatly ties together such disparate artists as Cooly G, MssingNo, Miss Modular, Evian Christ and Falty DL.
First up, for those who may not already be aware can you please briefly introduce yourself…
Hi, I'm Spare. I'm a producer and DJ from Nottingham.
When did you first get into production and what impelled you to do so?
I got into production in my early teens. I can't really think of any distinct thing that impelled me to start; it seemed like quite a normal process of enjoying listening to a lot of music and then wanting to take a more hands-on approach. I guess that's why I also got into DJ-ing after I'd started producing too.
At first, I didn't even know of any software or what was used to make music so I made shitty, sped-up cuts/edits of rap and R&B songs until I could find something – they were terrible but it was good fun (one highlight: dubbing rude words over an acapella of "Yeah" by Usher). I did get my hands on Fruity Loops not long after that, which is when I became a bit more serious about it. I felt like I could produce well once I'd got the hang of a basic set-up at least and I took it from there…
Did you set out with a certain vision or focus in mind for the Spare project?
When I started, I wanted to be a dubstep souljah badman rewind but then I sort of veered away from that and wanted to make my own sound, and wanted to concentrate on getting it on-point before anything else. This was and still is important to me. I didn't see it as a project, though; "Spare" is just me, really – a producer name for me, the music that I make and DJ name for when I spin tunes.
You put out your debut release on the very well respected Well Rounded label last year. How did they pick up on you and how did that record come together?
Donga, who ran the label had contacted Littlefoot to do an EP but had also asked for a tune from me to include on a various artists release, but after hearing more of my own work he contacted me to say that he wanted to put out a Spare release. I sent music over as I completed it and he picked a handful to include on the "Slacking" EP.
How do you feel your approach to production has changed since then, if at all?
I feel like my approach hasn't changed too much. The Slacking EP was mostly aimed at "the floor", although I did make other tunes – but now I feel like I want to put out more that have developed from tunes like "Slacking" and other music that I've made to fit on an album and just have something that people will be able to just listen to – not just music for "the club".
I think that some things that I have made more recently have more detail, and I want to get a better set-up to speed up the process of getting tunes done that are more detailed. I think that my approach is more likely to change slightly in the future than it has done up to this point.
You recently put out 'Katana' on Coyote Records' 'Coyote Kings' compilation and have an EP forthcoming on the label in March. Can you tell us how you first hooked up with them?
I heard some of the EP's that they were releasing and had a couple of tunes that I thought would fit in well with the label. I sent them over to Tomas with the idea of releasing them and he signed them up. I thought that I'd be able to add more later on and he decided that he wanted to add more to it, so it became a full four track EP.
Did 'Katana' and the new EP come from the same sessions or frame of mind?
No – I made Katana as a more stripped-back kind of tune – I like to think that it fits in well on the compilation and that I can concentrate on more detailed tunes on my own releases. Also, the time between two of the tracks on the EP and the other two was quite a long time, so they were never made in "sessions" but still fit together.
For those that haven't heard it yet, what can people expect from the forthcoming '1BLT' EP? Would you say it is much of a departure from your 'Slacking' EP for Well Rounded?
Ah man, I guess you'll have to hear it for yourselves and decide – I'm not so good at describing my own music! I guess it is kind of based around grime and some other genres – taking cues from that and trying to make my own take on it. It's mostly quite lively but it also has more melodic, less "hard" tunes like "Glide". I'd say that it's a departure from the "Slacking" EP because I wouldn't want to put out the same EP twice! I don't just want to get cosy rinsing one sound but I guess I could have stuff in the future that has developed from these releases.
Grime is a key touchstone for the EP, but there is a lot more that feeds in to it than just that. Was there any particular inspiration behind the EP that people might not expect?
I try not to think about influences at all when I begin making something, because I don't want to end up just emulating the people who I'm listening to. It's what I did at the very beginning of making music but that was to get a knack for how to make certain styles. The title track "1 BLT" isn't named after the sandwich, by the way: it's a SICK football game. It's 1 bounce, life, touch – also the rules of the game. I finished the tune then named it after it. Wouldn't say that it was inspiration for the tune so much but it's quite lively, so I guess the name ties in with the sound.
What were you listening to when you were making it?
Like I said before, there was quite a gap between the times of the tunes being made so I didn't really have a set of influences in mind before making it all. Although sometimes, I will hear a part of a tune and I'll get scared that the tune I just finished sounds like and I will shit myself, in case someone thinks that I'm biting it!
Across all of your music, do you think that there is anything inherent to everything you make? Any fundamental principles that tie it together?
I guess everything that's been released so far could be tied together as they loosely fit together as a genre. Again, I try not to think about this and let others decide, unless they say it sounds like Avicii.
Do you make any other completely different music that people perhaps don't get to hear?
I wouldn't say that I have music that is a complete opposite to what has been released so far, but some of it is different. A lot of it had been finished with an album in mind and I really want to get that out at some point. Also, it'd be good to get production done for others, vocalists and the like, as sometimes I make stuff with room for it.
Looking forward, what else have you got coming up over the next few months? Any more releases or projects in the pipeline?
Release wise, I want to get more out over the next few months and more so, the tunes that I had in mind for an album. I can't give too much away at the moment. You might hear some remixes from me in the near future, too. Keep an eye out!
Can you talk us through the mix that you have put together for us a bit…How and where was it recorded? Is it a fair representation of what people can expect to hear from you if they go to see you play in a club?
I recorded this mix in the really fucking cold spare (lol) room with timecode vinyl and a dire laptop. I'd say that most of what is in here is what you could expect to hear from me when I'm playing in a club. I usually tend to include something that is more down tempo in recorded mixes, usually at the beginning or end, because I don't have the club in mind. There are more of my own party-leaning tunes here, too. I'd probably play fewer of my own tunes out but recorded mixes are a nice way of trying them out.
LIMINAL SOUNDS VOL.36: SPARE
DOWNLOAD: HERE
TRACKLIST:
1. Illum Sphere – Sleeprunner (Zed Bias Remix) (Ninja Tune)
2. Martyn – Vancouver (Head High Remix) (3024)
3. Cooly G ft. Scratcha DVA – Oi Dirty (Hyperdub)
4. MssingNo – XE2 V.I.P // Part 2 (Goon Club Allstars)
5. Cashmere Cat – With Me (Lucky Me)
6. Spare – Glide (forthcoming Coyote Records)
7. Miss Modular – Reflector Pack (8 Bar) (Her Records)
8. Spare – Safety (Unreleased)
9. Jon Deville – Crossed Eyes (Coyote Records)
10. Spare – 1 BLT (forthcoming Coyote Records)
11. MssingNo – Skeezers (Goon Club Allstars)
12. Spare – Untitled (Unreleased)
13. Evian Christ – Salt Carousel (Tri-Angle Records)
14. Spare – Glacier (Unreleased)
15. FaltyDL – Danger (Ninja Tune)
16. Arca – DOEP (UNO)