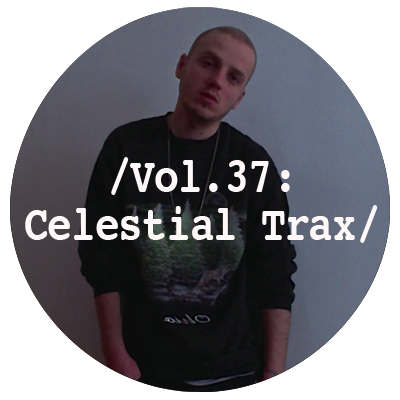 This Week NYC via London producer Celestial Trax unveils his first official release for underground institution Rinse. The six-track 'Paroxysm' EP is the culmination of his work on a number of impressive self-released records that saw him experimenting with an array of different sounds and tempos, and finds him honing in on a singular dance floor vision. It is an accomplished debut from an artist you would do well to keep a keen eye on over the coming months. In honour of the release, we have handed over the reins to him for volume 37 of our mix series.
Across its six tracks, the 'Paroxysm' EP showcases the full scope of Celestial Trax's unique production style. Fitting together fragments of grime, hip hop, footwork and jungle under the haunted, otherworldly mist that pervades the record, it is both an immersive listening experience and a forward-thinking club record. Whether it's the icy stabs of EP opener 'No More', the crystalline melodies of 'Wax Forest' or the scattershot jungle rhythms of 'A Cross', each element helps to mould the penetrating impact of the EP as a whole.
Choosing not to include any of his own productions in the mix he has put together for us, Celestial Trax's session is a diverse selection of experimental club sounds that neatly contextualises the EP. Featuring tracks from Dutch E Germ, Millie & Andrea, Murlo, Hysterics and Young Thug, the forty-minute session is unpredictable and often brilliant. Check out the mix along with an accompanying interview below.
First up, for those who may not already be aware can you please briefly introduce yourself…
Celestial Trax here wats good?
When did you first get into production and what impelled you to do so?
Maybe like 4-5 years ago, I was in other bands before I started getting into hip-hop and then through that I got into electronic stuff. I played guitar in punk and metal bands which was rad at the time but beat-making totally took over very quickly.
Did you set out with a certain vision or focus in mind for the Celestial Trax project?
I wanted to make music that works well with visuals and something that translates well into a live setting. I've been collaborating with a visual artist called V5MT who also designed the 'Paroxysm' EP cover art. My goal is to do performances with live visuals and maybe even add some contemporary dancers at some stage. My tumblr gives you an idea of the aesthetic I'm working on.
You make most of your music on hardware right? What has drawn you towards that method of working?
Yeah. I like the idea of being resourceful with whatever you've got. Like my EP was just made on a couple of synths and guitar pedals and my trusty old korg electribe which is like the centre piece of my rig. I don't like scrolling through thousands of snare samples or whatever from a computer, it kills the vibe for me.
What is your studio setup like? How does that translate to when you play out live?
Like I mentioned, the Electribe is at the heart of it plus a couple of synths and guitar pedals. I do bits of sampling too, stuff from around the house, field recordings and youtube clips. Now living in NYC I find the soundscape of the city pretty different from the UK and I've done quite a bit of recording on the subway and on the streets. It's good fun. All my stuff up to this point has been recorded on a shitty PC and edited on Cubase. I just started using Logic X a couple of months ago when my old laptop did a number on me. Live I use sp404s, a kaoss pad, the ESX-1, plus a synth and I'm also in the process of incorporating an MPD in there too as a controller. No laptop and everything is synced with midi. I wanna get some percussion in there too but trying to keep things relatively mobile at this stage.
Do you prefer performing live to DJing?
Def playing live. My live set is really hands on so it's different every time which keeps it interesting. I like to DJ too and hopefully get a chance to do more of it in the future.
I first heard your music through the series of EPs that you made available on your Bandcamp, which explored a lot of different territory, from hip hop to house to footwork. What was the thought behind self-releasing these records?
I was just exploring sounds and ideas I liked and just put them up as EPs, there was no great plan behind it. My sound was evolving heavily at the time so just felt like I needed to get those tracks out of my system and move on..
A real variety of sounds continues to come through in your productions from RnB and hip hop to grime, jungle and footwork. Across all of your music, do you think that there is anything inherent to everything you make? Any fundamental principles that tie it together?
I'd hope so – I think there's a rawness to all of it and a certain beauty too. There are some common textures as well, especially in the older stuff. I never wanted to be labeled just as a grime producer or footwork producer or whatever. It's taken me a while to find my feet and I'm still exploring new territories all time.
You have an EP forthcoming on underground institution Rinse. How did that come about?
They just hit me up one day and said they're feeling the tracks and it just went from there really. Met up with them few times, sent them a bunch of new tunes.. Hyped and proud to be affiliated with them, they're super sound dudes too.
Can you talk us through the EP and what people can expect from it? How do you perceive it relative to your earlier music?
It's pretty sparse and abstract. It has more of a monochrome palette to it in terms of the sounds I've used than my previous stuff. It's dark and heavy. It was recorded late last year and I wanted it have a real "rainy gloomy London night" vibe as I knew I was moving to the States.
Looking forward, what else have you got coming up over the next few months? Any more releases or projects in the pipeline?
Yeah for sure, got a lot of new stuff ready. Will be dropping some of it in various forms in the next few months and then another EP later this summer. Got few collabs in the works with a couple of vocalists too so will see how that pans out.
Can you talk us through the mix that you have put together for us…How and where was it recorded? Is it a fair representation of what people can expect to hear from you if they go to see you play in a club?
It's done headphones style in my basement apt in Brooklyn. US customs have held all my gear for the past month so haven't even got my monitors here yet! I'd say it's a decent representation of what I'd play at a club, usually drop in a R&B number in my sets too, for the ladies and all that. This is just a bunch of new-ish riddims I've been feeling lately. Hope you enjoy.
LIMINAL SOUNDS VOL.37: CELESTIAL TRAX
DOWNLOAD: HERE
TRACKLIST:
NA – Flute Gasp
Dutch E Germ – Nam Nami
Millie & Andrea – Quay
DMT Usher – FIS
Murlo – She Cobra
Paleman – Destroya
Rizzla – 200ft
5kinAndBone5 – Holographic Love
James Nasty – Them Do It Horns
Hysterics – Code Switch (Club Mix)
Dizzee Rascal – Strings Hoe (Wen Refix)
DECiBEL (feat. Flowdan) – Skanks (LOL Gurlz Remix)
Young Thug – Stoner (Evian Christ Remix)
Young Thug – 2 Cups Stuffed
P Money – Relay
Dipset Trance Party – Tell The Truth (prod. Movem3nt)