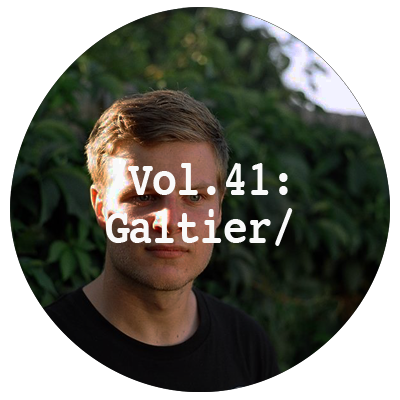 Following contributions to B.YRSLF, Car Crash Set and Files Rec, this week Australian producer Galtier dropped his latest EP on Druid Cloak's Apothecary Compositions label. The 'Main10' EP, which is available now on limited edition orange cassette and digital, is an impressive collection of club material that offers a distinct approach to the dance floor. Ahead of the EP release we caught up with Galtier and grabbed a new mix from him to accompany it.
The four original tracks that feature on the EP explore a stripped-back, bass-heavy approach to club music, marked by a cascade of stuttering kicks, skittering percussion and booming bass hits. Swinging off the grid and planted with a series of deft hooks, it deftly balances its more skewed tendencies with tried and tested dance floor functionality. The EP also comes backed by a heavyweight selection of remixes from Helix, Distal and Presk.
The hour long mix that Galtier has put together for us translates the frenetic energy that characterises his productions to the longer format. Blending grime, Jersey club, ballroom, techno and more, the set is fast paced and packed with club heat. As well as a selection of his own material, the mix features tracks from like-minded producers such as Rushmore, GROVESTREET, Air Max '97 and SPF666. Grab the mix after the jump.
First up, for those who may not already be aware can you please briefly introduce yourself…
My name is Jiah Wells, who goes under the moniker Galtier as a DJ/Producer. I am currently located on the East Coast of Victoria in Torquay, Australia near Melbourne. Will be relocating to Manchester, UK next year. I produce music that is derivative of bass, grime, UK garage, house.
When did you first get into production and what impelled you to do so?
I guess my first exploration into music production came to fruition at around the age of 17-18 after I had been exposed to DJing a year before. I was already so enthralled in the world of mixing and had wondered how people went about actually making their own tracks as I felt I had some of my own ideas I could add to the expanding database of music in the world. I got myself a copy of FL Studio and started fucking around with different sounds to see what I could come up with.
How do you think your production style and musical taste have developed to the point they are at now?
They have gone through some immense changes as my 7 years of DJing/producing have passed! I began producing at a very tender time in my development as a producer, being that I still hadn't quite found what style of music I would like to make. I have been through techno, deep house, bass music, ip hop, drum and bass, disco, UK garage and a whole range of other influences, which has followed my discovery of the sound respectively. I feel that the point that I am at now almost encompasses everything I have ever worked in, as I don't limit myself to one style anymore.
Did you set out with a certain vision or focus in mind for the Galtier project? 
Initially no, but now that I have been refining that sound which I am currently working on I feel that my aim is to be on a relatively peculiar tip when producing. I like making something that strives to be as unique as possible, but at the same time still capable of making the dance floor jack.
Do you make any other completely different music that people perhaps don't get to hear?
Very much so! I have a secret hip hop alias, which I will hopefully be working with to produce beats for rappers from around the world. Unfortunately I can't disclose who they are, I want it to remain a secret! I want to see how under the radar I can go with a project before people start clueing onto who it is.
There is a really focus on rhythm and bass in your tracks, which are often stripped back and spacious. What is the normal starting point of the production process for you?
Its definitely the bass. The rest of a track for me comes a lot easier then the bassline, so that's what I put the most time into. I will initially start the track off with a little percussive loop to see how I want at least the main section of my track to sound, and then I will program in some bass and really refine the shit out of it. A simple sine wave for example is never enough, anymore, even if it's a really good layered one. After then other ideas often start to develop, unless I already had ideas in place like vocal samples or a specific way that I want a synth to sound.
How conscious are you of how a track will work in a club when you are making music?
Very conscious I must say. I guess its because in the end I make club music so I really want it to be powerful but almost not TOO powerful when being played on a system much larger then my monitors. Once again a lot of that falls back onto the bass, which is ultimately why I put so much emphasis on it. When I'm creating my bass like many other producers I'm trying to find that balance between largeness and volume in my bass.
Across all of your music, do you think that there is anything inherent to everything you make? Any fundamental principles that tie it together?
One thing that I am continuously using in my production is field recording. A lot of the sounds you hear in my tracks are distinctively based on simple sounds warped beyond recognition to create something brand new that is organic and original. I do a lot of recordings of sounds around my home such as gas stoves, doors shutting, clicks made from light switches etc. This I feel is one way that I make my music that extra step towards being standalone from others. Other then that I guess my use of percussion being precedent over other things like a larger range of synth work. I like to make a track that is primitive and driving, which to me draws from the roots of dance music.
You have an EP forthcoming on the Apothecary Compositions label. Can you tell us a little bit about how that came about and what people can expect from the EP?
Druid Cloak, who owns the label Apothecary Compositions, contacted me via email late last year, where he informed me that he had listened to my Shudder EP off Files Rec and he absolutely loved it. He offered me the opportunity to produce an EP for his label, which already hosts such names as 813, Obey City, Slick Shoota, Om Unit, Addison Groove, SCNTST, Visionist to name just a few. The EP itself will be a digi + cassette release, and will feature remixes from Helix, Presk and Distal and all in all is quite a hard hitting, bass ridden collection of syncopated tunes that are quite eerie and dark in the emotive aspect that they possess.
Looking forward, what have you got coming up over the next few months? Any other releases in the pipeline?
I will be working with Origami Sound later this year on some other work around October, which is set to be my debut 12". Other then that I am going to let these two releases I have in concrete come out and continue to work on other tracks until I move to the UK next year in February and make some connections over there.
Can you talk us through the mix that you have put together for us a bit…How and where was it recorded? Is it a fair representation of what people can expect to hear from you if they go to see you play in a club?
This mix was recorded one evening very recently using Traktor. The mix is as my sets usually offer a very fast paced, energetic mix of bass, grime, jersey, ballroom and techno elements of electronic music. This is essentially what I play in clubs, with the odd Baltimore or Jersey edit of a straight classic thrown in from time to time to balance the obscurity of what I play. Enjoy!
LIMINAL SOUNDS VOL.41: GALTIER
DOWNLOAD: HERE
TRACKLIST:
N'Bome – Pirate/Hooligan
Rushmore – Evertrack
Legion – Drive U Ha
Galtier – Main10
Nadus – No Feels
Krizzli – Moderate Coffein
Grovestreet – Mook
Air Max '97 – Progress And Memory
Galtier – Chalice (Distal Remix)
Poolboy92 – Rebyrth (feat. Labanna Babalon)
Galtier – CM-88B Jam
Galtier – Main10 (Helix Remix)
Mumdance – The Sprawl (Galtier Refix)
Dat Oven – Icy Lake (L-Vis 1990 Fire Alarm Mix)
SPF666 – Don't Laugh, Bxtch
Galtier – OBCR
Deke Soto – Black Ice
Byrell The Great – NY to UK (feat. Neana)
Strict Face – Mylar Swamp
Visionist – Poison
TWWTH – Boy You Down With It
Bandshell – Metzger