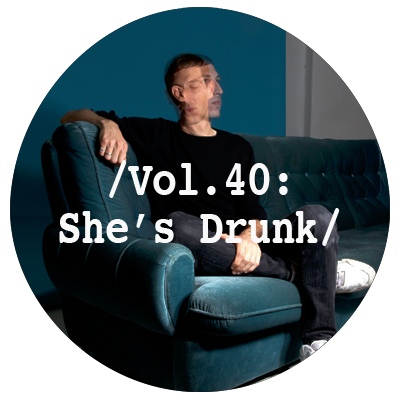 We are very happy to welcome She's Drunk as the newest artist to join the Liminal Sounds stable. The Berlin-based producer will be taking the helm for the next release on the label, the three-track 'Physical' EP. Ahead of the release of the record, we caught up with him for an introductory chat and he has put together a very special exclusive mix for us.
Featuring three very different but equally effective approaches to the dancefloor, the forthcoming record is a succinct showcase of She's Drunk's intricate, energetic and deeply idiosyncratic take on club music, which is positively brimming with invention. Full of jittery rhythms, bumping low end and playfully manipulated vocals, it is a fiercely unique EP full of exciting twists and turns.
We can't wait to let everyone hear the record very soon, but in the meantime She's Drunk has put together a brilliant exclusive mix for us, which neatly connects the different musical threads that feed into his forthcoming EP. Enjoy!
First up, for those who may not already be aware can you please briefly introduce yourself…
Hi, my name is David. I am French. I produce and play the music I like to hear and I am currently based in Berlin.
When did you first get into production and what inspired you to do so?
I have been DJing for about eight years, since the early 00's in the underground rave party scene. Then I got kind of fed up with this scene so I stopped playing as a DJ for a while and started to play around with some software. I realised it would be more interesting to produce my own tracks and to play them. At this time I was producing stuff that was very different than what I do now.
How do you think your production style has developed to the point it is at now?
I have been through a lot of different styles in my producer life. I used to play some hardcore, ragga jungle and breakcore at rave parties, so that was a big influence for a few years. After that, I played in different bands DJing/scratching/sampling. Five years ago I discovered a whole scene that I did not know at all before like grime, juke and UK bass, just to name a few. Digging into all of these genres and having had all of those various musical experiences has progressively built what I produce today, I believe. I like to play with these influences and to surprise myself by sometimes pushing the limits.
There is a real breadth of variety to your tracks that touches upon a lot of different genres. Does the same go for your listening habits?
Yes, I used to listen to a lot of music in many different genres, but in the last few years my musical habits have changed. Now I listen to much less music than before, but when I discover something that I like I will listen to it on loop for weeks.
Did you set out with a certain vision in mind for the She's Drunk project? 
No, not really, I just wanted to make the music I like without questioning whether I should stay focused on one specific genre or not. Being free was my main goal, but of course I am influenced by many styles, as I would feel bored making the same thing all the time.
Do you make any other completely different music that doesn't come under the She's Drunk name?
Yes, I am working on another project which is staying under wraps for now and which will be very different to She's Drunk. I also have another project called "Sabrina" with my very good friend Marine Etxegoyen aka LE FEU. "Clique Traque" (in my mix) is one of our first finished tracks and is available for free on a compilation from our collective Through My Speakers. She is also doing some fabulous illustrations, you should definitely check her Tumblr.
You are part of a collective called Through My Speakers. Can you tell us a little bit about what that is?
Through My Speakers originally started as a secret Facebook group in 2010. A network where music connoisseurs, DJs and musicians from all over the world could share their songs, work and organise events on a more like-minded level. Almost two years later, members of that collective decided to bring the idea to a physical environment besides a social media platform and started to host a monthly night at Pride Warehouse in Friedrichshain Berlin. Since then, TMS has also become a label and has grown into a diverse, yet close-knit, family of DJs, producers, bloggers and music enthusiasts. We released Radar Bird's first EP about four months ago on both digital and vinyl. It is still available on Bandcamp.
When you sit down to make music, do you have a clear idea of what you want to do with a track before you start?
It is very different from one track to another. Most of the time when I start a new track I have no idea of what I am going to do. I start to make a beat and then I build around that and try to find the right vocal sample, chords or whatever I feel. Other times I have a precise concept in mind that I try to realise as closely to what I have in my head as possible. It also happens quite often that when I am working on a track and I start to get stuck then I begin to mess about with all of the sounds and after a while it becomes a new part which is completely different. So at some point I take the decision to make a new track with this new part. Recycling spirit.
Do you think that there are any fundamental ideas or principles that tie all of your music together?
Well, yes and no. I mean I am not really aware of this but people often tell me that they can recognise my "touch", for example, between two of my tracks in different genres. I have a particular way to build my tracks which is individual to me and I use some sounds and effects pretty often to keep a certain atmosphere in my music. I don't know if we can consider them as fundamental ideas though.
You have an EP forthcoming on Liminal Sounds very soon. Can you tell us a little bit about what people can expect to hear on the EP?
This is another point that I am really obsessed by – that people are not able to expect anything precise from me because I produce many different genres, following my feelings and my mood. My next EP is very eclectic in a way, but it stays coherent. It is a good showcase of what I have done and what has inspired me over the last two years. The lead track is pretty recent and is a kind of mixture between grime and jungle put together in a futuristic way. The first track of the other side is about one year old and very difficult for me to describe, it is a weird dancehall mutant tune. The last track is very influenced by a lot of R&B that I used to listen to. It is more or less two years old but it still sounds fresh! The line between all of them are the voices, edited in an unusual way, sometimes jittery and epileptic, sometimes soft and fluid.
Looking forward, what else have you got coming up over the next few months? Anything else people should know about?
Of course my next EP called "Physical" on Liminal Sounds. Also I am thinking about a compilation of my old unheard tracks, but this is not for the near future. I am working on several remixes for producers, e.g. Pixelord and other interesting people. Some collaborations with a few producers and an MC/singer… Additionally I have received a lot of proposals from different labels during the last few months, so I will certainly release another EP or a single by the end of the year. You are also going to hear some other tracks that I am currently working on with Sabrina. As well as that, I am going to play several parties in Berlin and around. Just follow me and stay tuned!
Can you talk us through the mix that you have put together for us a bit…Is it a fair representation of what people can expect to hear from you if they go to see you play in a club?
Yes it is more or less what people can hear when I play a DJ set, but I always try to adapt myself to the crowd while playing what I like. This mix is a kind of compilation of what I listen to and like currently, but most of the time I play a live set which features 100% of my own productions.
LIMINAL SOUNDS VOL.40: SHE'S DRUNK
DOWNLOAD: HERE
TRACKLIST:
She's Drunk (Special intro)
Suda VS Yonce's – Thirst For Liquor
Drippin – Stinkin Tool
MC Bin Laden – Passinho do Faraó
Imaabs – Sheik (Guetto House Version)
Sabrina – Clique Traque (She's Drunk Edit)
Pixelord – Shuffleclub
Inkke – Power Venom
Rabit – Levels
Lady Chann – Sticky Situation
SWV – You're The One (Kozee Remix)
She's Drunk – Brand Old
Keiska – Break the ice bootleg pulse x ehhh
Brenmar – Payroll feat. Calore (Illuminati AMS Remix)
YNGN + Korma – Ascension ('Stadium' Mix)
Melé – The Boogaloo
Trim – I Am (Heckum & Verbal Remix )
Rabit – Thug Rotorvator
Music For Your Plants – Paramilitary (Arkitect Remix)
Miss Modular – Earplug