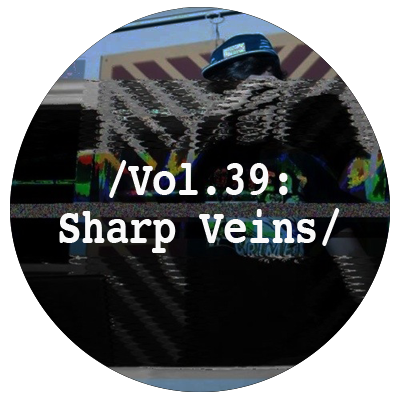 It has been really exciting to follow the evolution of US producer Sharp Veins' productions over the last year. In that time, the producer – who you may know as William Skeng – has refined a natural melodic talent and willingness to experiment with the more abstract peripheries of electronic music into a slew of fiercely original tracks that sound like little else out there. Having only just dropped his first official release a matter of days ago via new Nottingham imprint Special Stage Audio, he is already starting to garner a significant amount of well-deserved attention.
In the last six months, his tracks have been appearing in the sets of many of the burgeoning instrumental grime scene's key players with increasing regularity. 'Visit Me' in particular received heavy rotation, and was one of the highlights of the first Boxed compilation. However, while a number of his tracks have been picked up by the grime community, it would be a disservice to try and pin him to any one sound. Although grime is certainly a key touchstone in his productions, his music is informed by a far-reaching and esoteric pool of influences. This is reflected in the breadth of his growing catalogue, which veers from lush ambient experiments to glitchy electronics, all the while maintaining a clear voice.
You can read our interview with him below and check out the accompany mix at the bottom of the feature, which delves in to the strange and compelling world that his music inhabits.
First up, for those who may not already be aware can you please briefly introduce yourself…
I'm Harrison King. I hail from Birmingham, Alabama and go to school in upstate New York. In my spare time, I make beats.
Where did the name Sharp Veins come from?
It's, I believe, a misheard lyric from Gang Starr's "Above The Clouds." There's something weird about the phrase that's stuck with me since I first tried my hand at production. William Skeng started to seem really cartoonish to me too, so I decided to return to the name I used when I start out.
When and how did you first get into production?
I got Ableton a couple of years ago, mainly to make boom-bap stuff. I did that for a bit before hitting a period of discouragement in which I gave up producing (or attempting to) for almost a year before finally deciding to give it another try.
How do you think your production style and musical taste have developed to the point they are at now, and has one naturally followed the other?
I think my production style's developed at a much slower pace than my musical taste. I listen to lots of different stuff, and it's only recently that I've been able to mesh those influences together in a somewhat coherent fashion.
Who and what would you say are the biggest influences on your music at the moment? Are there any producers that you particularly look to for inspiration?
Tim Hecker, Gas, Rhythm & Sound, Grouper and Actress have all been in rotation recently. Just a lot of dreamy, hazy stuff. I'm in New York City for the Summer, and I think that's having some kind of influence on my music, though I'm not quite sure how it's manifesting itself.
To my ears your productions can be roughly split in two, between grime-focused tracks and more hip hop leaning productions. Is this something you would agree with and if so do you think the two different styles inform each other?
I think that's a fair distinction, though I will say that I've been trying to bridge the gap between the two camps. They're slowly but surely merging.
One of the first things that really caught my attention was your ability to create emotive melodies in your tracks. Is this often the starting point for you when making music?
Yeah, I pretty much always try to get some sort of melody laid down before moving on to other parts of the track. My drums suffer as a result, but if the track doesn't have a melody I'm happy with, I usually can't do much with it.
Across all of your music, do you think that there is anything inherent to everything you make? Any fundamental principles that tie it together?
I don't think so. Well, not yet at least. I feel like I'm still very much developing my style, as well as the principles that inform my style.
You've got a track coming out on a forthcoming compilation from the new Special Stage Audio label, how did that come about?
The guys from Special Stage approached me about potentially signing one of my tracks for a compilation featuring some guys from the UK and Australia. I sent off a batch of tunes, and Symbiotic Wetsuit Riddim, a tune that I didn't think anyone really dug, was the one that did it for 'em. I revised it, gave it a mixdown, and sent it off. I'm really excited to be featured on an EP with Dellity, Nammy Wams and Secundus, and to be working with the guys at Special Stage.
As well as original productions, you also make a lot of edits. What do you look for in the tracks that you edit?
Usually a phrase or snippet of melody that I like, something that I can cast in a new light through chopping and manipulating. That's about it really.
The way you cut up tracks in your edits definitely feels like it comes from the lineage of hip hop sampling. Do you use an MPC or any out of the box equipment?
I have a Maschine and an MPD26 but they don't get much use, at least not in my grime material. For edits, I usually just throw some samples or a track into Ableton and make my cuts there. It's easier for me to visualize where things should go that way.
It feels like in the last few months people have really started to pick up on your tracks, which are getting rotation from people like Slackk, Glacial Sound and Tom Lea. Do you feel part of the new instrumental grime community that is growing at the moment?
I didn't for a while, but the recent support's been really great. There are a lot of cool people in the instrumental grime scene making weird, forward-thinking stuff, so it feels good to be counted as a denizen of that community.
Looking forward, what else have you got coming up over the next few months? Any more releases or projects in the pipeline?
I've got a few things lined up for 2014, though I'm not sure whether I'm supposed to share any details on those projects just yet. Aside from that, I'm just going to be getting as many tracks of mine out there as I can.
Can you talk us through the mix that you have put together for us a bit…How and where was it recorded? Is it a fair representation of what people can expect to hear from you if they go to see you play in a club?
I put together this mix using Ableton, as I'm not really proficient with CDJs yet. Most of it was compiled at my apartment, and I think because of that, it's more suited for headphone listening. It's a pretty strange collection of tunes I've been feeling and tunes I found on my computer by accident. I'd like to apologize in advance for the lack of dubs in here. I've got a couple of mixes lined up that'll implement more of the stuff I've been getting sent over the past few months.
LIMINAL SOUNDS VOL.39: SHARP VEINS
DOWNLOAD: HERE

TRACKLIST:
1. Digital Tzunami – Lorenzo Senni
2. Ride or Die – Young Dot
3. Defiance – Chemist
4. Captivated – M.E.S.H.
5. Mutism – Basic Channel
6. Blue Calx – Aphex Twin
7. Ice Rink – Dizzee Rascal
8. Dopamine Clouds Over Craven Cottage – Stars Of The Lid
9. Perfect Motion (Acapella) [Screwed] – Sunscreem
10. Saxo Forest [Screwed] – Ariel Kalma
11. Powder – Gangsta Blac
12. Untitled #3 – Gas
13. Hidden Place (Acapella) – Björk
14. Nimbus – Matrix
15. Figura Ze Bula (Chancha Via Circuito Remix) – Chancha Via Circuito
16. Dungeoneering – Tim Hecker