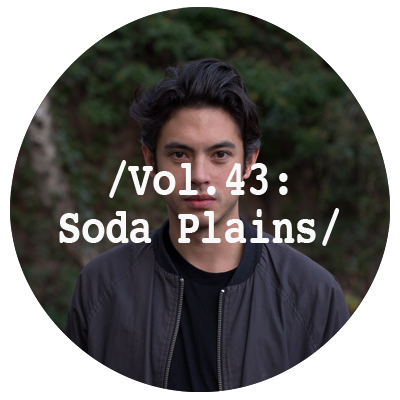 (photo credit: Benedicte Sehested)
For our first mix of the year we are very pleased to welcome one of our favourite artists of the last twelve months: Soda Plains. While the Berlin-based producer may have only released his debut single a few months ago, a selection of material that has found its way online in various forms has quickly made it clear that he is a prodigious talent. Ahead of his debut UK show at Ace Hotel tomorrow night alongside 18+ and Kane West, and with the promise of a lot more to come this year, we are extremely happy to be hosting a brand new and exclusive mix from him.
When Soda Plains released his debut single, 'Rushes' b/w 'Not Tonight', via Renaissance Man's burgeoning Black Ocean imprint at the tail end of last year, he confidently emerged with a strong last minute contender for end-of-year lists. The two tracks succinctly articulate a unique new voice, melding a sprawling array of influences cherry-picked from disparate strands of underground music in to upfront club tracks that balance a deft melodic touch with an incisive rhythmic edge. Whether it is the swung energy and mechanised percussion of lead track 'Rushes' or the sprightly melodies and stuttering rhythm of 'Not Tonight', these are tracks that immediately stand out from a sea of monochrome club tools. Twisting and turning in unexpected ways, Soda Plains' tracks  jump out from the speakers and demand your attention.
While he may have only one official single to his name, dig a little deeper and you will find a treasure trove of unreleased material to back it up. A good starting point is his 'Firmiana Simplex' mixtape for Dis Magazine, which showcases a whole host of compelling original material. Venture further and you will also find a brilliant video for 'Æthelflæd' from that mixtape (watch that here), not to mention that his music soundtracked Dazed's recent cover feature video on Kendall Jenner, 'Girl on Film: Kendall Jenner'.
He has put together an exclusive 50-minute mix for us that goes some way to contextualising the kaleidoscopic soundworld his music inhabits. Effortlessly changing gears and directions throughout, the mix runs through a selection of leftfield club material from the likes of Lotic, Grovestreet, Kid Antoine and fellow Black Ocean alumnus M.E.S.H., as well as a selection of his own productions, including the aforementioned 'Rushes' and 'Not Tonight'.
Stream and download the mix below and find full details of the Dummy Mag show at Ace Hotel here.
LIMINAL SOUNDS VOL.43: SODA PLAINS
DOWNLOAD: HERE
TRACKLIST:
The Phantom – Water Memory
Ana Caprix – Perthro
Lotic – Slay
Soda Plains – Not Tonight
Imaabs – White Noise (Dembow Rework)
Blastah & C Plus Plus – Komodo
Air Max '97 ft. Strict Face – Armour Form
Grovestreet – Dance The Soliloquy Dance
Soda Plains – She Has All Kinds of Temperatures
Imaabs – Cautiverio (She's Drunk Remix)
Kid Antoine – Airburst
Sudanim – Seydou
M.E.S.H. – Infra-Dusk
Tomás Urquieta – Smoke Signal
Cirqa – Movement
Soda Plains – Rushes
DJ Lycox – Alegria & Felicidade Dub
Mechatok – Gulf Area
Soda Plains – Untitled