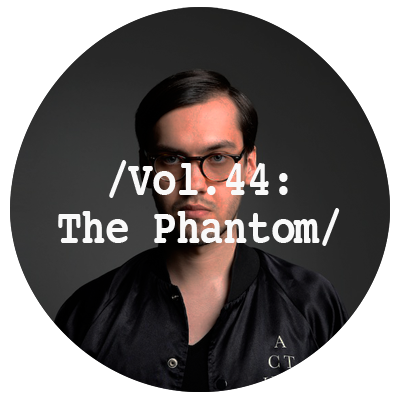 (photo credit: Paulina Gawliczek) 
Fresh from the release of 'LP2' as a free download via Silverback Recordings, we are extremely pleased to welcome shapeshifting Polish producer The Phantom to our mix series for volume 44.
Over the last several years, The Phantom has amassed a sizeable back catalogue of releases on labels like Senseless Records, Apothecary Compositions and long-term home Silverback Recordings that is as diverse as it is consistent. Equally comfortable building rave-indebted house as he is crafting otherworldly devil mixes, the seemingly tangential strands of The Phantom's music are unified by his distinctive structural and melodic approach; it is his uncanny ability to deconstruct and reformulate a diverse spread of influences in to vibrant and unpredictable club tracks that is so compelling. As adept at sculpting infectious dancefloor grooves as he is at creating memorable melodies, The Phantom's music may not always play in to a linear narrative but it does inhabit a space that is entirely its own.
'LP2' features a selection of material recorded between autumn 2013 and summer 2014, and moves away from the fluid house forms of his debut in favour of a unique blend of grime and new age influences. Across nine tracks, The Phantom pairs lush, sprawling synth work with deconstructed rhythms and jutting bass tones to create a powerful and deeply idiosyncratic version of instrumental grime that will be familiar to listeners of his earlier work on tracks. If you haven't checked it out already, I strongly recommend that you do now.
The Phantom's contribution to our mix series embodies the unique approach that underlies his productions. Over forty five minutes he effortlessly draws together a fluid selection of leftfield club material, managing to transition from Iván Székely to Omar-S to Rabit without it ever feeling unnatural to do so. Stream and download the mix below.
LIMINAL SOUNDS VOL.44: THE PHANTOM
DOWNLOAD: HERE
TRACKLIST:
Iván Székely – For Alrun [Hungaroton]
Bluntman Deejay – Astat (Real) [All Caps]
Ever Moving – Mirror's Edge / Becoming [Get The Balance Right!]
DJ Qu – Soma [Strength Music Recordings]
Omar-S – Serving Cavi On 18 And Garfield [FXHE Records]
Aphrodisiac – Song Of The Siren (Nautical Mix) [Nu Groove Records]
Simoncino – Bio Rhythm [L.I.E.S.]
Jitterbug – Jus Drums [Uzuri]
Florian Kupfer – Lemming [W.T. Records]
Zennor – Never In Doubt [The Trilogy Tapes]
Claude Young – Time Distortion [Utensil Records]
Todd Osborn – Beatapella [Running Back]
Rabit – Atacama Skeleton [Soundman Chronicles]
Mark Barrott – Departures [International Feel Recordings]