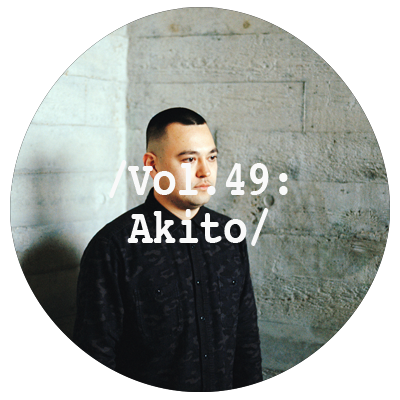 For the 49th instalment of our mix series, we're excited to invite Akito to take the helm.
Over the last few years Akito has been a constant positive presence in the scene. Whether it is through the Sub Skank parties and label, The Gas Exchange live stream, or any of the myriad other projects he has on the go at any one time, Akito has been tireless in championing new talent. Now, with a series of strong EPs under his belt and a new NTS residency, it is great to see him getting more recognition as both a producer and a DJ in his own right.
As he prepares to release his latest EP, 'Pleasure Pending', and launch his newest venture, Sans Absence, it seemed like a good time to catch up with Akito to find out more. He has also delivered an exclusive mix for us that shows exactly why he is in increasingly high demand. Packed with new material from his own camp, Liminal Sounds Vol.49 is muscular, percussive and addictive.
First up, can you please briefly introduce yourself…
My name is Akito Hearnshaw; born & based in London, I write and play electronic club music.
With all the different projects you've got going on, you must be pretty busy! How is it all going at the moment? Do you see all the things you're working on as directly linked?
They are for sure. When I break it down to basics it feels like I'm continually playing and presenting contemporary club music in a club or radio context, or preparing it to be released for the same purpose. It's all interdependent in my eyes. I love being busy, it's when I'm most effective – pressure is my Donnie Don.
You've been doing The Gas Exchange live stream for a little while now. How did the idea for it come about?
The Hub16 squad and I thought it would be a great idea to create a networking event and have people come down and DJ. We wanted to encourage people to communicate and link up with like minded people beyond their computer screens and make the event side of it stream globally for those that couldn't make it down, so some of the experience is still available to everyone. Apart from the free pizza.
You have recently launched Sans Absence. Can you tell us a bit about it? What are your plans for the label at the moment?
The initial idea behind Sans Absence was to release highly percussive club music & also to create a platform for our friends so they could develop and release their music with full confidence, and then make the audio readily available through our favourite digital music retailers.
Sans will officially launch on the 22nd of January with Luke West's debut 'OOOOO' EP. Shortly after that the 'Metamessage' remix EP will follow, then we'll be re-releasing a 4 track EP from one of my favourite artists over my time being a DJ. We have a large and at parts loose schedule for the next year and a half so once the ball's rolling we'll be releasing in quick succession with plenty of curve balls in stock.
You hold down radio shows on Radar Radio and, more recently, NTS. Is radio an important outlet for you?
Yeah completely, that's how I really got into music, through radio. Exchanging tapes at school because I couldn't get certain stations in my area, humming people dubplates to try and get an ID – it was the biggest source of influence and motivation at the time, now it feels like given the opportunity it's time for me to reciprocate.
It also gives me a chance to play music from all these fantastic producers and also a platform to exhibit their mixing prowess via guest mixes, a chance they may not have had if it wasn't offered to them. I think it's extremely important – raising awareness and encouraging people you believe in – especially when you feel so strongly about their music and also sharing the show with people far more established. It's all love at the end of the day, it's a pretty identical feeling I have with the label.
Looking forward, what have you got coming up over the next few months? Any plans you would like to talk about?
I have my 'Pleasure Pending' EP coming out early next year on my good friend Morcee's Tight Knit Records, then we'll be launching Sans Absence late January. The 'Metamessage' remix EP will finally see the light of day mid February (apologies on the delay). I'm also in the process of writing remixes that should surface early on in the year and there's a collaborative EP I'm working on with my brother D Warrior for Sans Absence. Once I have closure on all of that I'll begin writing another solo EP, maybe an LP, maybe I'll move country, we'll see.
I also want to go on a world tour, just putting it out there; law of attraction and that.
Can you talk us through the mix that you have put together for us a bit…How and where was it recorded? Is it a fair representation of what people can expect to hear from you if they go see you play in a club?
The mix was recorded in the upstairs practice room at Radar Radio (thanks guys) on a pair of linked CDJ2000's a DJM900-Nexus (my favourite set-up, ever) and my trusty red and black USB SanDisk pen drive. I felt pretty numb recording it and nearly lost focus a few times; I had images of my ex-girlfriend flashing through my mind, but I got there in the end. It's a mixture of what I would play on radio and the club, just bits I'm really into right now, made myself or play far too frequently; it's a blend of them all, hope you enjoy it!
LIMINAL SOUNDS VOL.49: AKITO
DOWNLOAD: HERE

TRACKLIST
Akito – Degrade Gracefully
Martin Kemp – After The Night
D Warrior x Akito – untitled
Luke West – Worl
Imaabs – Disyuncion
Nobel – Concave (Akito Remix)
Martin Kemp – Aztec
NKC – Salon Room
Lorenzo BITW – Signal
Akito – Metamessage (Rushmore Remix)
DJ Delish – Mojo
Martin Kemp – Fix
Luke West – OOOOO (D Warrior Remix)
Mistareez – Leng
Akito – Catching Feels
Wiley x Lighter – North London / Skanker (Akito Blend)
Craig Walker – Throw Dat
Akito – Resolutions Per Visit
GROVESTREET – Cunt Horror Redux
Lokane – Bitches in the Trap
NKC – Comm Link
Luke West – Lightwork (Akito Remix)
Holloway – Annoushka (Akito Remix)
NKC – No Drama
Holloway – Vector Field
MC Pedrinho & DJ R7 x Otik & Mutual Friend – Witness Do Pau