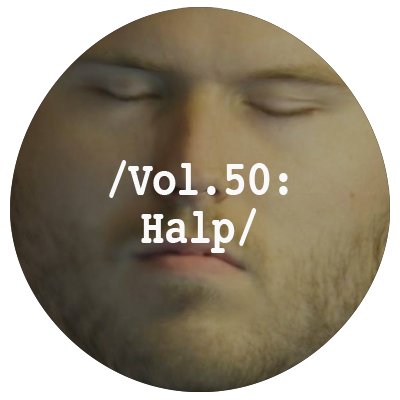 Dutch producer Halp has been on our radar for a while now. Skirting the peripheries of the current club music climate, his productions draw from the sparse creativity of instrumental grime without ever succumbing to its most prevalent and overused tropes. Approaching his music from a distinctly idiosyncratic angle, the resulting music is melodically rich, rhythmically askew and constantly evolving.
Following his recent self-released 'Systems' EP with Liminal Sounds family Copout, he has just dropped a new EP on the Portuguese Golden Mist Records imprint – the label behind the debut from Liminal Sounds favourite Endgame last year. The six-track 'Polar' EP collates a selection of music made over the four years since his last EP and showcases a move in to darker sonic territory. Melodic, full-bodied and ever so slightly off-kilter, 'Polar' creates an immersive world that reaches far beyond the confines of the club; from the anxious synths of the eponymous opening track to the skittish groove of '101' or the self-assured swagger of 'Evangelion', each track defiantly claws its way in to your head.
We caught up with Halp to ask him some questions over email and he has contributed the fiftieth volume of our mix series. Deftly stitching together tracks from Oneohtrix Point Never, Fatima al Qadiri and TCF, the 40-minute mix draws you in to Halp's unique world. Check the interview below and download the mix at the bottom of the feature.
Halp 'Polar' is out now on Golden Mist Records.
First up, can you briefly introduce yourself…
My name is Thomas AKA Halp AKA Dow Jones Brotherhood. I do animation mostly, and music sometimes. I live and work in Amsterdam, moved here about two years ago from Rotterdam.
As well as music, you are involved in visual arts. Do you see the two as directly linked? And do you think they influence one another?
They used to be very linked for me. Most of my early videos had sound that I made myself and it was all connected aesthetically as well: colourful, glitchy etc. It was like a complete match. But then boredom took over and the two got kind of separated. I still do a lot of music videos obviously but my own music doesn't really lend itself for it too well I don't think. I enjoy abstract non-story driven animation for example, but I wouldn't be able to do it myself too often (I did do a music video for the EP though). In my animation I enjoy working with a story a lot more, to have something to build on and play around with, and not just have visual stuff happening.
Also in terms of workflow the two got separated. With music I just fuck around till I get something I like. Of course I have a pretty set idea of what I want my music to sound like so projects I start get finished if they fit into that vibe, and if they don't I'll just start a new one. But with animation it's all written out then designed very deliberately and then put together bit by bit. Some videos take a few months to make and with music its more like a couple of days max. The way I used to worked on my animation stuff started out with just fucking around as well, trying out software and techniques etc.
It's hard for me to judge if and how they influence each other. I do think my music has gotten a bit more melodic in the last few years and has a more serious vibe to it, so maybe that fits with my preference for more story driven videos. And both have gotten less glitchy and obnoxious.
When you are working on music, does the visual manifestation play a part in your creative process?
Not that I know of. What I like about music most is that it's completely non-visual, or at least for me. Apart from the software you are using and the stuff that you see around in your room etc. there are no visual cues bound to it at all. You can hear the same piece of music anywhere with completely different visuals around you. It might make you feel the same but for me that's not really visual. It's not like I hear a song and see certain visuals that would go with it or something. I might even go so far as to say that it's completely isolated. Afterwards, when something needs a visual to put on SoundCloud or a release etc. it is very obvious what would fit with the music and what wouldn't. But during the process it doesn't play any part.
You recently teamed up with Copout on an EP. Is collaboration an important part of working on music for you?
I always want to make music with other people but when I do I always find it pretty difficult. With Copout it just worked really well and we ended up with a solid combination of what we do. I have a roommate that I make music with as well and that works in the same way, but sometimes with other people that I share a lot of interests with it can still be quite hard.
I'm also a software kinda guy, and how I work is dictated by how Ableton works I guess. So when someone works in Reason or Fruity Loops I just can't do anything haha. My piano skills suck and my drumming is always ways off all the skills I have are tied to Ableton in some way. Also the way I work is kinda hard with someone else in the room if you don't have a full day to just work on stuff. It takes a lot of time for me to get a sound I want and all that tweaking and constantly trying stuff and making it sound shit before it sounds good can really bore other people haha. With Copout we just sent stuff back and forth and that worked really well.
Your 'Polar' EP is due for release on the Portuguese Golen Mist label. How did plans for the EP come about?
After releasing my last EP ('Tic Tac Toe' on Lowriders) I had to do a full-time internship, then my finals, and after that I started freelancing. The combination of all that took away a lot of the time I normally used for making music, so I didn't do a lot for about 4 years.
The songs on the EP are basically the only decent songs I made in that span of 4 years, and I knew that if I didn't put them out I would probably not do another EP ever again. So I spent some time looking for a label for it and Lake Haze was kind enough to invite me to do it on Golden Mist. They just released the Endgame EP, which was amazing, so I was super down for that.
How do you go about the process of working on a new EP?
Like I said above there wasn't a whole lot of planning involved haha. It was mostly struggling to get back into the flow of making music and fortunately ending up with some stuff other people seemed to enjoy. Now that its finished I've been making more music but I haven't gotten into a certain flow yet.
I want to do something really different for a new EP, but still looking for what it should be. I hope I can find the time to really work on it for an extended period so it can come together as a whole, instead of tracks made in a lengthy, spread out period.
For those that have heard previous releases, what can they expect from the new record?
It's a lot more serious than the last ones: more melody based and a bit darker, and hopefully better sounding as well. It's more in line with the album I did as Dow Jones Brotherhood, which was made around the time that I was almost done with the EP.
Looking forward, what have you got coming up over the next few months? Any other plans you would like to talk about?
I'm currently working on a new music video that's gonna take a few months to make, so pretty busy with that at the moment. It's about alien abduction and weed worship for a new band called "Jonkoklapper" (try to google translate that).
Music wise there isn't a whole lot planned at the moment. My job keeps me pretty busy and music is really a hobby more than something I want to pursue full-time, so I want to take my time with it and see what I can do for a new EP that would be fun and interesting, and then once i've figured that out hopefully take some time off to work on it.
Can you talk us through the mix that you have put together for us a bit…How and where was it recorded? Is it a fair representation of what people can expect to hear from you if they go see you play in a club?
I spent ages postponing it because I wanted to record it on CDJs, which is what I use in the club and feel more comfortable with, but I couldn't find any and I had to put it together in Ableton, which is a terrible process I think. It takes away almost all the fun of mixing for me, but it did make it possible to include different music than what I would play in the club, and there's also some overlap there. The main vibe is really the same I think, although the tempos vary in this mix and some songs are beatless or terrible to mix with on CDJs.
LIMINAL SOUNDS VOL.50: HALP
DOWNLOAD: HERE
TRACKLIST:
Oneohtrix Point Never – He She
Dynooo – 08 (tcf edit)
Dynooo / Wanda Group – هلام الفول
Sentinel – MELT-BUGATTI
Ninja Sword – Restricted
Shirtless – Ready to Go
Know V.A. – Echoes
Halp – Foei
Fatima al Qadiri – Battery
Omar Simpson – Dual With Knives
Rykt – Thousands
Rules – Heat
Gunnar Haslam – Reacle
Torus – Slayer
Tcf – 54 C6 05 1C 13 CC 72 E9 CC DC 84 F2 A3 FF CC 38 1E 94 0D C0 50 5C 3E E8
Gronos 1 – Trust Me
Wolf & Witnessing – Acapulco
Kid Simpl – Focus Ribbon
Silvestre – Ride
DJ NJ Drone – Syn Stair (Blind)
??? – Doubt (TAG YOUR MP3'S PEOPLE!!!)
Halp – Whine for me